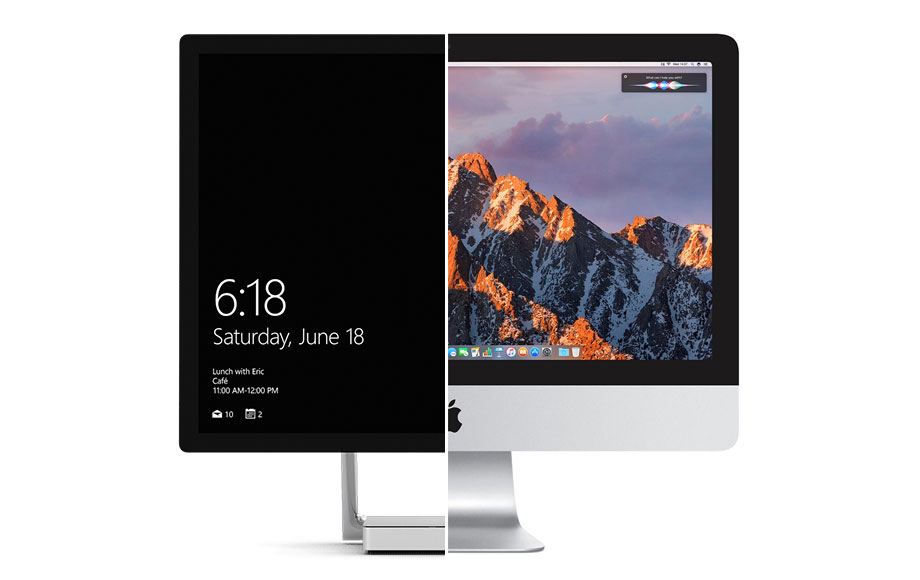 iMac Pro 2017 vs. Microsoft Surface Studio 2016
Since last year's Surface Studio debuted, Apple's fans have been looking forward to the iMac. They weren't disappointed. Apple's newest iMac sports an Intel server CPU, a 5k display, and the top AMD video card, Vega 56. When it comes to RAM, the desktops tie. However, storage-wise, the Surface Studio wins, as it features 2 TB, whereas the iMac only has 1TB. The Surface Studio boasts the greatest advantage, the touch display, which can 'understand' pencil work.
The best feature of the iMac 2017 is the Xeon CPU with 4.5 GHz of speed, and at least 10 cores. Could this be what puts it a step ahead of the Surface all-in-one project? The top classes of iMacs have 10 or 18 cores, versus 4 cores of Intel i7 Skylake with hyper threading in the Surface Studio. Let me remind you, hyper threading means that every core can work like two, so i7 features 4 physical, but 8 virtual cores.
In the modern computer world, a virtual core is as good as a physical one. On the other hand, the Intel Core i7 Skylake is the top CPU for the Surface Studio family, while the Xeon with 10 cores is being installed in entry level iterations of the iMac Pro. The only strong feature left for the Surface Studio is the touch display, and the flexibility it provides.
Apple still has an odd distaste for touch interface. They made the Touch Bar, but iMacs still hold the fortress. The resolutions and the gamut of colors of both competitor's desktops are more or less square. One billion of colors and more than 4k resolution are now must-haves for premium level desktops, which is no surprise.
The iMac now features the AMD Radeon Pro Vega 56. After all these years, Apple switched from the Nvidia chip. The new video card has the following features:
Floating-point performance: 9,677 GFLOPS.
Texture rate: 302.4 GTexel/s.
Shading units: 3,584.
Texture mapping units: 224.
Memory clock speed: 8,008 MHz.
Higher clock speed: 1,506 MHz.
Much higher memory clock speed: 2,002 MHz.
Higher turbo clock speed: 1,683 MHz.
Higher pixel rate: 96.4 GPixel/s.
Lower TDP: 150W.
In other words, it's extremely fast and runs cold. The ability to run cold is necessary since it goes into the slim iMac casing. It is EIGHT times quicker than the Nvidia GeForce GTX 980M, which features the prefix M in its name for 'mobile'.
I don't know if one can control the space station with one iMac, but I would bet it's powerful enough. Considering the alternative, the most cumbersome, often freezing, most difficult OS of all time, Windows 10, and you know what the best choice is.
However, perhaps it's not fair to compare the two desktop systems with the one-year gap between them. Obviously, the iMac Pro will be a bit better, as it was developed a year later. Besides, these systems are meant for different target groups. Microsoft had artists and constructors in mind, while developing the Studio. Indeed, they highly appreciate the opportunity to work with a pencil in a hand. It comes natural to them as part of their work. The iMac Pro is meant for other species of creators though. The ones who work with video, video effects, and remastering. That's what they need the high-performance video card for. So, the choice between the two is easy. It depends on a user's career, rather than on his or her inclinations and likings.
It's a shame, however, that iMacs are leaving the home systems segment. But with tablets and hybrids taking up space in our lives, iMacs have to find a new path. The first hands-on reviews of these 'apples' will get a huge following online, that's for sure. Let's wait and see.
SPECIFICATIONS: IMAC PRO 2017 VS. MICROSOFT SURFACE STUDIO 2016
Processor Name: Intel Xeon vs. Intel Core i7-6820HQ.
Processor Speed: 4.5 GHz vs. 2.7 GHz.
Operating System: Apple macOS High Sierra vs. Windows 10 Pro.
RAM: 32 GB vs. 32 GB.
Storage Capacity: 1 TB vs. 2 TB.
Graphics Card: AMD Radeon Pro Vega 56 vs. Nvidia GeForce GTX 980M.
Screen Size: 27 inches vs. 28 inches.
Resolution: 5120 x 2880 vs.4500 x 3000.
Storage Type: SSD vs. HDD, SSD.
Price: $4,999 vs. $2,999.
<!-comments-button-->