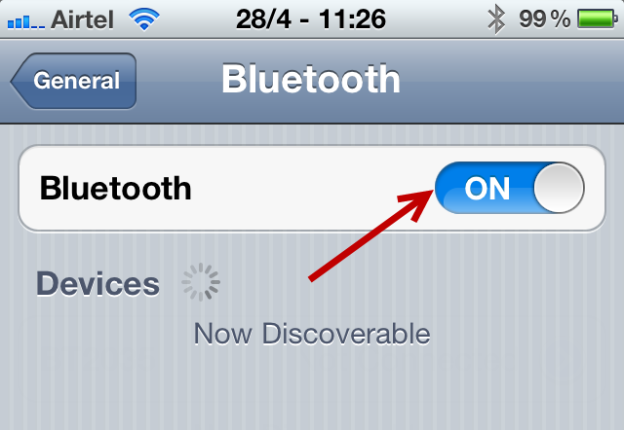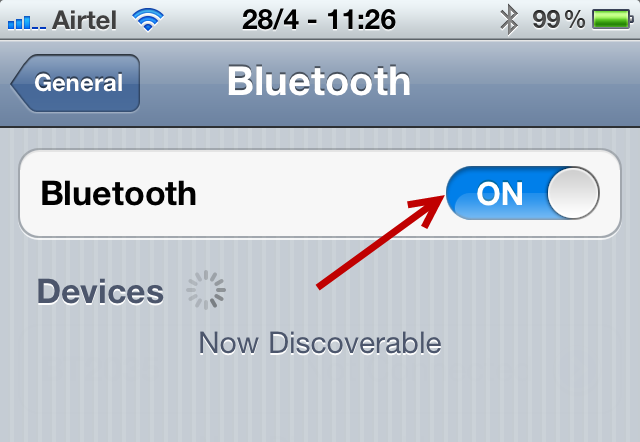 iPhone Bluetooth Pairing
People think of Bluetooth as a way to connect wireless earpieces to phones, however it's actually a general-purpose technology that will allow all kinds of devices to be used. The process of connecting a Bluetooth device to an iPhone is called pairing. But how do you pair an iPhone with a Bluetooth device? Even though the iPhone doesn't have the traditional ports for connecting peripherals like USB, you can still connect some devices to it via Bluetooth. Follow these steps to complete the pairing process. These steps will also apply to an iPod Touch as well as an iPad.
Step 1 – Turn on the Bluetooth device you'd like to pair with your iPhone. Make sure your iPhone and Bluetooth device are near each other, because Bluetooth signals can only extend a few feet. The devices don't have to be right next to each other, but they should be fairly close.
Step 2 – Set the Bluetooth device into Discoverable mode. This mode allows the iPhone to see the device and connect to it. Making a device discoverable requires different steps for different devices. For some it's as easy as turning them on, however others require more work and some devices are always discoverable. You might have to press and hold a button and wait for a blue light to turn on, or you might go through another touchscreen device's settings and have to touch several buttons. Check the manual of your particular device for instructions.
Step 3 – Press the Home key to ensure you're back at the home screen on your iPhone.
Step 4 – Tap Settings.
Step 5 – Tap the General button to pull up a list of available networks.
Step 6 – Turn Bluetooth on to make your iPhone discoverable.
Step 7 – Tap the Bluetooth device name you'd like to pair with the iPhone. You'll see "Not paired" on the right-hand side of the device-name's box.
Step 8 – Ensure the code of the device you're trying to pair matches the code of the push notification on your iPhone. This will make sure you aren't pairing with any rogue Bluetooth networks nearby.
Step 9 – Simply tap the Pair button on the device. Keep in mind that to connect to some Bluetooth devices with the iPhone, you'll need to enter a passcode. If the device you're trying to pair is one of those, the passcode screen will automatically appear. Consult the device's manual for the passcode and enter it. You can also disconnect a Bluetooth device from your iPhone on the same screen where you connected it.
It helps to know that while Bluetooth doesn't drain as much battery as Wi-Fi, keeping it turned off when not in use is one of the ways that you can extend the battery life of your iPhone. Finally, all iPod Touches have Bluetooth capability and run on the same system settings as an iPhone.
See also:
Apple Encyclopedia: all information about products, electronic devices, operating systems and apps from iGotOffer.com experts.
iGotOffer.com: the best place to sell my used iPhone online. Top cash guaranteed. Free quote and free shipping. BBB A+ rated business.
<!-comments-button-->