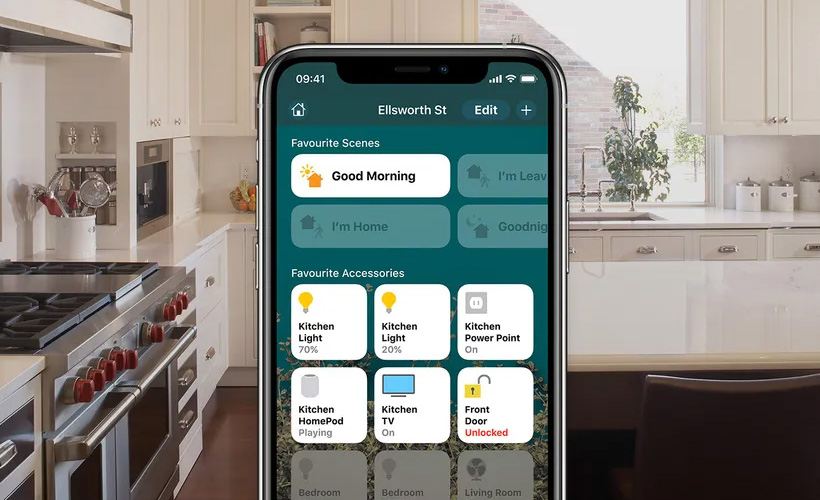 Kits for Your Home: What's Best?
The smarter they get, the pickier they become. These days, this goes not just for us, but for our homes as well. Because, with the ever-increasing amount of new devices on this market, the choice of these smart tools we can fit up our lodgings with gets richer and richer.
But on the other hand, it can complicate matters too. There are so many of them, and they all sport so many options… it could, indeed turn into a problem when it comes to deciding which control device for home would suit you most.
So, to lighten this load for you, we took it upon ourselves to recommend to you our personal top choices in one particular area of this endless maze. Read on to find out which devices based on the Apple HomeKit platform we consider best. And there is a reason why we selected this particular platform: firstly, it will allow you to control pretty much everything in your home, from the lighting of your home to its temperature; secondly, they were all thoroughly and at length tested by CNet. (But first, find the Home app by Apple on the Internet and install it in case you still haven't – you'll need to pair it with all the aforementioned gadgets to operate them, using menus or via Siri. Don't worry, though, this application is free).
And let's start from the most universal type of these home controls – a HomeKit hub (the name itself says it all, doesn't it?) – which lets you operate controls of your home even from large distances. In this category, we can't do better than suggest going for Apple TV 4K. Now, to be precise, it's not a hub as such, but rather a tool to use your hub – in other words, a streamer. But, since Apple hub requires one anyway, it's useful to know that, among the available options, Apple TV 4K is the cheapest ($169 is nothing to sneeze at, but certainly better for the buyers than those $300 that HomePod would cost you), easiest to use (as opposed to applying, say, iPad for this task) and most efficient. Also, it can send camera videos to a TV screen using your voice-operated remote (as long as the cameras are HomeKit-compatible, of course).
Now, since we mentioned home temperature above, our next recommendation will be the Ecobee3 Lite thermostat. And yes, we said "3", not "4." Even though, on top of Siri, it includes Alexa speakers, we are not sure that this alone constitutes the price boost ( to wit, it will set you back $250). And it is its only advantage over the previous version. Because the latter works with the subject platform just as seamlessly and boasts the same fine temp sensors, while costing almost half as much (the minimum price listed on the company's site is $150).
As far as smart locks are concerned, for our money, August Wi-Fi Smart Lock takes the prize. Firstly, it doesn't require any adapters: its August lock is retrofit, its door sensor is of the open / close type, and it boasts inbuilt Wi-Fi, so you can operate it remotely straight away. Secondly, it's remarkably smaller than its predecessors (by 45%, in fact). And yes, it is compatible with three different voice assistants – Siri, Alexa, Google Assistant, you can choose any of them – and two different OS, Android and iOS alike. Thirdly, it logs everything happening nearby. Plus, the user access and amount of codes are unlimited, and – last but not least, indeed – there is that ever-crucial ease of use factor. No wonder this lock became the CNET's Editor's Choice.
In the camera department, we couldn't find anything better than Logitech Circle 2. For starters, it won't render you broke by any means: $140 is more than reasonable for a camera working equally well indoors and outside. Then, there is the reliability factor (check) and the question of how well it responds to HomeKit devices (check). And while it being wired might seem an inconvenience at times, as with batteries, you won't have to look for an outlet, but the said batteries have a nasty habit of dying on you at the worst possible moment, so… However, battery lovers will only need to add $20 to get their preference fulfilled. And, even more importantly, this camera's options are rich indeed: there are motion sensors and night vision there, the iaudio goes to ways, the events captured on video get backlogged for 24 hours (that's for free; add a monthly fee of no more than $10, and you'll have these logs at hand for up to 31 days) and the feed is available to view from HomeApp. Add to this the horde of accessories to this camera you can find on sale from the maker, and you will be hard-pressed to find a better competitor.
And now let's go over to smart light switches, where, after several comparisons and tests, Lustron Caseta In-Wall Smart Dimmer Switch came on top. Lustron's experience on the market shows both in the device's appearance and in its features. It looks, well, smart: there are no over-the-top colors and shapes, but you'll spot it instantly from any viewpoint. It's virtually universally compatible. There are plenty of switches of whatever kind, including those for speakers, smart shades and ceiling fans (they will work only with certain models, of course, such as Sonos, for example, but you really can't have it all… yet, at least). And the wireless standard on which the Lutron Bridge is based – namely, Clear Connect – is among the fastest and most reliable ones on offer. It's also worth to know that currently the device's price (which is $90) will also cover a Pico remote which also looks like a switch and can be fitted to a wall.
The next logical step will be to look at the smart bulbs, where, unsurprisingly, Philips' offering outdid the rest of the field. Its Hue White LED Starter Kit is based on the platform which topped its class in all possible aspects. Again, it is compatible with whatever you throw at it, full of various features and has not a slightest issue when working with HomeKit. And yes, of course, its two bulbs, supported by Hue Bridge, are dimmable, and their current yellowish light can yet change colors in the future, when new bulbs will be released. To round it up, this kit is also affordable at $68.
Now that we mentioned color-changing bulbs, let's look at the existing ones. Yes, there are few companies who did beat Phillips up to it, and it's a new Australian firm that we consider the quickest runner of all. The light produced by Lifx Mini LED bulbs shines brightly and looks beautiful regardless of the color, and compatibility, again, is no object here. Nor is the remote connection: for these Wi-Fi-operable bulbs you won't have to buy an additional hub. And yes, all the assortment of Lifx's lights (on top of bulbs, there are, for instance, light strips, and they even make light-emitting tiles) can be programmed in a lot of various ways, down to scheduling, because it is accompanied by a very capable application by the same maker. All in all, it might not be the cheapest bulb on offer (that honor goes to Sylvania products), but we found it the most efficient, convenient and nice-looking one.
And while there's a long tradition of considering appearance an insubstantial and even shallow factor to go by, but… ah well, who are we kidding? It still matters, and it is not going to change anytime soon. After all, we were given eyes for some reason, were we not? So here goes: the crown of the best HomeKit showcase goes to… Nanoleaf Canvas. We believe nothing will make a room you want to adorn (be that a game room, a nursery or whatever else) look nicer than its LED wall panels. They are livened up by their changing colors, so once you'll put them on your walls, those will come to life too. There are triangles and squares to choose between (but choose wisely: the triangles might look fresher, but old reliable squares are touch-sensitive). There are nine pieces in each set. And of course, there is inbuilt Wi-fi connectivity (and it's not just HomeKit these panels will communicate with, but your router as well). So, there will be no end to the shapes, colors and images – including the animated ones – they will entertain you with, to the sounds of whatever music you'll choose, and you can synchronize it with the color changing as well. And once more, no compatibility problems here: all the major voice assistants are a go. Plus, their motion sensor-equipped remote (sold separately, and not so expensively, at $50) is also a good addition.
Finally, let's have a look at the smart plug category, which, we believe, is unquestionably won by WeMo Wi-Fi Smart Plug. And yes, the price factor weighs heavily into it, as few competitors can offer so much for mere $25. But, as with all the above, we also took compatibility into account, and in this regard, WeMo's offering also came up trumps. Naturally, it will work with HomeKit (that is compulsory), but it also recognizes Alexa, whereas Google assistant is native for it. Also, it will save you some space thanks to its design. There are, however, two downsides to this particular winner: on the hardware front, it will not monitor energy, and as far as software goes, its app leaves something to be desired. Yet we decided that its physical button, overall flexibility (it's difficult to find an outlet this smart plug won't fit in) and the addition of LED indicator outweigh those minor gripes.
So that's it. Hopefully, these pointers will make your quest for the smart home perfection just a teensy bit easier.
Links
Nanoleaf Canvas Smart Lights – SETUP & REVIEW [Video]
Video uploaded by The Tech Chap on January 4, 2019

<!-comments-button-->