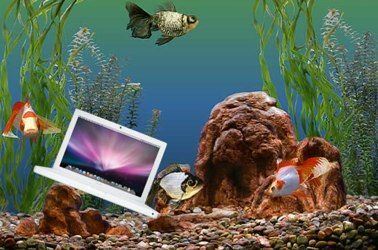 If Your Apple Mac Fell in Water
Let's pretend your Apple Mac laptop fell in a puddle of dirty water and was completely submerged for a few minutes. Is there any possibility to resuscitate your beloved electronic device?
Unfortunately, the chances are pretty low, so don't get your hopes up too high; however, there are some things you can do to try and fix the problem:
Remove the battery (If possible! If not, ask for it to be taken out at Genius bar at an Apple store), immediately unplug the power adapter, disconnect all peripherals and power cord. Fill a bucket with distilled water and slosh the MBP around in it in every direction, upside down, etc. (You may use a mild solvent bath, and a light thinner or even alcohol, since it draws the water out and evaporates faster; however, keep in mind that if the solvent is too strong, it'll melt stuff, so stay away from MEK or acetone).
Stand it on each side and keep flipping it until water stops draining out. Turn the computer over with the lid partly open and the hinge facing upward to let the liquid drain. Do not flop your unhappy Mac over and lay it flat – you want to separate it from the moisture. Place cloth towels or paper under the machine to sop up the mess.
After that, let it dry for at least three to five days in plain sunlight, rotating the side it stands on each day.
Don't try to turn it on before it is completely dry. When it seems like all the moisture is completely gone, then you can give it a shot. If nothing happens, no sound or lights, then it's possible the innards were still wet. If this is the case, wait for a few more days.
Water in your Mac is a pretty difficult issue to solve, so be prepared to hear from a technician that your Mac may never recover. Your only option if it is dead, is to try and sell it for what it's now worth (just a few dollars) and buy a new one. (If your homeowners' insurance covers computers, it might actually be the best option, but just make sure to notify them of the accident right away).
There is a chance that even if your Mac does start up after the drying process, it will not work later. Sugary, acidic or milky drinks will cause problems as the residue starts slowly corroding the computer innards. Hopefully this hasn't happened to you and if it has, we hope we have helped you get your Mac up and running again!
­See also:
Apple Encyclopedia: all information about products, electronic devices, operating systems and apps from iGotOffer.com experts.
iGotOffer.com: the best place to sell my old MacBook online. Top cash guaranteed. Free quote and free shipping. BBB A+ rated business.
<!-comments-button-->