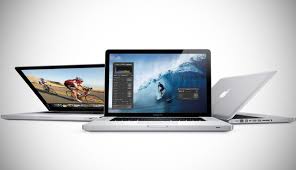 Mac Laptops
The Apple Store: The name hardly even needs an introduction. Most people are very familiar with Apple's iPhones and Mac computers out on today's market. Apple has long been designated as one of the best, if not the best, software and hardware techno-savvy companies. In fact, most introductory university classes on marketing, such as Introduction to Marketing or Marketing 101, cite Apple's success story as one to emulate in both its remarkable technological progress and consumer service. In fact, customer relations in situations requiring the assistance of the Genius Bar have left many customers so satisfied that they swore off other technology altogether. Of course, PC or Microsoft computers are similarly very good quality devices, but technological development has been such that Macs have been better able to fight off computer viruses, malware and spyware, especially as compared to personal computers or tablets made by other brands. Thus, Apple is a champion in both branding as well as brand positioning, stealing the spotlight with students and traveling professionals alike. But what about user reviews? In this day and age of computerized, online consumer reports and feedback, first line user reviews and commentary are often helpful in deciding whether a product purchase is right for you or your household. We like Mac laptops for several reasons and here are just a few of the big ones:
Mac laptops are great for several reasons; they hardly ever catch viruses, always work well and are extremely inter-compatible with iPhones and iPods and other Macs. (Most software worth having today is compatible with both platforms). Also, iPhones are very user friendly. One does not need to be a computer genius to connect to the Internet using a personal hotspot or to instantly post pictures and status updates using interconnected social media accounts programmed and built in into the latest slim and sleek versions of the iPhone. In addition to inter-compatibility and interconnectedness, iPhones offer amazing photo taking capabilities which could at times rival the state of the digital art of Canon professional cameras! Moreover, most of the musical content on the Web is now available through iTunes, another great invention of the popular Apple Store.
See also:
Apple Encyclopedia: all information about company, products, electronic devices, operating systems and apps.
iGotOffer.com: the best place to sell used MacBook online for the top price. Free quote, free shipping. BBB A+ rated business.
<!-comments-button-->