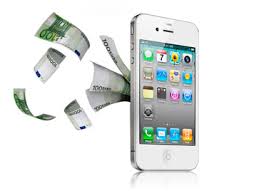 Major Benefits of Mobile Payments
One of the advantages conferred by today's Internet economy, and the proliferation of e-business, is mobile payments. Indeed, with the advent of companies like eBay and the availability of online shopping carts in most stores, making online payments has become very widespread. Similarly, online banking has also gained in popularity. Mobile payments, while perhaps not yet the norm, have become popular in many countries, such as Kenya and Australia. But, naturally, Web-based financial transactions are not exempt from pitfalls, and accompanying fees. Payment processors such as Visa, may charge customers and merchants alike for every online financial transaction, while some forms of mobile payments avoid credit cards and banks altogether.
Mobile payments are also called mobile money transfer, and the generally accepted principle is that they are done from a mobile device, such as a mobile phone. Thus, such mobile wallets allow a consumer to pay using their mobile phone instead of a check or credit card. However, the technology behind such payments seems to be lagging behind. Such payments also have to do with micropayment, which is a concept that relates to developing economies. For instance, very small or micro loans allow budding entrepreneurs in the developing world to start their own businesses.
Mobile payments solutions have several models of operation, including premium SMS based transactional payments, direct mobile billing, mobile Web payments and contactless NFC (Near Field Communication). In SMS based transactional payments, the consumer sends a text message and their mobile wallet is billed, either by applying the charge to the mobile wallet itself, or by charging their phone bill. Then, the business is informed that the payment was successful and the goods or services requested are released. In direct mobile billing, the consumer's account is billed using a two-factor authentication process involving a one-time-password and a PIN. The system does not require registration with a credit card or PayPal. In mobile Web payments, also known as WAP, the consumer uses applications downloaded and installed onto the phone or existing Web pages. Finally, contactless NFC involve mobile phones specifically equipped with smart cards which can be read by a corresponding module at a physical store. NFC is also common in the transportation business.
­See also:
iGotOffer Encyclopedia: all information about Apple products, electronic devices, operating systems and apps.
iGotOffer.com: the best place to sell my used iPhone online. Top cash guaranteed. Free quote and free shipping. BBB A+ rated business.
<!-comments-button-->