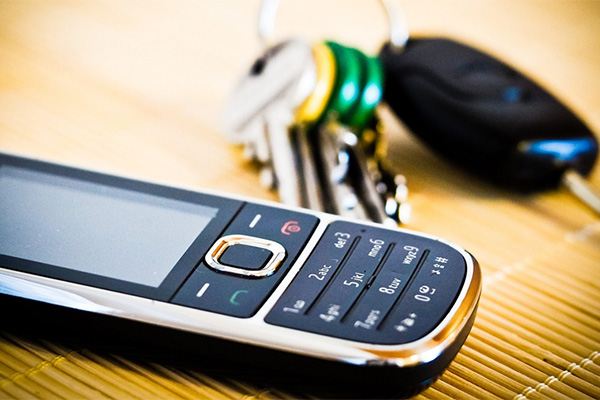 Life without a Smartphone [Video]
Video uploaded by Chris Titus Tech on Augгые 17, 2022
Phones without OS: On the Safe Side with Old-Timers
Once upon a time the word 'smart' described people and not the handhelds they used. You might be surprised to know that the 'dumb' phones without OS are still around. They don't feature any OS and their options are cut down to just making calls and texting (believe it or not, using actual buttons).
If you ever could blind text with your phone in a pocket, now is the time to revive this skill, because dull, monochrome, no-browser phones turn out to be safer than our smartphones. Lack of any online features seems to be an advantage nowadays, especially if you're an Android user.
The downside of the modern mobiles is the OS they run. It should be constantly updated to patch vulnerabilities.
Mobile security relies on software, not hardware. iOS and Android have new versions every year. The phones makers' approaches, though, are completely different. Where Apple gives five years, Android gives two years.
A year ago in February 2017, 79 percent of Apple mobiles users could upgrade their gadgets to iOS 10 and receive security updates notwithstanding the fact that some devices were five years old. Apple also sells refurbished handhelds and guarantees they'll be able to cope with the new releases of iOS. Of course, there's that darn slow-down on old iPhones that we have to take into account as well. The Cupertino company did promise to introduce the user-controlled battery management to improve the situation.
Android is another story. Android 7 Nougat, released in August 2016, is not compatible with Qualcomm's Snapdragon 801/800 chipset, that cuts off a lot of flagships from the previous years. So, if your phone at that time was about two years old, you couldn't upgrade it up to Nougat. You couldn't download the latest antivirus scanners, firewalls, security patches, etc. With your Samsung Galaxy S4, Samsung Galaxy S5, LG G3 you were left out in the cold.
That's why the unprecedented decision by Samsung to roll out Android Oreo for the three-year-old smartphones made the headlines. For now the update is available for T-Mobile subscribers only. For instance, Samsung Galaxy S6 can be upgraded from Android 5.0.2 Lollipop up to Android 8.0 Oreo, while the previous maximum upgrade was limited to Android 7.0 Nougat.
But wait, wait, wait! We are talking about the flagships phones here! For instance, Google is very accurate with the latest updates for the Pixel and Pixel 2 phones, but they are way too expensive. People mostly use middle-class or budget phones. Those never got a decent upgrade. As a rule, their hardware is severely cut down to support the current OS on the release date. That's because nobody expected the cheap Android phones to last more than a year. Oh, perhaps, I found the reason why they are made so fragile as well!
I'm thinking that in two, let alone three years any Android phone becomes very insecure. Updates either stop arriving or arrive at random, often only if a major vulnerability is discovered.The only advice you will get is to upgrade your phone. Not the software but the actual phone itself, can you see the difference?
Well, if you are going to change your handheld all the same, it's OK. You can sell it. Samsung Galaxy and Google Pixel phones can be sold for a good chunk of cash, but what if you can't or just don't want to part with your smartphone?
There's a way out…patch the apps you've downloaded from Google Play. As long as you've got the free space in your phone or as long as your Android support the patches, remember to upgrade whenever possible.
Another good idea is to turn to the good, old 'dumb' phones as a backup. Do you recall, I mentioned that they are still around? That is the reason why. 'Old' in our case means 'obsolete'. Obsolete phones are still made and sold, because no browser and social apps means no Trojans, no malware, no cry. If hacked, your 'dumb' phone can leak your contacts list and texts, that is also critical, but this kind of hacking is mostly a hands-on experience. In other words, a culprit has to steal your device first and you'll have some time to report your phone stolen to block it.
Old phones can also be hacked via spam SMS, but here you are in full control. Don't open the texts from strangers and even from a familiar contact if the text in question looks funny. Just call back to make sure your contact has sent it.
Add up the battery's stamina (non-smart phones can work for three days in a row without a recharge) and you have an ideal companion. Most users have both a dumb- and a smartphone so that they can always reach their friends and family in any given situation.
Bottom line is that dumb phones aren't too dumb and too old to be ditched right away, after all.
Troubleshoot with your iPhone
There are a lot of things can go wrong with your iPhone. Given all of the possibilities, everyone should be prepared to spend some time troubleshooting their phone. Issues range from hardware, such as problems with a port or the battery, or a more serious problem like issues with the iPhone's software. It could also be a more simple issue such as a broken charging cable, an issue with your computer's USB port, or trouble with iTunes. Whatever issue arises with your phone, there are troubleshooting tips to help.
Our experts suggest that if something goes wrong with your iPhone, you should take three deep breaths before you proceed. Take these necessary breaths before anything, as issues that arise with your smartphone can be extremely frustrating and stressful.
It is said that a calm and rational approach will always get you further on the way to happiness than blind panic. We can nod at this wise reflection, but we admit that this is easier said than done. How will we react when we drop our electronic device onto a hard surface from a great enough height, cracking the screen? What will you say if your son leaves your new iPad on the roof of your car… and it just so happened to land in the perfect position for it to be run over by your tire? How upset would you be if you were caught in an unusually heavy rainfall with your new iPhone tucked away in the wet pocket of your t-shirt?
Let's stop here and assume that after you have taken those three deep breaths, you've realized you may not have ruined your iPhone forever.
Now, think before you proceed. Remember that if you use heavy-duty troubleshooting methods when they aren't absolutely necessary, you may be doing damage to the phone that you will have trouble repairing. You may also lose data that otherwise would have been safe had you not taken unnecessary measures.
How to Restart, Reset, or Erase Your iPhone
Naturally, we all try to keep our phones running around the clock, as not to miss any texts, calls, emails, or notifications. However, if your iPhone's touch screen is completely unresponsive there is a troubleshooting tip to help! First, simply try to restart your device.
PS – By the way, did you know that your smartphone (it doesn't actually matter if you have an iPhone or an Android) accumulates more bacteria than an average toilet handle?
Restarting Your iPhone
The steps to follow when restarting an iPhone, are very simple:
Step 1: Hold down the Sleep/Wake button. The screen should open and prompt you to shut down the phone (you should see the Slide To Power Off message).
Step 2: Move the slider and your phone should turn off.
Step 3: Wait a few seconds, then hit the Sleep/Wake button again.
Step 4: Hold the button down until you see the famous Apple logo – a bitten Apple – on the screen.
Your iPhone should now be functioning normally.
How to Perform a Hardware Reset
If your phone fails to respond to the restart, there is another troubleshooting tip that may help, a hardware reset. Just simply press the Sleep/Wake button and Home button at the same time, and wait until you see the Apple logo, then release.
How to Perform a Software Reset
Assuming that the hardware test didn't work, you will need to then try a software reset. Fortunately, this reset should not cause you to lose any of your data.
However, 60% of users claim they aren't worried about losing their data, as they have the contents stored elsewhere, and because many will not be needing this data in the future.
How to Do a Software Reset
Hopefully a software reset is enough to restore your device. It is a bit more complicated than previous methods, but should prove successful:
Step one: Head to the Home screen by pressing the Home button.
Step two: Tap the Settings icon in order to display the Settings screen.
Step three: Scroll down and tap the General button, which can be found at the very bottom. The reset screen will be displayed.
Step four: Tap the Reset All Settings button.
How to Erase the Content and Settings
If the software reset didn't fix the issue, you can then try erasing all content and settings. Before doing this, don't forget to remove any content you have created on your iPhone and not yet synced – assuming the device lets you to do so.
To erase all content and settings:
Hit the Home button.
Tap the Settings icon to open the Settings screen.
Scroll down and tap General.
From there, tap the Reset button.
Next, hit the Erase All Content and Settings button.
Tap the Erase iPhone button which will appear on the first confirmation screen.
The second confirmation will prompt you to tap the Erase iPhone button again (to assure you in fact want to erase your device).
After this last step is completed, re-sync your iPhone to restore it to its previous state.
Drain the iPhone's Battery
If it is impossible for you to reset the iPhone, its battery may be too low. This seldom happens, but if so, you will need to drain the battery:
Disconnect the iPhone from its power source. Leave the phone until the battery is completely drained and the phone powers down.
Now try plugging the iPhone into a power source. You may use either a USB socket on a computer or the Apple USB Power Adapter. After your iPhone has charged for a few minutes, do a hardware reset: hold down the Sleep/Wake button and the Home button together until the Apple logo appears (it will take about ten seconds).
If draining the battery and recharging it revives the phone, update its software, as the latest version may help you avoid the problem again in the future.
Links
<!-comments-button-->