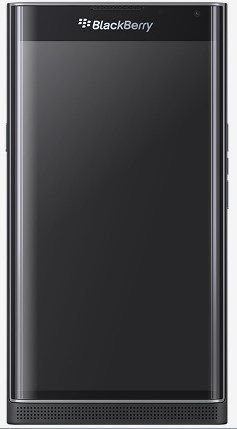 Blackberry Priv smartphone
The BlackBerry Priv has been developed by BlackBerry Limited. It was released on November 6, 2015.
The Priv is the first BlackBerry-branded smartphone that runs a version of high-end Android Lollipop platform customized with features inspired by those on BlackBerry phones and with security enhancements. With its use of Android the company seek to leverage access to the larger number of Android software available through the Google Play Store.
The Priv works with many of the world's carriers, and the four major carriers in the US.
In fact, while BlackBerry was dominant in the early smartphone market, the company had struggled in recent years due to the dominance of Apple with its iPhones, and Android devices designed and marketed primarily by Samsung Electronics.
The Priv features a 5.43 in, 1440p AMOLED display, which is slightly curved around the horizontal sides of the device. The rear of the device is coated in a glass weave material.
Users can slide out its screen to reveal a hardware keyboard. Similarly to the BlackBerry Passport, the keyboard is touch-sensitive. It registers sliding gestures across its keys for scrolling, text selection, and autocomplete suggestions. It features a Schneider-Kreuznach® certified 18 MP dual-flash camera which has been engineered to deliver professional looking photos with minimal effort. The camera is equipped with a range of professional settings, including live colour filters and exposure control. Features like Phase Detection Auto Focus, OIS, and a dual-colour flash are designed to help the camera focus instantly and accurately, deliver feedback quickly, and capture blur-free, realistic looking photos, even in low light.
An app called DTEK allows you to view a summary of the phone's level of security based on basic best practices such as whether or not beneficial screen locking or dangerous developer mode are enabled. It also provides notifications when apps attempt to access sensitive information or permissions.
The Priv integrates with the pre-existing Android for Work suite. BlackBerry 10 devices will continue to co-exist alongside the Priv.
PC Magazine noted that this smartphone has "some complex animations and missed touch or typing inputs that might make you feel like it is".
The PRIV camera is engineered to deliver professional looking photos with minimal effort. With an 18 MP dual-flash camera, certified by Schneider-Kreuznach, it integrates technologies commonly found in professional DSLR cameras.
Some More Words about Priv
Widgets on Android devices display information from an app directly on your home screen. BlackBerry Pop-up Widgets let you see that information, but without cluttering your home screen with content and messages you may not want others to see. Simply swipe up or down across an icon to view the widget.

PRIV gives the user the freedom to choose between a virtual keyboard or a physical keyboard for speed and accuracy. Snap the slider open to gain back screen space and reveal a full physical keyboard. Just move your thumb across the touch sensitive keys for scrolling, flicking predictive text onto the screen, and fine cursor control as if it were a track pad. And, easily program the buttons to launch customizable shortcuts.

PRIV has a stunning 5.4-inch immersive dual-curve display, protected by the rigorously drop tested Corning Gorilla Glass 4. It sports an incredible pixel density that's 4x the amount of pixels of a standard HDTV. And because the display is OLED, it delivers richer colours and deeper black levels with less power consumption, so you can revel in its beauty for even longer.

Whether it's your financial reports or your selfies, your data is encrypted by default on PRIV. Extra steps are taken at both hardware and software levels to help protect you from malware and any attempts to tamper with your OS.

You can be confident your personal data is being kept private with DTEK by BlackBerry for Android, a single dashboard to monitor and control application access to your microphone, camera, location and personal information. Know at a glance the overall security rating for your device, as well as for specific security features.PRIV comes ready to work. Android™ for Work support allows for fast, simple and secure integration with your enterprise environment. BlackBerry is the best professional tool for those who strive for success every day, providing superior productivity, ultimate privacy and effective communications and collaboration.

Seamless integration with Google Play for Work also allows for easy access to IT managed apps. Combined with BlackBerry Hub, Calendar and DTEK by BlackBerry for Android, you'll have access to all the apps you could ever need.

See also:

Blackberry Priv. Credit photo: ca.blackberry.com

<!-comments-button-->