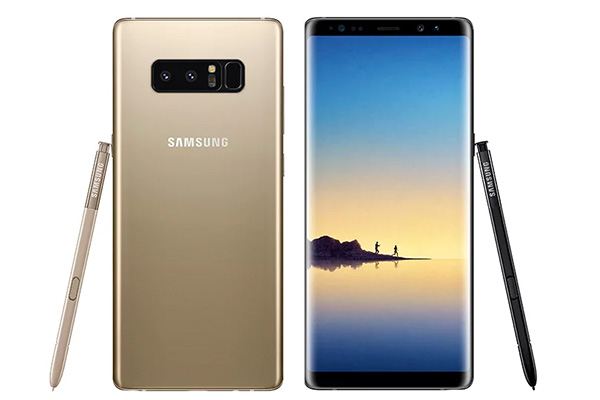 Samsung Welcomes Galaxy Note 8
As Samsung has realized, the best way to make people forget about the past is to distract them with something big and shiny. To help their PR nightmare fade from our collective memory, Samsung has launched the Galaxy Note 8, their biggest and best smartphone ever.
An incredible fusion of design and engineering, the strapping Galaxy Note 8 is the next generation of the Galaxy Note, a product line that Samsung debuted in 2011. The design is daunting, the specs are superb, and its features are fierce.
And yes, it's in stores now.
Bigger is Better
The Note 8's design is reminiscent of the Galaxy S8 Plus, which launched last spring, but the Galaxy Note 8 is bigger in many ways, from the display (6.3" as opposed to 6.2"), to a larger flat surface – and, at 195 grams, it weighs more too.
What's New?
Compared to its Galaxy Note predecessors, the Note 8 has more memory (6 GB of RAM), a bigger screen, and, its biggest selling point, two 12-megapixel rear cameras. This means you can take pictures with a wide-angle lens or a telephoto lens, a very nice advantage. The cameras are also equipped with OIS, or Optical Image Stabilization, so your pictures will be crisper and clearer.
Another perk: In Dual Capture mode, both rear cameras can take pictures at the same time, providing different perspectives and views. If you're shooting at dusk, not to worry — rapid auto focus allows you to capture crystal clear pics even in poor lighting.
The Galaxy Note, which is available in gold, blue, gray, and black, also features an improved S Pen, enabling you to take up to 100 pages of notes. An awesome S Pen bonus: Just hover over the text and have a word or sentence translated into 71 languages.
Bixby at Your Service
The Galaxy Note 8 is powered by Android 7.1.1 "Nougat," which provides an efficient and intuitive software experience, and even includes the ability to easily design GIFs from video. We expect that many people who purchase the Note 8 will be first-time Android customers, and we invite you to read our post on transitioning from iOS to Android.
The software also features Samsung Experience, the user interface on all Galaxy-branded phones. And of course there is Bixby, the voice assistant who is more helpful than he's ever been.
And then there is the "WOW" factor, the bells and whistles without which it just wouldn't be a Samsung:
You can take your Galaxy Note 8 to the pool or beach without worry. In fact, because it is water and dust resistant, you can pretty much take it anywhere. Samsung, by the way, created the first device that could withstand exposure to the natural elements, so they know what they're doing.
Samsung has also been a leader in developing wireless charge capabilities for its Galaxy brand of devices. So it's no surprise that the Galaxy Note 8 allows you to charge your phone (sans the wires) anytime, anywhere, quickly and conveniently.
Galaxy Note 8 provides iris and fingerprint scanning, so you can always feel secure with your personal and professional data.
Turn your smartphone into an experience that is comparable to what you get with a desktop computer. All you need to do is purchase Samsung DeX, an awesome accessory that allows you to store your files on your smartphone and work productively on the go. Perfect gift for the workaholic!
With the extra RAM and a10 nm processor, the Note 8 can really pack a punch. If the Samsung Galaxy Note 8 is big in size, then – you guessed it – it should be no surprise that it is big in price too – just under $1,000. The price is in the same ballpark as Apple's iPhone X, which is the first iPhone in three years with a radically new design and capabilities. Clearly, customers have an appetite for smartphones that are not only big but also have new, gee-whiz capabilities.
How To Pay For It (The Smart Way!)
Here's the good news – buying the "the biggest and baddest" Samsung doesn't have to break the bank. Here's how you can make it affordable: Start by selling your used smartphone (and other electronic gadgets like iPads and MacBooks) for top dollar. Not only will you receive fast cash for your used devices, but the whole process is lightning fast and super simple!
We bet you are curious to know the amount of your payout. If you were to sell your used smartphone, laptop or other electronic gizmo, how much would you make? That's the exciting part, and it's absolutely free to find out. Just visit iGotOffer.com, and we will be happy to help you out.
Links
Samsung Galaxy Note 8 Review: A $1000 Android! [Video]
Video uploaded by Marques Brownlee on September 20, 2017

<!-comments-button-->