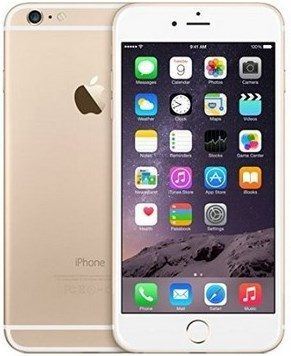 Sell Used iPhone 6 Plus
You want to sell used iPhone 6 Plus? Yes, this smartphone has a large gorgeous display, the best camera and other great features. You were one of the first to buy or to get it as a gift. You stopped using iPhone 6 Plus because it is too big and it doesn't fit into your pocket, or maybe its battery life was too short…
Anyway, selling an old or broken iPhone 6 Plus can be a great way of saving money for the next iPhone model or any other new Apple devices (or you just want some fast cash). Regardless the reason you'd like to get rid off your iPhone 6 Plus, iGotOffer is ready to pay the highest price for it, and we can help you. We buy iPhones 6 Plus in practically any condition. We will work with you to ensure that you get paid the amount when you sell old iPhone to iGotOffer.
Before you sell used iPhone 6 Plus, remove all data: Indeed, whenever you decide to sell iPhone 6 Plus, you will want to do your best to remove all your personal data. Although iGotoffer offers free data removal if your iPhone 6 Plus can be turned on, that is not guaranteed if the item is broken. However, as long as we can turn the iPhone on, we will try to remove all of your personal data. As we said before, this service is completely free and is part of our dedication to our customers' satisfaction.
Clearing data before you sell used iPhone 6 plus is very important. As a rule, you should always clear your personal data from any computer or mobile device before you sell it to anybody. However, we at iGotOffer will always do our best to ensure that your iPhone is restored to its factory settings if you sell it to us. This service is provided for free. However, keep in mind that there may be times when clearing all private data may not be possible.
Next, before you sell used iPhone 6 Plus, please select what carrier you have been using. Some iPhone 6 Plus are fully unlocked and could work with almost any provider. Usually unlocked phones are worth the most and you would get the most cash for it. Please confirm with your carrier if it is fully unlocked.
Second, we want to know your iPhone 6 Plus capacity, as memory size is one of the most important factors to impact a phone's value.
You understand that iPhone 6 Plus is expensive, so we recommend that you use proper package (shipping box).
So don't think more – sell iPhone 6 Plus to iGotOffer and get top cash for your old iPhone 6 Plus, the best site to sell your used smartphone!
For more information about how we can help you get paid for your Apple devices, call or email us.
­
See also
iGotOffer.com: the best place to sell my used iPhone online. Top cash guaranteed. Free quote and free shipping. BBB A+ rated business.
Sometimes it is impossible to clear all the private data, for example, when you sell iPhone which is broken and cannot be turned on. In any case, you can always rest assured that iGotOffer respects the privacy of all of its customers. We will never share or sell your personal information.


<!-comments-button-->