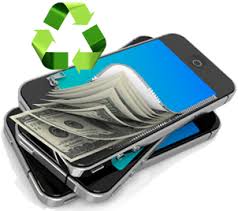 Sell iPhone
The iPhone is arguably one of the world's most recognizable smartphones, with many millions of units sold. It is sleek and powerful, notoriously versatile, and nowincludes a super-sharp display and 4G connectivity, which means you can quickly surf the Internet. It is hard to resist upgrading when a new iPhone becomes available.
Typically, Apple releases new phones in the fall and starts shipping new models about a week later. In the previous years prices dropped as soon as the new iPhones hit the market, but today Apple is having issues with the quality of replacement parts as well as customers not being on board with the new iPhone design. Therefore you can still get more for your old handheld than you'd expect.
But, this doesn't mean the last iPhone you had is now obsolete. Not everyone can afford to buy a new iPhone. The one you no longer use may be just the thing that someone else wants. You could try selling it yourself, but that can easily become a hassle. What could be better than selling your iPhone to a registered, reliable buyer for the best available price and with a very quick turnaround? iGotOffer is that buyer.
Visit igotoffer.com and quickly get a quote for the iPhone you wish to sell. If you are satisfied with the offer, iGotOffer makes the rest of the transaction as easy as possible. Not only will you keep that iPhone out of the landfill, but you could have cash in hand within days.
The iPhone is probably one of the only mobile phones you can sell for good money even if your model is a bit old. The best time to sell your phone is usually right before the next model is introduced and available for purchase.
It does take a few steps to sell your phone though, but we will gladly help you through them.
Before Selling Your iPhone
Before you give away or sell your old iPhone, restore it to its factory default state for the new owner. To do this, remove all your personal data as well as any valuable information, in order to protect your privacy. Here is how you should proceed:
Back up your device: First of all, make sure you have a backup phone to use while selling your iPhone. If you can do with a cheap 'burner' phone or an Android smartphone, you can also sell your iPhone before the new one comes out or is announced and choose a better quote in the market.
How to Backup Your iPhone in iCloud
Check if your device is fully charged, otherwise plug it in. A poorly charged device may affect transferring your data during the process.
Connect your device to a Wi-Fi network.
Check if you have enough storage space in iCloud.
Go to Settings > [your name], and tap iCloud. For iOS 10.2 or earlier, go to Settings, then scroll down and tap iCloud.
Tap iCloud Backup. For iOS 10.2 or earlier, tap Backup. Make sure that iCloud Backup is turned on.
Tap Back Up Now. Stay connected to your Wi-Fi network until the process completes.
To check the progress and confirm the backup completed go to Settings > [your name] > iCloud > iCloud Backup. Under Back Up Now, you'll see the date and time of your last backup.
Sign out of iCloud by tapping Settings > iCloud. Scroll down, and tap Sign Out (in iOS 7 or earlier iOS, tap Delete Account). Tap Sign Out again, tap Delete from My iPhone and enter your password. Go to Settings > General > Reset, then tap Erase All Content and Settings. This procedure will erase your device, including any credit or debit cards you added for Apple Pay. Your iPhone will now be completely erased and removed from your account, so that the next owner can activate it.
Keep in mind that your content won't be deleted from iCloud when you erase your device.
If you are not using a SIM-card, you should contact your carrier for guidance on transferring service to the new owner. When the new owner of the iPhone turns on the device for the first time, Setup Assistant will offer its services and guide them through the setup process.
If you didn't follow the steps above before selling or giving away your iPhone, ask the new owner to erase all content and settings as described above. However, if you're using iCloud and Find My iPhone on the device, you can erase the device remotely (by signing in to icloud.com/find, selecting the device, and clicking Erase). When the device has been erased, click Remove from Account. After you erase the device, you'll need to wait 24 hours before you can activate iMessage on your new device.
Important note: deleting documents, contacts, reminders, documents, photo streams, or any other iCloud data while signed in to your iCloud account, will lead to the removal of all this content from the iCloud servers and from all of your devices that are signed in to iCloud at the same time.
If the Apple Pay app has been installed on your iPhone, you can remove credit or debit cards at iCloud.com: choose Settings to see which devices are using Apple Pay, then click your device and click Remove next to Apple Pay.
If you're unable to erase the device before you sell iPhone, change your Apple ID password. Changing the password won't remove any personal information that is cached on the device, but the new owner won't be able to delete your information from iCloud.
Save Your Personal Info and Data!
This is a very important step. Selling your iPhone should be a positive experience. Many people are apprehensive about selling their phones, because they're afraid a stranger will be able to access their personal info, passwords, etc. Fortunately, several simple steps can ensure you save all of your information and no one will get access to it.
All you have to do is to make sure you transfer and save your information either in iCloud or in iTunes. Once you do that, you can then erase all your data off of your phone. Once you get a new phone you can then transfer that data from your backup.
Unlock Your iPhone
Most cell phones are locked to a specific carrier, so one of the first things you want to do is unlock it. Why is it so important to unlock? An unlocked phone has more flexibility for anyone to purchase and be able to use with any carrier. It is also available to use anywhere in the world, therefore more people would be interested in it and it would of course sell for a higher price as well. Your selling options widen with an unlocked device and you can sell it to to people who are traveling or to someone internationally as well. So, your first step is to find out if the carrier allows you to unlock your iPhone. You can find the relevant info in your contract or on the carriers' website under the Device Unlocking Policy. Some carriers allow you to unlock the device for free only if you have no overdue payments, have a specific model or if your contract has a certain status. Otherwise, you may have to pay a fee to unlock it.
Remember that unlocking your iPhone, using this simple procedure, increases the value of your device. Once unlocked, it can be used on alternate GSM carriers throughout USA and throughout the world. You will need to contact your carrier directly to inquire about its unlock.
However, unlocking a device is most valuable for resale on the private market only. If you intend on trading the iPhone in to Apple, it is an unnecessary step.
Once you look up the details of your account and carrier details, follow the instructions on how to unlock your device, and then make sure your phone works properly after it is unlocked.
Attention: The Following Data is NOT Copied to iCloud
Contacts, calendars, notes, My Photo Stream, and iCloud Photo Library because they are already there.
Data stored in other cloud services, like Gmail and Google Disk. You should use their own backup tools.
Apple Pay information and settings.
Touch ID settings.
Content outside of iTunes, App, or iBooks Stores, like imported MP3s, videos, or e-books.
iTunes in the iCloud and App Store content (If it's still available in iTunes, App, or iBooks Store, you can re-download the purchased content.)
How to Backup with iTunes
You have to remember well your passcode to finish the procedure.
Make sure you remember your phone passcode, you will need this to finish the procedure.
Open iTunes and connect your iPhone to your Mac or PC.
If a message pops up on your device, asking for your passcode or a message asking to Trust This Computer… make sure to enter your passcode or hit OK.
Select your iPhone, when it appears in iTunes.
If you want to save Health and Activity data from your iOS device or Apple Watch, you need to encrypt your backup: Select the box called Encrypt [device] backup and create a password that you won't forget. If you don't need to save your Health and Activity data, skip the encryption and just click Backup Now.
When the process ends, check if the backup finished successfully on the Summary screen in iTunes. Look under Latest Backup for the date and time of backup to confirm.
Attention: The Following Data is NOT Copied to iTunes
Content from the iTunes and App Stores or PDFs downloaded directly to iBooks (use Transfer Purchases in iTunes for backup.)
Content synced from iTunes, like imported MP3s or CDs, videos, e-books, and photos.
Photos already stored in iCloud, like My Photo Stream, and iCloud Photo Library.
Touch ID settings.
Apple Pay information and settings.
Activity, Health, and Keychain data (use Encrypted Backup in iTunes.)
We strongly recommend you to use both iCloud and iTunes to backup your data, just to be on the safe side. The next step will require you to completely wipe out all your data off your phone, and this way you have your information saved in two places in case anything goes wrong.
And Last but Not Least: Once Againg – How to Erase Your iPhone
Make sure you remember your passcode to your phone and your Apple ID log in, you will need this information to finish this process. You can remove all settings from your iPhone by tapping Erase All Content and Settings. This procedure will erase your old iPhone.
Should we repeat once again: Before removing all settings and information however, ensure that you have an iCloud or iTunes backup and that it is up to date. (Just in case you wish to recover the data again).
And now, step by step:
Tap Settings > General > Reset > Erase All Content and Settings.
When asked, enter your passcode or Apple ID password.
Confirm that you want to erase your device before you sell iPhone.
Wait several minutes for your device to erase.
If you can't erase your device or forgot the passcode to your iPhone, set it up as a new device to remove the passcode.
Remember, when you select to Erase All Content and Settings, the process can take from a few minutes to several hours. This time depends on the storage capacity of your iPhone. (Don't forget to connect your device to a charger. Leave it connected until the process is complete!).
Was your iPhone not able to remove all the settings and data due to some technical issues? In this case select Erase All Content and Settings option again.
How to increase your iPhone value
Clean up the casing before your decide to sell iPhone. Spend a couple of minutes to remove fingerprints, lints and dirt with a damp lint-free cloth. Wrap the cloth around a toothpick to clean the seams and ports.
If you sell it yourself on eBay, take some photos of it in good lightning. Indirect sun is the best lighting.
Throw in any accessories you may have like cases, cables, headphones, and even the original box if you still have it as an extra package deal. If you are going to switch to a larger iPhone or an Android phablet, you probably don't need your old case or sleeve anymore anyway. The same goes for the 3.5 mm headphones. Make sure any accessories you add are cleaned as well.
See also:
Apple Encyclopedia: all information about products, electronic devices, operating systems and apps from iGotOffer experts.
iGotOffer.com: the best place to sell iPhone online. Top cash guaranteed. Free quote and free shipping. BBB A rated business.
<!-comments-button-->