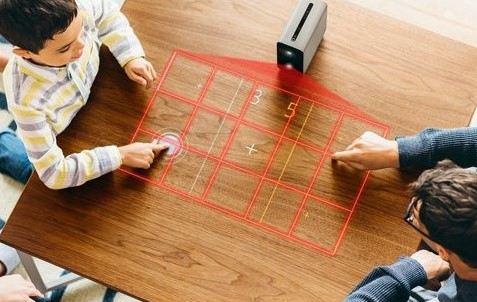 Sony Xperia Touch
Introduced to the world in January, 2017, the Sony Xperia Touch; developed and marketed by Sony, is an Android-based projector. Its short throw projector is designed to work at a 90-degree angle, projecting either directly in front or above, as the infrared sensors need to be parallel to the surface while the Xperia Touch is running.
The projector has 100 lumens brightness and the minimum display size is 23-inches. While running on Android 7.0 Nougat, the device supports 10-point multi-touch at that size, making it a fully functional touchscreen. Games and other apps from Google Play are downloadable, as this is a full version of Android, not something made specifically for the device. More than a simple projector, the device turns any table or wall into a touch-enabled screen, letting users swipe and manipulate apps and screens as if they were using a 23-inch phone.
The touch capabilities are only possible at the 20-inches screen size, however. Besides, the Xperia Touch has to be about 10-inches away to make that work. It can project up to a maximum of 80-inches on any flat surface, such as a white wall or table; surfaces which offer the best canvas for projecting.
The device's resolution tops out at 1280 x 720 pixels, which is good for a projector at this size, though is the same as the ZTE Spro 2 pico projector that came to market in 2015. Unlike ZTE Spro 2, however, the Xperia Touch has no onboard touchscreen. Additionally, it can project a limited display of the time as well as other things, like handwritten notes. Its sensitivity is surprisingly good, and playing games on a table shouldn't be a problem, provided there's enough shade to illuminate the screen.
The Touch has 32GB of internal storage and is equipped with a microSD card slot to expand that up to another 256GB. Experts say that the device could probably handle up to 2TB cards, though Sony probably won't say that publicly.
It also features built-in voice control, which allows the device to respond to voice commands. It may run on Android 6.0.1 Marshmallow, running Google Now or Google Assistant. The built-in speaker works nicely, but pairing a Bluetooth speaker with Touch can take the overall volume and audio quality to a different level. Negatively, there is no Aux-In for wired connections to external speakers, but at least there is a micro-HDMI port to make the device work with a monitor or TV.
Voice chatting over Skype or another video chat app should be easy enough with Touch, especially with the projector's camera staring at the user.
You can play games with a PlayStation 4 controller paired with the projector or follow a recipe beamed onto a countertop or kitchen table. In short, if can do it on a tablet, you can probably do it on the Xperia Touch.
XPERIA TOUCH KEYBOARD
A perforated chassis allows to increase air circulation to quiet the fan inside. It's certainly not silent, yet not a buzzing machine, either. The battery inside can run the projector for up to an hour, so watching a movie wirelessly is possible. In most instances, the Xperia Touch will be a stationary device that needs to be plugged in, especially for longer playback.
Available in the grey metallic shade, this projector is set to hit the North America in the summer, at a price of about $1500 (which is an estimate, since the price has yet to be released). That's expensive, to say the least, which means this device won't be in the affordable category when it finally drops.
Xperia Touch features a control strip at the top and includes an array of sensors built into its small frame, including GPS, barometer, temperature, humidity, human detection, ambient light, a 13MP camera and two-way stereo speaker that all work together to turn any flat surface into a fully interactive touch screen. Note that Sony's Xperia XZ Premium has a 4K HDR screen.
Globally, we can see that companies are starting to look beyond the capabilities of 5- or 6-inch screens.
Sony's Xperia Touch offers more than an expanded image, it lets people interact with it just as they would with physical objects. Of course, it remains to be seen how responsive the interface actually will be, but the technology is intriguing and as it develops, it could one day transform the way we work, learn and communicate.
The Sony Xperia Touch certainly sounds like a great idea for enhancing at-home entertainment/infotainment. The price, however, might be prohibitive for most of us, but if you are ready for this machine, keep checking Sony's site to preregisterr.
See also:
Getting ready to sell used electronic device and need help? Drop by this page: Sell Old Electronics Online. Free instant quote, fully insured payment, fast and secure payment. Check our prices!
Credit image: Sony Xperia Touch

<!-comments-button-->