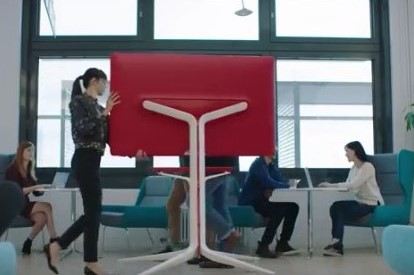 Google's Jamboard
Google's Jamboard is an interactive whiteboard developed by Google, as part of the G Suite line-up. It features a 55" UHD touch display, with 16 multi-touch support. Jamboard is pitched against Surface Hub, and sports all kinds of modern connection ports and wireless technologies: USB 3.0 and Type C, HDMI 2.0, Wi-Fi, NFC and Ethernet. A unique feature is the Google Cast built-in, that is similar in functionality to Google Chromecast dongle. The whiteboard also supports handwriting and comes with two, fine-tip styluses and an 'eraser' that has a fiber-cloth foot for cleaning the screen's glass. Google's Jamboard sports the red and white casing, can be mounted on a wall or on the rolling stand for better mobility.
Announced on: 25 October, 2016.
Display type: UHD.
Display diagonal size: 55 inches.
Display aspect ratio: 3:2.
Touch Refresh rate: 120 Hz.
Video refresh rate: 60 Hz.
Maximum brightness: N\A.
Minimum: brightness: N\A.
Multi-touch sensor: 100 points.
Resolution: 4k.
Contrast ratio: N\A.
Multi-touch support: 16 touches.
Pen support: 2 fine tip passive styluses (come from the box).
Processor Speed: N\A.
Turbo Speed: N\A.
Processor Architecture: N\A.
Processor Upgrade: N\A.
Processor type: N\A.
Cores: N\A.
Graphics processor: N\A.
On-Board RAM: N\A.
Storage: N\A.
Battery: External power supply.
Input\Output: HDMI 2.0, SPDIF audio out, Google Cast built-in, down-firing speakers, built-in microphones. USB Type C, 2 X USB 3.0, Ethernet RJ-45 port
Internet \ Wireless connection: NFC, Wi-Fi 802.11ac 2×2, 1 Gigabyte Ethernet.
Sensors: N\A.
Front webcam: wide-angle HD camera.
Software: G Suite.
Color: red and white.
Availability: private beta for businesses.
Accessories: two non-chargeable passive styluses with fine tips and an eraser cleaning cloth, as well as a rolling stand.
Price: $4,999 + $600 per year for technical support.
MISCELLANEA
Google's Jamboard is available for businesses only with the priority for the G Suite investors. The CPU specs, as well as those of RAM and storage drive, are kept secret for now.
Google's Jamboard supports the Hangouts calls and video calls using its built-in camera, speakers and microphone. The white board remains active during videoconferencing, which can hold up to 50 participants at one time. Google tablet apps for Android and iOS can also be used with the full Jamboard canvas.
Google's Jamboard can be mounted on a rolling stand and also tilted for a better view.
The whiteboard is a part of the Google ecosystem and has a supporting Google Drive cloud account. The Jamboard phone app for iPhone and Android has been developed to add content to a Jam. The editing, though, is impossible while the work on a whiteboard is on, the content being limited to sticky notes or some outside info for discussion. Passive participants or viewers can tune into a Jam via Chrome, on a PC or Mac.
Sticking to Google products can seriously undermine the Jamboard's position on the market. For instance, Skype is more popular than Hangouts, and the video communication is more reliable. The same goes for the browsers choice. Those on Edge or FireFox won't be able to connect to the Jamboard is just a shame.
As to the accessories, Google's Jamboard boasts a non-chargeable stylus, which is a major advantage, especially when compared to the Surface knick-knacks. The large eraser is alsoa clearner, since it has a fiber cloth on the foot.
While 'erasing' the notes, a user also wipes the screen glass clean. As the styluses aren't powered, the pressure level cannot be recognized by the board. But, on the other hand, the Jamboard isn't meant for drawing and sketching. It's developed with presentations and conferences in mind, and is more useful when discussing and brainstorming with a group, than for anything else.
Links
Introducing Jamboard [Video]
Video uploaded by Google Workspace on October 25, 2016

<!-comments-button-->