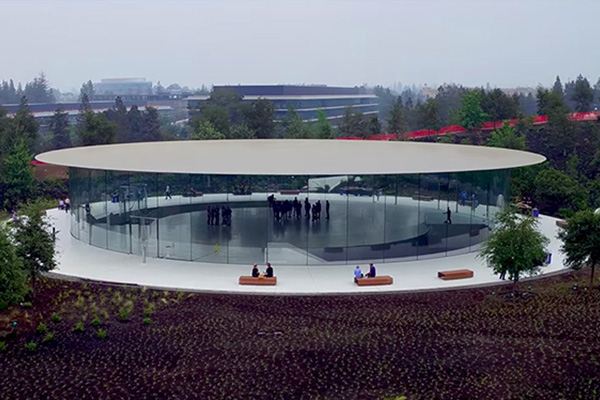 Steve Job's Theatre – More Than You Can See
If you were asked what a Steve Job's Theatre would look like, what would you imagine? An all-mirror tower like the ones you see in Dubai? Something curly and smooth like the Sidney Opera House? Well, if you are a UFO fan, hold your breath, because this is exactly how the new offspring by Apple is going to look like.
The silver disk of the roof seems to soar high above earth because the human's eye won't notice the transparent glass walls which support it. The construction is not too high by modern standards about 20 something feet. But as it is always the case with Apple products, there's more to it than you can see.
APPLE PARK: September 2017 | From Dreams to Reality
The auditorium that is anticipated to house the event on September 12, is located underground. It is not "just" an underground building though, it is also is a four-story building that is underground! Not exactly Khazad Dum of Moria, but very close to it. Journalists and fans will have to descend down a spiral staircase that will be winding down against the walls. If spiraling in general doesn't intimidate you, you can also take the rotating elevator. This elevator rotates both up and down and allows you to appreciate some beautiful sights behind its glass walls.
What is hidden behind these glass panels we mentioned above? Apple's design hates empty non-used places. These panels reportedly hide the demonstration area, where you can see and touch Apple products. It will open when the presentation of the iPhone 8 and other surprising products will be finished.
But the Theatre is not a place for fun and events only. It's now the home for Apple engineering and researching projects. Historically, different teams and team members were always separated from one another in their work environment, but now things are a lot different.
Apple's inner policy is now all about collaborating and socializing.
There are pods to work in and there are pods to socialize in. There are pods for team work projects and pods just for discussions. The pods structure was originally Steve Job's idea. He dreamed of making the process more open and close to nature. There aren't any exclusions – even for CEOs. Pods are distributed democratically and there are no suites even for executive members!
The friendly and open atmosphere is backed up by a single canteen with an underground kitchen. Food is transported to the café level via elevators.
Even though they did have secrecy in mind when choosing the circular shape of the building, It's still unclear how they are going to support this secrecy level. Typically, circular constructions are more secure. Each department has its own entrance ( a total of 9 entrances) and that way employees won't mix up and chitchat with each other.
The Steve Job's Theatre as a whole ended up costing about $5 billion, or approximately like the cost of 8 million iPhones! Each seat in the auditorium costs $14,000! Those journalists better make sure to wear their best clothing to this event next week. All jokes aside, new headquarters mean a fresh start as the handhelds industry is facing great changes. Voice controls and AR are going to replace touch screens. Biometrical ID is elbowing the good old password protection. Tablets and smartphones are becoming more and more powerful and are being used as laptops. While simultaneously, laptops are deteriorating in calculation power.
The next decade will be spent learning all about neural networks and designing all-in-one handhelds. Right now all this probably seems more foreign to us than the above ground building of The Steve Job's Theatre even, but that will soon change. .
Links
<!-comments-button-->