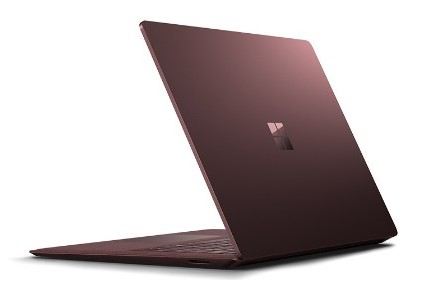 Surface Laptop
Microsoft launched its new ultra-light and slim Surface Laptop on May 2, 2017. Equipped with a luxurious Alcantara fabric-covered keyboard, the new laptop presents an elegant design and allows users to choose between four color combinations. (Platinum, Burgundy, Cobalt Blue, Graphite Gold).
The all new Surface Laptop will be delivered with Windows 10 S, and applications to install will pass through the Windows Store; ensuring that all the programs are Microsoft-verified for security and integrity.
Surface Laptop runs Windows 10 S, which is the OS special edition for this very system. This laptop is all about details: Microsoft Edge is Surface Laptop's default browser since, according to Microsoft, it is more secure than Chrome or Firefox. Windows Defender and other security features of Windows 10 are also included.
The new model's Signature Alcantara covered keyboard assures a comfortable typing experience and high performance thanks to its easily used touch commands, discreetly hidden Omnisonic Speakers and an interactive touchscreen.
The 13.5-inch PixelSense display is very easy to read, offering razor-sharp resolution (2,256 X1,504 pixels) for photographs, reports, videos or presentations, while the Omnisonic Speakers assure radiant omnidirectional sound and Dolby Audio Premium for listening to your favorite music and shows.
Microsoft also promises that the soft and durable Alcantara material-covered keyboard is waterproof, easy to clean and is specially treated to resist stains, spills and absorption.
Surface Laptop features a compact aluminum shell, designed to give the computer extreme portability and durability. Besides, Corning Gorilla Glass 3 helps protect the laptop screen, making it especially resilient to cracking when handled roughly.
To plug in any peripherals, users have to use the Surface Dock, which warps the idea of portability that Microsoft often claims.
As to the battery's life, it's seems it's really great, claiming to work for up to 14.5 hours.
A FEW TECH SPECS
Surface Laptop features a 13.5-inch PixelSense touch display, with Surface Pen support. It has an Intel Core i5 or i7 processor, an Intel HD Graphics 620 graphic processor. The device features 4 GB \ 8 GB \16 GB of RAM and a 128 GB \ 256 GB \ 512 GB drive.
This laptop doesn't have SD card reader though, which means that the internal storage is not extendable.
Surface Pen and Surface Arc Mouse are available for an extra cost though, because they are not included in a bundle.
The Surface Arc Mouse features three colors to match the laptop: Burgundy, Light Grey and Cobalt Blue. Note that If you buy a Surface Pen, you'll have to keep it somewhere else, as there's no magnet strip anywhere around Surface Laptop to store it.
The weight of the Surface Laptop is of about 2.76 pounds. Surface doesn't have a fingerprint reader. As for the Windows Hello system, there's no clue that the laptop features it at all.
If we drop by Microsoft Store, we'll see that Surface Laptop's price varies from $999 to $1,599, depending on configuration of the device.
The introductory offer includes 1-year of Office 365 Personal (but this offer ends on October 15, 2017). Microsoft promises that users will get all upgrades free within one year from the purchase, and will pay as little as $49 afterwards for each upgrade.
See also:
Discover the best way to sell your old Microsoft Surface. Get the best online deal. Check our prices, as we are an unmissable source to sell your unwanted electronics and we offer the highest price on the market: Sell old tablet now!
<!-comments-button-->