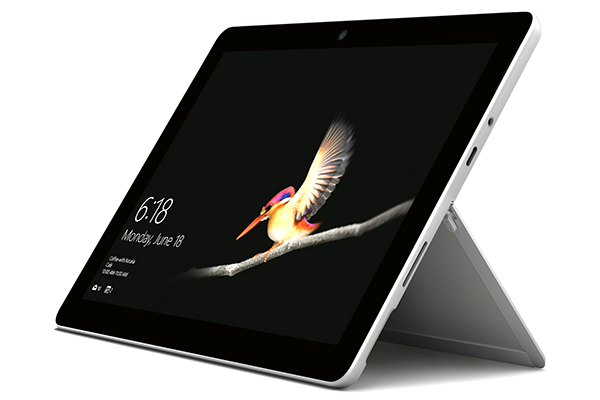 Microsoft Surface Go review: surprisingly good [Video]
Video uploaded by The Verge on August 7, 2018
Microsoft's Surface Go Tablet Arrives This Week
Releasing relatively cheap entry-level gadgets is the next big thing for Apple and Microsoft. Cupertino rolled out the educational iPad with stylus support and Redmond is bringing back a smaller Surface with a 10-inch screen. The tablet is available for preorder starting July 10th and will ship in August The price will hover around $399 and that's without the type cover.
Microsoft's Surface Go tablet looks like a carbon copy of the Surface Pro 3, including the signature kickstand-only smaller. It features a magnesium body, face recognition login, Microsoft's proprietary Surface Connector port, and 3:2 aspect ratio display with 1800 x 1200 pixel resolution. The designers just added a USB-C 3.1 port and rounded the corners. Now the tablet can be charged either via the Surface Connector or via the USB-C port, which is a bit too much but can be of great help if you lose the proprietary charger cable. The USB-C port is also used for outputting video and data to external devices.
The Microsoft Surface Go gets Intel's Pentium Gold 4415Y processor with either 4 or 8GB of RAM and 64GB of eMMC storage. The much rumored option with a 128GB SSD has been cancelled. Promised battery life for this tablet is around nine hours. Microsoft also hints that it's going to roll out an LTE model later this year, therefore the Go tablet will become the first Surface Always-On device.
On the contrary, I am pessimistic about the tablet's future. First of all, the chip is rather weak. It features two cores (four threads) with the clock speed of 1.60GHz and 2 MB of cache. The graphics core is Intel® HD Graphics 615. The processor is hot with the TDP of 6W, and we all remember that Surface tablets sport fanless cooling systems. In other words, for almost four hundred bucks we're getting a weak device that is prone to overheating.
Why so? Because the Go tablet runs on Windows 10 S, and this is the second thing to worry about. Even the sandboxed version of this OS is very demanding to the hardware.
Besides, it's not a mobile system like Android, iOS or Chrome OS. Windows 10 S is meant to fully work with a keyboard, a mouse, and a stylus. Unfortunately, the Microsoft Surface Go does not include any of these accessories. You have to buy these all separately. The True Type cover in any of the four colors you like, range from $99 to $129, and the Surface Pen adds another $99. Let's not even mention a new ambidextrous or the two-button Bluetooth Surface Mobile Mouse with a scroll wheel. Usually, one doesn't need a mouse for a tablet, but if you opt for it, be ready to pay another $34.99. In the long run you are going to pay the price of a good mid-class laptop with a faster chip, greater memory and storage and Windows 10 Home aboard that is much better than its S version.
Apple's cheapest iPad can work without an Apple Pen, to say nothing about the keyboard even. Microsoft's Go looks like a starlet with the craziest rider in the world. That's why Microsoft will always remain a runner-up, but never a champion. They just fail to target their users.
Note that Type Cover, Surface Dial, Surface Pen, and some software and accessories are sold separately.
technical Specifications
Processor: Intel Pentium Gold Processor 4415Y.
Memory: 4GB or 8GB RAM.
Software: Windows 10 in S mode (Windows 10 in S mode works exclusively with apps from the Microsoft Store within Windows and accessories that are compatible with Windows 10 in S mode. However, Microsoft offers a separately one-way switch out of S mode).
Dimensions: 9.65″ x 6.90″ x 0.33″ (245 mm x 175 mm x 8.30 mm).
Weight: 1.15 lbs (522 g) – not including Type Cover.
Storage: eMMC drive 64GB. Solid-state drive (SSD) 128GB SSD. (Note that the system software uses significant storage space which is also subject to change based on system software updates and apps usage).
Display: Corning Gorilla Glass 3.
Display screen: 10-inch PixelSense Display.
Screen resolution: 1800 x 1200 (217 PPI).
Aspect ratio: 3:2.
Contrast ratio: 1500:1.
Touch: 10-point multi-touch.
Battery life: Up to 9 hours of battery life local video playback (Note: Battery life varies significantly with settings, usage, and other factors. In this case Microsoft conducted the testing using preproduction Intel Pentium Gold 4415Y Processor, 128GB, 8 GB RAM device. Testing consisted of full battery discharge during video playback with all settings in default mode, but Wi-Fi was associated with a network and Auto-Brightness was disabled.).
Security: TPM 2.0 for enterprise security. Enterprise-grade protection with Windows Hello face sign-in
Wireless: Wi-Fi: IEEE 802.11 a/b/g/n/ac compatible. Bluetooth Wireless 4.1 technology
Connections: 1 x USB-C. 3.5 mm headphone jack. 1 x Surface Connect port. Surface Type Cover port. microSDXC card reader. Compatible with Surface Dial off-screen interaction.
Cameras, video, and audio: Windows Hello face authentication camera (front-facing). 5.0MP front-facing camera with 1080p Skype HD video. 8.0MP rear-facing autofocus camera with 1080p HD video. Single microphone.2W stereo speakers with Dolby Audio Premium.
Graphics: Intel HD Graphics 615.
Casing: Magnesium.
Color: Silver.
Buttons: Two physical buttons – Volume and Power.
Sensors: Ambient light sensor. Accelerometer. Gyroscope. Magnetometer.
In the box: Surface Go. Power supply. Quick start guide. Safety and warranty documents.
Warranty: Microsoft's 1-year limited hardware warranty.
Links
<!-comments-button-->