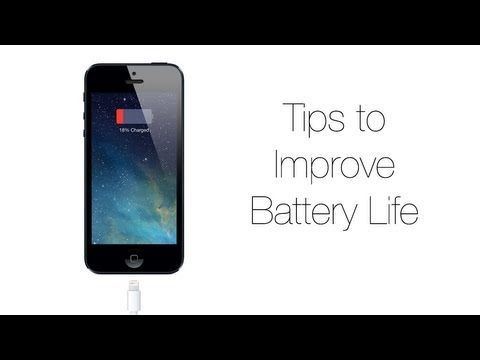 Ten Tips to Improve Your iPhone Battery Use

Improve Battery Use: While iPhones are more powerful than perhaps any other smartphone, its features come with a price: battery use. You probably already know this, as you probably have to recharge your phone every couple of days. However, there are ways to save battery life, but many of them involve turning off services and features.
Here are ten easy tips which will help you save battery life:
Tip 1 – Turn on Auto-Brightness: You'll save energy by doing this, because your battery will use less power. Your Phone has a light sensor and can adjust the brightness of the screen based on the light around it. It also helps you save battery, and makes it easier to see.
To turn on Auto-Brightness, tap the Settings app – Display & Brightness (Brightness & Wallpaper in iOS 7) – Move the Auto-Brightness slider to On/green.
Tip 2 – Stop Motion & Animations: This is a fun feature, but it drains your battery. If you prefer to conserve battery life, turn it off. To do so, tap the Settings app – General – Accessibility – Reduce Motion – Slider to green/On.
Tip 3 – Reduce Screen Brightness: The brighter the setting for the screen, the more power it requires. By reducing the brightness, you can improve battery use. You can keep the screen dimmer to save more of your battery. To reduce the brightness, tap the Settings app – Display & Brightness (Brightness & Wallpaper in iOS 7) – move the slider as needed.
Tip 4 – Turn Bluetooth off when it's not in use: Transmitting data wirelessly drains the battery, and leaving Bluetooth on to accept incoming data at all times requires even more juice. To turn it off, open the Settings app – Bluetooth – Move slider to Off/white. Another way to access the Bluetooth setting is through the Control Center. Swipe up from the bottom of the screen and tap the Bluetooth icon. The icon should turn gray.
Tip 5 – Disable Dynamic Backgrounds (on iOS 7): Animated or dynamic wallpapers that move underneath your app icons use more power than a simple static background image. To prevent this battery usage, don't select the Dynamic Backgrounds in the Wallpapers & Backgrounds menu.
Tip 6 – Keep Wi-Fi Off: Keeping Wi-Fi turned on at all times in hopes that an open hotspot will appear, is a sure way to drain your battery life. Unless you're using it, keep Wi-Fi turned off by tapping the Settings app – Wi-Fi – Slide to Off/white. You can turn off Wi-Fi via the Control Center. To access that setting, swipe up from the bottom of the screen, then tap the Wi-Fi icon. The icon should appear gray when it is turned off.
Tip 7 – Turn Off LTE or Cellular Data: Using 3G, and especially 4G LTE, requires more energy to get the higher quality calls and quicker data speeds. If you need more power, turn off LTE and just use the older, slower networks. Tap Settings – Cellular – Slide Enable LTE to Off/white to use slower cellular data networks while still allowing yourself to use cellular data. To limit your iPhone just to Wi-Fi, slide Cellular Data to Off/white.
Tip 8 – Prevent Background App Refresh (iOS 7): Background App Refresh looks at the apps you use most often, the time of day that you use them, and then automatically updates them. This feature may be very useful, but it drains battery. To turn it off, tap the Settings app – General – Background App Refresh. Now, either disable the feature entirely or just include specific apps that you want to be updated.
Tip 9 – Turn Off Location Services: GPS allows your phone to know where you are and give you exact driving directions. However, GPS and other location services need battery power to work. To turn off Location Services: Open the Settings app – Privacy – Location Services – Slide to Off/white.
Tip 10 – Turn Off Other Location Settings: The more background activity there is, the faster your battery drains. Some of these features can be safely turned off to retain some battery life. To do so, open the Settings app – Privacy – Location Services – System Services -Turn off Diagnostics & Usage, Location-Based iAds, Popular.
Hopefully, one or all of these methods will help you improve your battery life.
­See also:
Apple Encyclopedia: all information about products, electronic devices, operating systems and apps from iGotOffer experts.
iGotOffer.com: the best place to sell my used iPhone online. Top cash guaranteed. Free quote and free shipping. BBB A+ rated business.
<!-comments-button-->