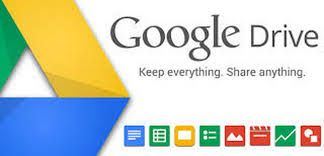 Twelve Other Tools for Google Drive
Tools for Google drive: With the right combination of tools, settings, and know-how, you can turn Drive into machine packed with time-saving functionality. Here are 12 new ways to use Google Drive at its maximum:
1. Customize Drive's appearance: You can make Drive look better for you. On the main Drive screen, click the button at the top-right with four small boxes to switch from the default list view to a grid arrangement. Click the button next to it to switch back. To the left of those buttons, you'll see a command for changing the way your files are sorted. By clicking the gear icon to the right, you'll find options for changing the density of the display.
2. Converting files: Drive can scan and detect text in PDFs and images. You'll find the option by clicking the gear icon at the top-right of the main Drive screen and looking under Upload settings.
3. Translation: Google Docs can translate your documents. Click on the Tools menu at the top of the screen and select "Translate document." You'll be able to select from a large list of available languages.
4. Google Docs Research: Just click the Tools menu and select Research (or hit Ctrl-Alt-Shift-I). Google Docs will pop a sidebar onto your screen that's prefilled with info about topics mentioned in your document. You can click on any of them to get more details or search for any additional terms.
5. Fax machine: With a plug-in called HelloFax, you let Drive serve as your own personal fax machine. Right-click any document from your Drive list to find the option to fax it.
6. Signing documents: Drive-connected app called HelloSign allows you to drag and drop your saved signature wherever you want in the document and save it or even email it.
7. Create documents quickly: Snag the free Google Docs Quick Create extension for Chrome. It'll add a button into the toolbar for starting new spreadsheets, documents, and presentations.
8. Simplify saving: A free Chrome extension called Save to Google Drive adds right-click Save to Drive commands directly into your browser to allow you to grab images, documents, and even audio and video files from the Web and save them straight into Google Drive.
9. Creating a form: Drive can create public forms for collecting and organizing data: Click on the Tools menu within a Google Docs spreadsheet and select "Create a form," then follow the prompts to get started.
10. Coding machine: A free Chrome app called Drive Notepad lets you view and edit plain-text documents in your browser and save them to your Drive account. It offers syntax highlighting for a variety of scripting and programming languages.
11. Gantter : This free Chrome app puts enterprise-level project scheduling right into your Drive account. Gantter supports Microsoft Project files while allowing for Docs-wide multiuser editing.
12. Cross-platform cloud hub: A free Chrome app Wappwolf Automator connects your Drive account to other online services and set up cross-platform syncing. It allows you to create special syncing folders within Drive; any files you move into those folders are then automatically sent to the external service of your choice.
­See also:
Apple Encyclopedia: all information about products, electronic devices, operating systems and apps from iGotOffer experts.
<!-comments-button-->