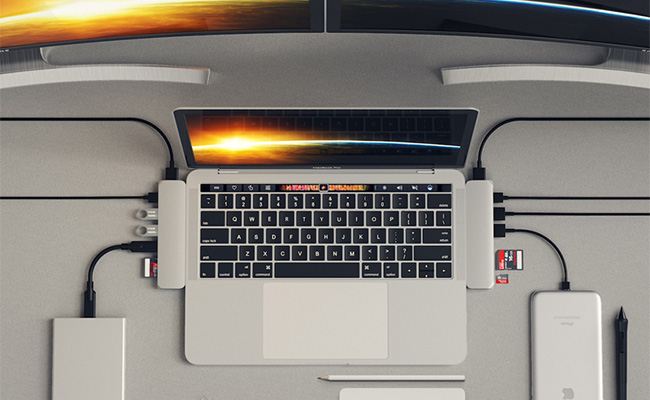 Understanding the USB-C: Useful Information
Here is everything you need to know about the USB-C. You will get to read all about how it works, what advantages and disadvantages it has, as well as a lot of other useful information on this topic.
In 2015, Apple released its first gadget that was equipped with a new and sole USB-C port. A single-port MacBook caused a flurry of discontent among fans of the company.
In time, everyone calmed down a bit and got used to it. To this day Apple not only managed to successfully sell a 12-inch line of ultrabooks, but also equipped the whole series of MacBook Pros with this type of USB, completely abandoning the classic USB 2.0/3.0 and other additional ports.
A lot of time has passed since and USB-C ports have spread quite widely. They can be found in computers or Pixel, Nexus mobile phones, manufactured by Google. Apple uses them in MacBook, Mac mini, iMac and iPad devices. With Samsung you can only find them in Galaxy smartphones. The remaining manufacturers are also not lagging too far behind. Users still have questions about exploitation of the USB-C. Everyone is especially concerned about the selection of cables or accessories.
How did the USB-C appear, and what problem did it seem to have?
The USB standard appeared in 1994. USB 1.0 was conceived as a universal port for connecting all kinds of equipment to a PC. Active use of it began only in the 2000s.
USB 2.0
Then the USB 2.0 made its appearance. USB 2.0 cables have a strict orientation and are represented by two types of connectors: USB-A and USB-B. With the growing popularity of mobile devices, two more types of connectors appear later: USB Micro and USB Mini.
Data was transmitted via two green and white cables. Black and red cables were responsible for power.
The maximum data transfer rate over USB 2.0 is 480Mb/s. The main drawback of the standard is that the output currents are too low (no more than 500mA), which often caused problems when connecting external drives.
USB 3.0
Making the decision to try to eliminate the disadvantages of USB 2.0, engineers developed a new standard — USB 3.0. "The Blue USB" became much faster and was able to transfer data at speeds up to 5Gb/s.
This became possible due to the appearance of four additional communication lines, and, as a result, the growth of the maximum voltage to 900mA.
In the fall of 2013, specifications of the updated USB-C 3.1 standard were approved.
USB speed depending on the generation of interface:
USB 1.0
up to 1.5 Mb/s
USB 1.1
up to 12 Mb/s
USB 2.0
up to 480 Mb/s
USB 3.0 / USB 3.1 Gen 1
up to 5 Gb/s
USB 3.1 Gen 2
up to 10 Gb/s
Voltage, maximal output current and power depending on the generation of the USB:
USB 1.0 / USB 1.1
up to 150mA 5V (0.75W)
USB 2.0
5V to 500mA (2.5W)
USB 3.0
5V to 900 mA (4.5W)
USB 3.0 BC 1.2
5V to 1.5A BC 1.2 (up to 7.5W)
* special reinforced connectors on motherboards or laptops to speed up charging
USB 3.1 Current @ 1.5A
5V to 1.5A (7.5W)
USB 3.1 Current @ 3A
5V to 3A (15 W)
USB 3.1 (Power Delivery 2.0 support)
up to 20V, up to 5A, up to 100W
What is USB-C?
Despite the fact that the engineers had already released three iterations of the USB standard, the main question was still open to them. It was necessary to provide a normal power supply.
For example, 900mA for a laptop battery of the 8-10 thousand mAh is not enough. In addition, more demanding accessories began to appear on the market, and the tendency of manufacturers to make devices thinner and more compact can compel to abandon ports such as HDMI, Thunderbolt, classic USB, and Ethernet.
Instead of an 8-pin USB 3.0, a 24-pin (12 pins on each side) USB 3.1 appears. Why are there so many of them? Judge for yourself: Download USB-C specification to PDF (En).
Ground pins (GND) are symmetrical and duplicated on both sides of the connector.
Power supply (+V) is symmetrical and duplicated on both sides of the connector.
Contacts in the center (D+ and D-) — data of the USB 2.0 interface and earlier versions are also duplicated, but crosswise.
Four pairs of pins of high-speed data exchange (blue in the picture) are used simultaneously.
The SBU1 and SBU2 pins can be used both for communication between two connected devices, and for transmitting analog signals from the left and right channels. For example, they are used to transmit a signal to ordinary headphones from smartphones without a separate headphone connector (by the way, it turns out that it depends on the position of the connector where the left channel will be and where the right one will be).
CC1 and CC2 pins are used to select the power mode.
USB-C allows a variety of signals and protocols to pass through itself:
USB 2.0. Strangely enough, the very first devices (even the Nokia N1 smartphone), in which USB-C was involved, was only recognized by USB 2.0. Almost all the new computers support USB 3.0. However, some gadgets still have certain limitations.
USB 3.1 Gen 1. Same as SuperSpeed ​​USB 3.0. It has a sequent connection to 5 Gb/s for various peripherals (ranging from hard drives and to network adapters or docking stations). It has backward reconcilability not only with the Hi-Speed USB 2.0 and SuperSpeed USB 3.0, but also with the original USB 1.x, which has been in use since the mid-90s! Apple applies this protocol in 12-inch MacBooks.
USB 3.1 Gen 2. Despite the confusing name, it can double the bandwidth of external USB devices up to 10 Gb/s. It has backward reconcilability with all previously released USB versions. Not supported by legacy USB-C devices.
Alternate Mode. Differs in that it is capable of supporting non-USB protocols, such as DisplayPort, Thunderbolt, MHL or HDMI. However, this does not mean that each device will maintain this protocol, and it confuses customers even more.
Power Delivery. Provides up to 100 W, even though it is not a data protocol. But it must be borne in mind that there are two various specifications, as well as many other configurations.
Audio Accessory Mode. It is a spec for the use of original audio accessories.
The new USB-C specification has opened up a number of new features for users.
Firstly, USB-C has a new USB PD (Power Delivery) standard, according to which this port and the corresponding cables must ensure the transmission of voltage up to 100 W in both directions.
Secondly, it has impressive data transfer rates. In the alternative mode, Thunderbolt 3 can transfer data at speeds up to 40Gb/s (of course, with certain "ifs", but more on that below).
Thirdly, it is able to transmit video with resolution up to 5K. The speed here is with a margin, so there is no need for HDMI.
Finally, USB-C is convenient because it is two-sided. It is a logical continuation of the Lightning-cable, but not only for Apple devices anymore.
Please note: it is necessary to distinguish between the concept of "port" and "connector".The Type-C connector (jack) can be soldered to an old phone (instead of micro-USB), but the port will remain old USB 2.0. Therefore, the device will not be charged faster or transfer data quickly. The only pros are the symmetry and reliability of the connector.
Thus, the presence of Type-C doesn't mean anything. Smartphone models are sold with a new connector, but with an old port.
USB-C Issues
In such an abundance of contacts, transmitted protocols and signals, is where the first issue arises— they are not all used, which means that they are not necessary in each cable.
Almost all USB charging cables can work only in USB 2.0 mode (they only have wires to data lines D+, D- and power). When you to connect a high-speed device that maintains a USB 3 with that kind of cable, the message "This device can work faster" will appear on your computer and the data exchange speed will be much lower than when connected with a USB-3 cable.
The second catch is related to fast charging protocols.
The USB-C standard provides the ability to transfer energy with the capacity of up to 100 W (20 volts and 5 amps), which allows you to use this connector even when working with powerful laptops. Three regimes are standard for USB-C: 5 V 1.5 A, 5 V 3 A and USB Power Delivery 2.0 (5, 12, or 20 volts, and from 1.5 to 5 amps).
However, all this works only when using a cable with two USB-C connectors. USB-C cables use all the same fast charging protocols that were used with the MicroUSB connector. This is usually QuickCharge QC2.0 and QC3.0.
At first glance, when buying a cable for charging purposes only, it may seem like data lines are not needed, but that is not the case because QC will not work without them.
Recently, I bought a cable from a fairly well-known brand, and when I connected it, all the smartphones flatly refused to turn on fast charging.Turns out there simply weren't any data lines in this cable.
The third problem is that inside the USB-C connector there can be a chip that controls charging modes. There may be situations where you'll have a powerful charge for a device that maintains the charge, but will only able to connect with a cable that limits this power.
So in a nutshell, the main problem of the USB-C is its incomprehensibility. Some USB-C cables, ports, power supplies, or devices may not be reconcilable with each other, which means, you have to look for the right combination. If you are not cautious, you can limit possibilities or even harm your gadgets with a mismatched cable. This is not a joke — a mismatched cable can really damage your gadget! This of course should not happen, but it does.
Some double-sided USB-C cables can transfer only 5Gb/s, and some up to 10Gb/s. Some cables are absolutely not suitable for power, or may not be consonant with Alternate Mode Thunderbolt.
What is installed in a MacBook/MacBook Pro?
Before we understand the different choices of cables and otherwise USB-C accessories, we need to deal with the USB-C ports installed in MacBooks.
The USB Promoter Group really messed up the USB 3.1 specification, releasing several generations of ports, causing to confuse users instead.
Let's sort some of this out and make sense of it.
So, here are all the MacBook generations with the corresponding USB-C ports.
USB-C 3.1 Gen 1 (up to 5Gb/s) — for lineup of MacBook 12"
USB-C 3.1 Gen 2 (up to 10Gb/s) + Thunderbolt (up to 40Gb/s) — for MacBook Pro 2016-2018 (dual port)
That is, if you have a 12-inch MacBook, then you can forget about Thunderbolt 3, and would be foolish to overpay for supporting this specification when choosing a cable.
MacBook 12″ supports video transfer via HDMI, VGA and DisplayPort (with the appropriate adapters), but to combine it with Thunderbolt devices will not work.
There are many more interesting things happening with the MacBook Pro 2016 and newer versions. The 13-inch MacBook Pro models, until the recent update, had only two of the four ports (the ones on the left) with Thunderbolt 3 support.
Since 2018, all the models with Touch Bar, all four ports support data transfer at full speed. However, in the 12-inch MacBooks everything remained unchanged.
After reading all this you may ask how does one choose the right cable for specific tasks and needs?
That my friend is a whole separate topic that we will discuss in our next blog!
Links
USB Type-C: Explained! [Video]

Video uploaded by Marques Brownlee on March 12, 2015

<!-comments-button-->