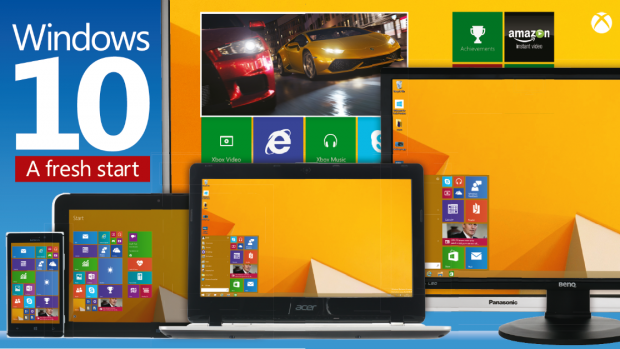 Windows 8 and Windows 10
Windows 8 Features that Didn't Make It to Windows 10
Windows 8 and Windows 10: Windows 8 was filled with new ideas, which are gone in Windows 10. Here are some of these curious features:
The Start screen: The Windows 8 Start screen was the full-screen, colored replacement for the familiar Start menu, although it was possible to customize it. Windows 8.1 brought the Start button back. However, in Windows 10, the Start screen was replaced by a Start menu that is the default view in the new Tablet mode, and that can be expanded to full screen in classic devices.
The Charms menu: The Charms menu is another signature feature of Windows 8. Actually, when Windows 8 debuted, the Charms menu was the first feature to be shown off. It was difficult to master, and is no longer featured on Windows 10. Instead, the new Action Center is packed with notifications and small task-specific buttons.
The two-headed Internet Explorer: Internet Explorer 10 included two personalities that shared a single rendering engine, which could be qualified as a usability nightmare. Windows 10 instead introduced a brand new browser, code-named Spartan.
Corner-based navigation: The four corners offered bizarre behaviors when users pointed to them. Those actions sometimes triggered when they weren't expected, driving many Windows 8 users mad. Even when Windows 8.1 offered more control over corners, in Windows 10, the corners are no longer active parts of the interface.
The People hub in Windows 8 and Windows 10: This was part of the unified Windows 8 communication suite that also included Mail and Calendar capabilities. Windows 10, with a new Mail and Calendar app, looks much better than its predecessor.
Windows RT: Windows RT didn't survive into the Windows 10 era. However, the concept of Windows RT is alive and well in Windows 10. It will be sold on ARM-based phones and small tablets that will run Windows universal apps.
Metro apps: In Windows 8, Metro apps ran full screen or snapped to one edge, and they had menus along the top and bottom that were hidden by default. In Windows 10, modern apps can run in their own windows, on the desktop, alongside desktop apps, and they also have hamburger menus.
From SkyDrive to OneDrive: In Windows 8, it was called SkyDrive, in Windows 8.1 it was OneDrive. Users could browse their entire cloud storage in File Explorer, even if it wasn't synced locally. In Windows 10, that feature has been removed.
­See also:

<!-comments-button-->