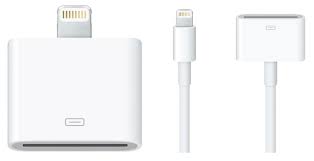 Accessories for iPod
The fifth generation iPod Touch, as well as the iPhone 5, iPod Nano (7th generation), iPad (4th generation), and iPad Mini feature a dock connector named Lightning, replacing the 30-pin Apple connector which was first introduced by Apple on the third generation iPod.
The Apple Lightning connector has eight pins and all signaling is digital. It also can be inserted either way round unlike the 30-pin connector. More importantly, it can only be inserted in one way. Besides Apple Adapters can convert the Apple Lightning connector to the older 30-pin Apple Dock connector or USB. However not all signals are available and not all accessories work with the adapter (for example, video output and the iPod Out feature for BMW automobiles).
Earphones Apple EarPods are also included with the fifth generation iPod touch and other devices. The redesign of the Apple EarPods is aimed to improve sound quality by allowing air to travel in and out more freely (according to Apple, the redesign of their earphones allows it to "rival high-end headphones that cost hundreds of dollars more").
Other accessories that come with the iPod Touch include the lanyard for the iPod Touch loop, which is besides sold separately for the 16 GB mode.
Apple Universal Dock provides a convenient home base for charging and syncing. And with the right cables, you can connect your iPod to your home stereo so you can share your music or to your home theater so you can watch videos on the big screen. Users can remotely control race cars and flying drones, as well as give their fitness routine a high-tech boost and automate their home with app-controlled lights, thermostats, cameras, and more.
All these accessories combine with apps to reveal new ways to do more with your iPod touch. Shop app-enabled accessories at the Apple Online Store.
­
See Also
You can sell your iPod at iGotOffer.com. Free shipping. Top cash guaranteed.
<!-comments-button-->