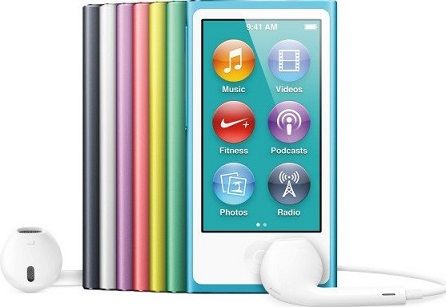 iPod Nano and iPod Shuffle Removed
iPod Touch and HomePod are to Rule Apple Music for Now On
Some things in our lives leave quietly, and we never notice their absence until they are gone forever. Take our dial up phones for instance; we no longer see them except in 1980s movies.
The iPod Nano and iPod Shuffle have recently been removed from the Apple Store in USA. Here's the screenshot.
Obviously, Apple is clearing the way for HomePod, which is due to arrive in December 2017. And while the interactive standalone speaker is a good gadget to have nowadays, it can't replace the most outstanding pocket music devices from the past.
iPod Shuffle was the first miniature music player, no larger than a USB-stick. Though later, it became quadrangle, with the highlight feature – to play songs from a user's library at random or 'shuffle' them, remaining. That was back in 2005, when Apple still listened to its fans and their wishes. What they did was brilliant: the player that implemented the typical music fans' habit!
Surprisingly, for a gadget that small, that iPod Shuffle had a crystal-clear sound, and later on the third generation, it acquired some features of larger iPods as well. For instance, the Voiceover technology from iTunes 8 and 9. (The device spoke the song names, artist names, album names and playlist contents in 20 different languages).

The iPod was the cheapest of Apple's products and hence, the most democratic one. It worked with third party headphones if needed, and earned a solid reputation among outdoors activity lovers. The only weak spot; if any, was the low song capacity – capping out at 240. The unique form-factor was highlighted by a gamut of bright colors: pink, yellow, blue, red. Naturally, the iPod Shuffle stood against the boring players of other brands, which looked like grey or black bricks.

iPod Nano had a longer and more exciting story to tell. From small black and white displays, to touch and multicolored ones. From rectangular form, to quadrangle piles and back. The 7th generation introduced on September 12, 2012, was the summit of technologies both in hardware and software. 16 GB of internal flash storage, Bluetooth 4.0 headsets, speakers, heart monitor support, Nike+iPod fitness option to complement the health devices, as well as an FM radio tuner. The lack of iOS that won't allow to run any games or apps was the only drawback of iPod Nano 7th generation.

It's a shame that these two legendary players have left the market. Of course, there are still thousands of unsold gadgets in on-line stores, brick-and-mortars as well as on e-Bay. Their prices will rise if they're the last of their kind though, I'm sure. They will continue to work until Apple kills the support, or change the music files format I suppose.

It's a bit illogical to me though. Why do they manufacture the slimmest ultrabooks in the world, but kill the smallest and slimmest music player?

Do they think the iPod and the iPhone are enough for music lovers? Or does Apple want to go all premium now? The HomePod is a pure substitute for a pocket music player, both practically and financially.

The quiet discontinuation is what annoys me most of all. Media did the dirty job for Apple. And now, we are left without even a warning that our favorite music player is no more.

<!-comments-button-->