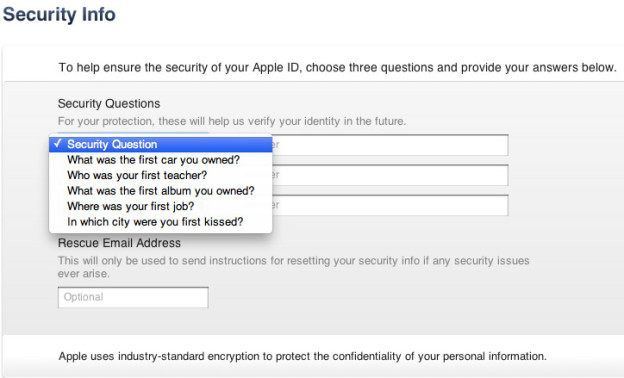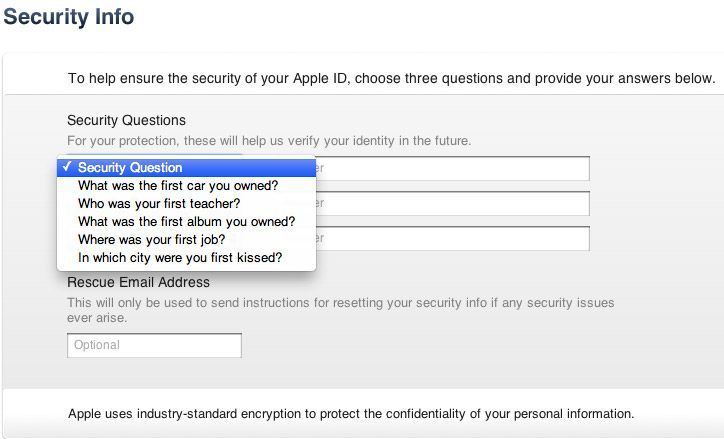 Apple ID Security Questions
Apple ID security questions help to protect your Apple device against possible intrusions. They provide an extra level of security, and they help Apple verify that you are indeed the owner of the account. When you add security questions, anyone who tries to change or reset your personal data, (including your password and other Apple ID security information) must first answer one or more of these questions.
To set up or change your previous security questions, go to My Apple ID at appleid.apple.com. An Apple ID is your user name for everything you do with Apple. Once there, select Manage your Apple ID and sign in. Select Password and Security on the left side of the page. If you already have security questions, you'll be asked to answer them before continuing. If you have only one security question, you can change the question and answer now however, if you have more than one security question, then you will need to select "Send reset security info email to". This rescue address will receive a reset email from Apple. Simply follow its instructions to reset your security questions. After setting up new questions and answers, click Save.
Some people don't like security questions, because they are concerned they might forget the answers to them. If this is a concern for you, consider setting up a two-step verification, which is an additional security feature for Apple ID. It is designed to prevent anyone from using your account, even if they know your password. With the two-step verification in place, you don't need security questions to secure your account or verify your identity. This procedure requires you to verify your identity using one of your devices before you can sign in to My Apple ID to manage your account.
To turn on the two-step verification, go to My Apple ID, and select Manage your Apple ID. After signing in, select Password and Security. Under Two-Step Verification, select Get Started and follow the onscreen instructions.
Note: If you forget the answers to your Apple ID security questions and can't access Apple ID, don't continue to guess the answer. If you answer incorrectly too many times within a certain time frame, you'll be temporarily unable to access your account. After a brief waiting period, you'll be able to try and answer your security questions again.
­See also:
iGotOffer.com: the best place to trade in used iPhone online. Top cash guaranteed. Free quote and free shipping. BBB A+ rated business.
<!-comments-button-->