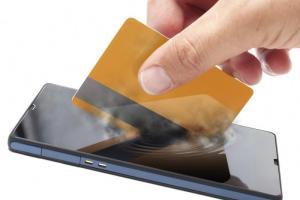 Payment Security: Is Apple Pay Secure?
Apple Pay makes a purchase using a single step; hold an iPhone near the payment terminal of a participating merchant while placing a finger on the Touch ID. Online payments in apps are also reduced to a single tap with Apple Pay, also verified via Touch ID. With Apple Pay, there is no need to take out a credit card or confirm the authenticity of the credit card with a driver's license or ID card. This one-step process works anywhere NFC-based contactless payments are accepted.
There's no need to open an app or even wake your display thanks to the Near Field Communication antenna in iPhone 6. To pay, users must hold their iPhone near the contactless reader with their finger on Touch ID. Users don't even have to look at the screen to see if their payment information was successfully sent, since a subtle vibration and beep let them know.
All data is stored on the iPhone and protected by several built-in security systems, including Touch ID. To keep transactions secure, Apple uses a method known as "tokenization," preventing actual credit card numbers from being sent over the air. Apple also secures payments using Touch ID in the iPhone 6 and skin contact with the Apple Watch.
After you add an item to an online cart and initiate the checkout process, you can select Apple Pay as the payment method. After that, the shipping/billing address associated with the credit or debit card on file is automatically entered, as is the user's name. The purchase is confirmed via Touch ID. During this process, you can change some data, like a shipping address, if needed.
Within the Apple Pay and Passbook section in the Settings app, you will see credit card details and a list of recent transactions for each card that has been scanned into the phone. This section also allows users to get access to a relevant bank application and control push notifications.
In-store returns are also easy. When returning an item purchased via Apple Pay in an Apple Store, users can tap their iPhone 6 or 6 Plus against a payment terminal which displays their recent in-store transaction information.
Apple has placed a heavy emphasis on security of Apple Pay, to assure iPhone owners that their payment information is safe. It is safer on an iPhone than inside of a wallet. According to many experts, the way Apple Pay has been designed to work makes it the most secure payment scheme on the planet.
When a credit or debit card is scanned into Passbook for use with Apple Pay, it is assigned a unique Device Account Number, or "token," which is stored in the phone rather than an actual card number. Actually, the iPhone has a special dedicated chip called a Secure Element that contains all of a user's payment information. Credit card numbers and data are never uploaded to iCloud or Apple's servers. When a transaction is made, the Device Account Number is sent via NFC, along with a dynamic security code unique to each transaction. Both of them are used to verify a successful payment.
The dynamic security code is a one-time use cryptogram that replaces the credit card's CCV. The system uses this code to ensure that a transaction is being conducted from the device containing the Device Account Number.
Along with Device Account Numbers and dynamic security codes, Apple authenticates each transaction through Touch ID. Whenever a transaction is conducted with an iPhone, a user must place a finger on Touch ID for the payment to go through. With the Apple Watch, authentication will be done through skin contact. When the watch is placed on the wrist, a user will be prompted to enter a passcode. After a passcode is entered, as long as the device continues to have contact with the skin (which is monitored through the heart rate sensors), it will be able to be used to make payments. However, if skin contact is lost, it can no longer be used to make payments. Both Touch ID and the skin contact authentication method in the Apple Watch will prevent someone who has stolen an iPhone or Apple Watch from making an unauthorized payment.
A user's credit card number is never shared with merchants or transmitted with payments. Store clerks and employees do not see a user's credit card at any point, and they also do not have access to personal information like name or address because an ID is not required for verification purposes. If an iPhone is lost, the owner can utilize Find My iPhone to suspend all payments from the device, without needing to go through the hassle of canceling credit cards.
Apple has partnered with the three major credit card companies in the United States: Visa, MasterCard, and American Express. Apple has also signed deals with major banks, and Apple has pledged to continue adding more banks in the future.
Apple Pay has changed the way users pay, with breakthrough contactless payment technology and unique security features built right into the devices people have with them every day.
­See also:
iGotOffer.com: the best place to sell, trade in used iPhone online. Top cash guaranteed. Free quote and free shipping. BBB A+ rated business.
<!-comments-button-->