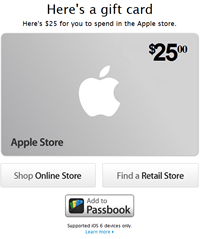 Apple Store Gift Cards: Great Presents For Your Friends
Apple Store Gift Cards can be used for lots of Apple products, including music, movies, books, games, apps, accessories and more from the App Store, iBooks or iTunes. You can use your Apple Store Gift Card for the purchase of a new iPhone, iPad, Mac, or anything else at the Apple Online Store or Apple Retail Store.
Available in any amount from $25.00 to $2,000.00, these cards can be used to purchase Apple hardware and accessories at any Apple Retail or online store. You can also use them over the phone by calling 1-800-MY-APPLE. Apple gift cards can be shipped by mail, or delivered within 24 hours via email.
To redeem a gift card or promo code, follow these easy steps:
Open the iTunes, iBooks app or App Store.
Tap Featured at the bottom of the page.
Scroll all the way down the screen until you see the Redeem and Send Gift buttons.
Tap Redeem, and enter your gift card or promo code. Tap Redeem again at the top of the page.
Enter your password to start your download!
Don't forget; when you give an Apple Store Gift Card to your friends or family, they can choose whatever they want on the iTunes Store, App Store, iBooks Store, or Mac App Store. Your niece might use it to buy a new Barbie game. Your younger brother might be excited to get Combat Worriers Forever, what he calls the "Greatest game in the world!"
Note that Apple Store Gift Cards can be redeemed on the Apple Online Store as well as the Apple Retail stores; however, not in the iTunes Music Store. To purchase items in the iTunes Music Store, you must use an iTunes Gift Card, which are available in a variety of different designs as well as denominations.
On the back of each gift card, there will be the following information:
A link to a website where you the owner can check his or her gift card's balance.
A text that says that the card can only be used in the Apple Online Store or Retail Store and that it's not redeemable in the iTunes store.
A phone number that the user can call if he or she needs help.
The Apple Music Gift Card can be put towards a three- or twelve-month subscription for an Apple Music individual membership as well. New members will get an additional three months free. All members have unlimited access to videos, playlists, over 40 million songs, and expert music recommendations.

Note that Apple Store Gift Cards are issued and managed by Apple Value Services, LLC and can be applied only to purchases in the U.S. from an Apple Retail Store, the Apple Online Store, or by calling 1-800-MY-APPLE. Gift cards will remain active even if added to the Wallet app on your iOS device. Neither the issuer nor Apple is responsible for any lost or stolen gift cards or use without permission of the owner.

Gift cards are also not for resale. They are void where prohibited or restricted by law. Gift card terms and conditions are subject to change without notice and some items may not be available for purchase. Card cannot be used for any payments outside of the U.S. iTunes Store, including taxes.

See also:

<!-comments-button-->