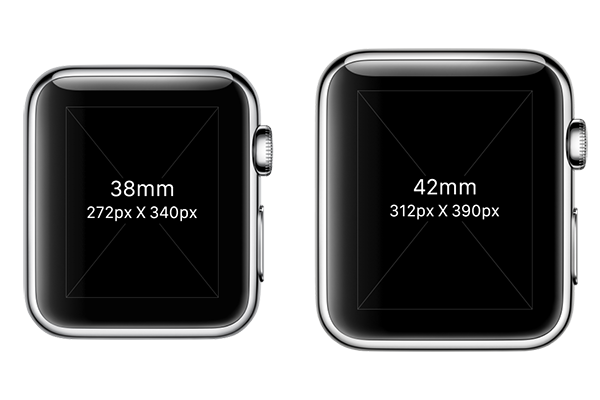 Apple Watch Series 3: Unboxing & Review [Video]
Video uploaded by DetroitBORG on September 30, 2017
Apple Watch Sizes
Both are good, which is better?
As if it was not enough to release all this range of mouth-watering products, from iPhone to iPod and to iPad and onwards, plus bombarding us regularly with newer, shinier, version of each, now the mighty Apple have come up with a new additional torture-you-client-with-more-choices' variety. They release their Apple Watch in two sizing options – 38 and 42 mm ones. Which naturally begs the question of finding the preferable version between the two – the higher one (which is, naturally, also wider – 35.99 mm), or the lower, 33.3 mm in width.
Of course, the initial inclination would be "bigger is better", as it provides the proud owner with larger screen and more pixels (390 x 312 as opposed to 340 x 272). But then again, not everyone has large wrists, and for those who don't, smaller size would be more convenient, which convenience won't cost them all that much in terms of image quality, for the watches' operating system (aptly named Watch OS) adapts to whatever screen, and the pixels' amount these days… well, suffice it is to say that, until we, as a kind, turn into cyborgs, it should not matter to our naked eye, be there 272 or 312. So it's size and size alone in this case, and the only unquestionable causes to go for the 42mm version should be: if you are a) large in size yourself; b) have problems with your sight; or c) vain beyond any reason (but in this case you probably wouldn't be reading this anyway).
Then, there is depth to consider… but then again, there is not. All the magnificent tech included within, from the Retina display, to the censors and battery, sits comfortably within "one-depth-fits-all" standard, measurements notwithstanding.
And it is also the case of "one-style-fits-both-sexes" – the 42 mm version is not made into some sort of "more macho" version, nor does the smaller variety look particularly "girly". Apple designers watch Star Trek too, you know, and they are well aware that the life form combinations are infinite. So they have in advance given up on trying to anticipate which gender would like which size better (or which particular individual might turn out bigger than the other) and made them all in universal style.
Except for the bands, though. Perhaps because the color and styling are more related to the fashion world, and, as such, more set in traditional ways, there are some size-specific bands for Apple Watch, after all. So, if it matters for you, you should know that there are no Modern Buckle and Hermes Double Tour for 42-mm model, and you won't find Leather Loop, Single Tour Rallye, Hermes Single Tour Deployment Buckle and a few colors of Hermes Single Tour for the smaller version. It is sort of funny that there are more band versions for the bigger Apple Watch, though: do the company's designers believe that bigger people are more vain, more choosy or, dare we say, more fashion-inclined?
Now, on a slightly more serious point, there is another verifiable reason why you might prefer the 42-mm version, that being battery life. In this respect, bigger is indeed better – especially if we are talking Series 3 of Apple Watch. A whole couple-days-without-charging better, in fact – because the bigger size also allows for a bigger battery.
But on the other hand, it also involves higher price: the difference between the smaller and bigger Apple Watch, whatever the series, stands at about 30 dollars.
Though this particular consideration you might be able to negate yourself – if the aforesaid "another-day-another-gadget-model" factor of our current life affects you in any way (and few of us can honestly boast escaping it). In other words, if you have already accumulated quite a few of old devices, of whatever make, working or broken, you can remove that last consideration of the price difference by monetizing those. There are quite a few companies, which will happily buy those old space-cluttering dust-gatherers off your hands, and you could do much worse than choosing iGotoffer to that end. The prices this fast-growing firm offers are among the best in the market (which you can easily confirm for yourself after a quick comparison), has the simplest and most straightforward procedure of buying and will even pay for the shipping. On top of that, they won't charge you if you change your mind in the process.
And then you will have one headache less when solving this new riddle from the ever-enigmatic Apple Sphinx: which Watch to choose, after all.
Links
<!-comments-button-->