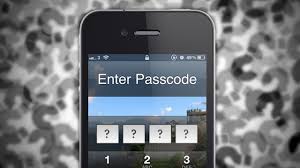 If You Forgot the Passcode
If you have forgotten the passcode for your iOS device (iPhone, iPad or iPod touch), and attempt to guess it, but enter the wrong one 6 times in a row, you'll be locked out. At that point, you'll also see a message saying that your device has been disabled. Nothing is more frustrating, but fortunately, there are some ways you can fix the issue.
If you've synced your device with iTunes, you can restore your device: Connect it to the computer you normally sync with and open iTunes. If iTunes asks you to enter your passcode, or asks you to allow access, try another computer that you've synced with previously, or use recovery mode. iTunes should automatically sync your device and create a backup. After the sync is complete, restore your device. When iOS Setup Assistant asks to set up your device, choose Restore from iTunes backup. Select your device in iTunes and choose the most recent backup.
If you have enabled Find My iPhone through iCloud, you can use it to erase your device. To do this, go to icloud.com/#find. If prompted, sign in with your iCloud Apple ID, click All Devices at the top of your browser window and then select the device you want to erase. Next click Erase [device] to erase your device as well as its passcode. Then use the Setup Assistant on your device to restore the most recent backup.
If you've never synced your device with iTunes, or haven't set up Find My iPhone, you'll need to put your device in recovery mode. You can then restore your device as new, or from a backup. You can also disconnect all cables from your device, hold down the Sleep/Wake button, then "slide to power off" to turn off your device. Press and hold the Home button; plug the device into your computer. If your device doesn't turn on automatically, turn it on. Continue holding the Home button until you see the Connect to iTunes screen. If iTunes doesn't open automatically, open it manually. iTunes will alert you that it has detected a device in recovery mode. Click OK and restore the device. If your device doesn't go into recovery mode, try these steps again to make sure you didn't skip something in the process.
Sell Used iPhone 4 Online Now
You ask yourself "where can I sell my iPhone 4 for cash"? The only correct answer is: Sell iPhone 4 online here, at IGotOffer.com. Selling on our Website is the best way to get top cash for your old iPhone even if it is broken. We buy iPhones 4 in practically any condition. We help you to sell them safely and in seconds. You will be surprised by the amount of money you will get when you sell your used smartphone online here today.
iGotOffer.com accepts iPhones 4 in practically any condition. Some look flawless, some have minor scratches on them, while others seem to have lived a really hard life. The sum we can offer for your iPhone 4 will depend upon its condition entirely. We've posted the rating system on our website to your convenience, so that you will be able to consult it and appreciate your phone's condition.
Sell Used iPhone 4: Sell your used iPhone 4 and raise money for a new model. We will be happy to help you in the process. Just fill in a short form on our Website (it will take a few seconds) and make a decision.
If you have any difficulties in identifying the model, please consult this table: How to Find Out My iPhone Model.
When you sell here that used iPhone 4, it is safe with us as iGotOffer is a fully licensed business. We have been buying used electronics online for many years. We are privileged with an A+ grade rating on Better Business Bureau customer service platform, a leading platform in advancing marketplace trust in the country. We have earned the 9.9/10 rate on ResellerRatings.com Website, a leading merchant reviews platform in the U.S. Here is what people have to say about our practices and their experience in selling secondhand electronics with us on our Testimonials Page – we have never deleted even the most negative opinions (though they are extremely rare), as we are convinced these criticism helps us achieve better results. You can also read our Facebook Page and consult our Google+ Page if you want to learn more about our company. Discover our Twitter and read our Apple Encyclopedia. Or just read our blog: iGotOffer Blog, and enjoy its helpful texts and reflections. To check out what people say about us: What's iGotOffer.com.
We pay through PayPal, by check or even with an Amazon gift card. All payments are processed on the next day after your iPhone has been delivered and inspected.
Your only worry is to properly pack your iPhone 4 you are sending, to ensure that the package will come safely to us.
Remember to remove your SIM card before you trade in your iPhone.
­See also:
iGotOffer.com: the best place to sell used iPhone online. Top cash guaranteed. Free quote and free shipping. BBB A+ rated business.
<!-comments-button-->