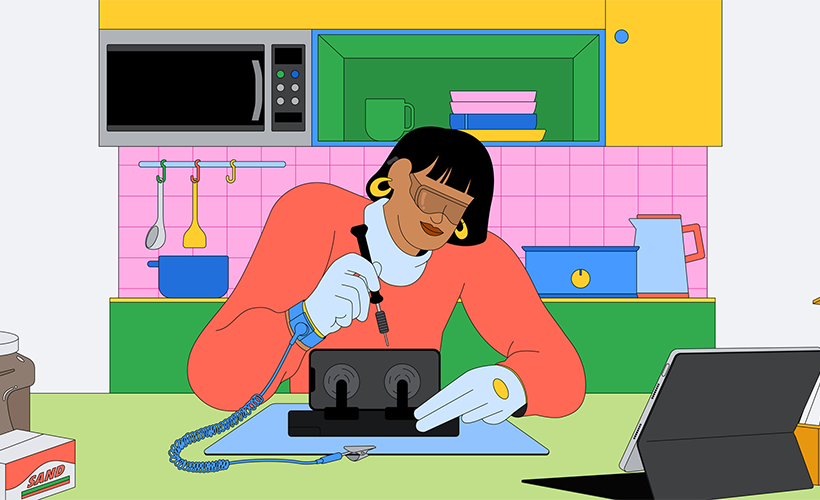 Apple's NEW Self Service Repair Program — Explained! [Video]
Video uploaded by Rene Ritchie on November 17, 2021
Apple Will Let Customers Repair Their Own Devices Using Genuine Apple Parts and Tools
Apple has announced that it would let users repair their own devices and would offer genuine Apple parts and tools. This historic decision is hailed as a significant victory for the "right to repair" movement tech insiders say. This "Self Service Program" will initially be available the iPhone 12 and iPhone 13 lineups and will be followed by Mac computers featuring M1 chips. Self Service Repair will be rolled out in the first half of next year in the US and is expected to expand to additional countries throughout 2022. In a press release, Apple has said the program is aimed at customers who have experience with repairing electronics.
The announcement marks one of the first major victories for the concerted efforts of consumers demanding right to repair their own devices. One may recall that in July, the Federal Trade Commission (FTC) upheld policy statement supporting the right to repair including increased enforcements and potentially new regulations. President Biden signed an executive order to that effect urging the FTC to frame regulations that would persuade manufacturers to allow "the right to repair."
So far when your Apple phone or Mac has a problem, you are left with only a few options in that you can take it to an Apple store or an Apple-authorized service centre or begrudgingly visit an independent repair provider that has access to Apple parts, tools, and manuals. With the announcement and availability of parts, users can now fix issues like broken screen or replacing the damaged parts of the device themselves as long as they have the know-how to do so. Apple has said, "Self Service Repair is intended for individual technicians with the knowledge and experience to repair electronic devices.
For the vast majority of customers, visiting a professional repair provider with certified technicians who use genuine Apple parts is the safest and most reliable way to get a repair." The company also says that over the past couple of years they have been offering training and supplying certified technicians with genuine parts in an effort to make repairs more accessible. Dubbed as "Apple's Independent Repair Provider program" launched in the US in 2019, the program is aimed at independent repair centers. It offers the individuals/centers access to the genuine parts and manuals that authorized service providers enjoy.
The program has grown significantly in the last few years stretching to more than 200 countries and includes more than 2,500 service centers. This new program is welcomed by consumers and goes on to show that big tech companies like Apple can make spare parts available to consumers and aloow them to repair their devices on their own. Apple previously enjoyed great monopoly when it came to servicing their devices i.e., controlling repairs of expensive iPhones and Macs and limiting access to parts and tools only to a finite number of Apple-authorized service centers. Apple consumers did not have much option in that way. Some opt for third-party service centers, but if third-party service providers have no access to genuine tools and manuals it exposes the devices to uncertified spare parts.
The Cupertino-based company is not the only company that has come under fire for such strict servicing policies. Right-to-repair activists allege that it is problematic in more than one way that tech giants like Apple retain control of the repairs business as they more often talk their customers into buying a replacement instead of servicing the device which from a consumer's point of view is expensive and more often than not customers are forced to look at unauthorized parts to fix their expensive gadgets. By designing durable products and ease of repairability, customers can enjoy a long-lasting product that can hold its value for years. Following the announcement by Apple, Microsoft has also come up with its own "right to repair" options. The company has pledged to increase consumers' options for repairs by the end of 2022.
Links
<!-comments-button-->