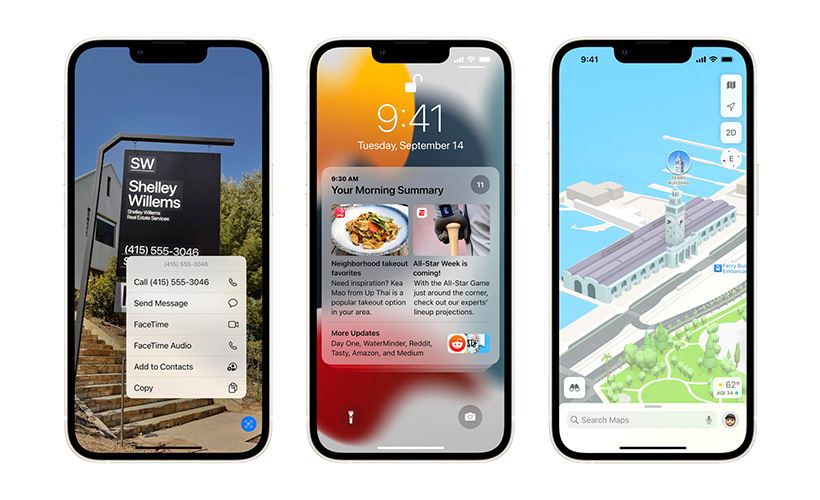 What You Still Might Not Know About the Latest iOS 15 But Really Need To
Yes, it's that time again: we are about to enlighten you about some neat capabilities of the latest Apple mobile iOS' version, which are not all that obvious. Much as we respect this company and its products (and for a good reason), it does have this occasionally annoying habit of stashing away some of their quite appealing features and options. (Not entirely for nothing, either, we must admit: there are so many of those by now – it's the 15th version of the platform, after all – that there apparently simply isn't enough space to put them all on immediate view). So, as they say, here goes.
And let's start with something for those of us who probably suffer the most from any updates, even the good one – that is, for those who don't like to break their habits, prefer to use their gadgets, so to speak, on autopilot and, therefore, hate it when something familiar suddenly changes its place… as did, in this case, the browser address bar. Yes, in the newest iOS it has been moved down, from the upper display edge to the lower one… but, luckily for many, this (convenient for some, but certainly offbeat) novelty is not set in proverbial stone. Just call up the menu hidden under the Aa sign and choose the according option on the list. It is the very first one, by the way (if the name "Show top address bar" is not enough of a clue). And, just in case you wonder, it is a reversible setting, so no need to worry about a lost chance to try something new after all.
Another easily missed plus of the iOS 15 is one weather application enhancement. This particular piece of software now incorporates a very useful option of the Dark Sky app, which Apple purchased earlier: from now on, iPhone's own electronic "weatherman" also can warn of any precipitation (and its length) a few minutes in advance. It's a bit tricky to get there – you'll first have to look at the lower corner of the app to press on the three lines there, then go the opposite way (same side, but upper corner) to press on the menu button. But in return, you'll get the Notification slider by the "My location" mark. Move it to the active position, and voila: timely alerts in three quick steps.
The third improvement we'd like to mention is actually very much in line with Apple's regular policy of constantly upping the privacy level of their products, but it's nice – and handy – to know they're still on it. Mind you, it's not just some cosmetic feature refinement: with all the plethora of various applications we currently have on our devices, it's indeed a good idea to check which of them access our private data and how often. And that's exactly what the new "Record App Activity" option allows you to do… if you'll find it and switch it on. Thankfully, it's not much of a chore: it's exactly where it's supposed to be placed, in the Privacy sub-menu of Settings. Just don't forget to save the change once you activate the switch.
Then, there is something you now can do with your phone even when your screen is locked – using the application search called Spotlight, that is. One quick finger swipe from top to bottom will call up the box, no need for password or face scan. That might sound a bit counterproductive to the goal of the above improvement, and we are not sure what actual good it can do (except for indulging some exceeding laziness), but we find it worth knowing as well… if only to be able to disable this particular feature if you want. Forewarned, forearmed and all that. Select the ID & Passcode option in Settings ("Face ID" in the newer devices, "Touch ID" if your phone is a bit long in the tooth), find and press Today View and Search on the list, and there you'll have your switch.
The next addition, however, raises no questions about its usefulness. The more data you can find about the photographs you take the better: as opposed to our gadgets, we can't store every little bit of "where", "when" and "by what camera" in our own brain (which is, in no small part, why we need our gadgets to begin with). So we personally are happy that iOS 15 has given us the chance to check all these things without installing yet another app, and quite easily, at that. Highlight a picture in your gallery and tap "I" – or just move your finger up across the photograph – and that's literally it.
And finally, something extremely convenient for those who often need to read and understand foreign language texts and messages (i.e., most of us these days). Yes, there is an inbuilt translator in your mobile OS as well. Right next to the familiar "select all" / "copy" / "paste" lines of the menu coming up whenever you highlight any words in any text, there's now also a new one, transparently named "Translate". About time, if you ask us… and Apple is one who realized it first. Yet again.
Links
iOS 15 is Out! – What's New? [Video]
Video uploaded by zollotech on September 20, 2021

<!-comments-button-->