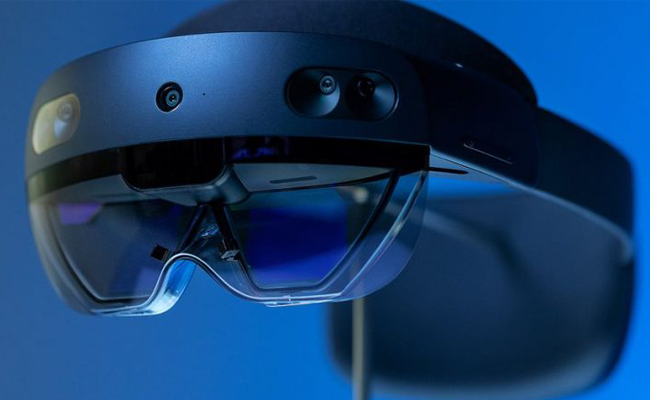 The Microsoft HoloLens 2 has been available for preorder since the end of February, for a whopping $3,500, with the shipping date pencilled in for later this year. But you won't be able to buy it unless you own a business and want your workers to deploy the headset. Why? Because Microsoft decided that private customers have to wait for the HoloLens 3!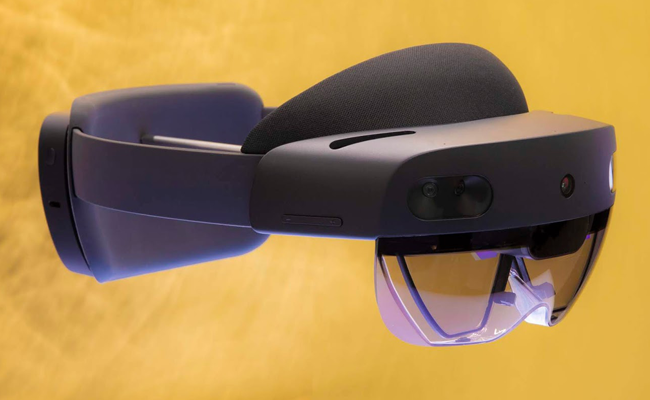 Nevertheless, the Microsoft HoloLens 2 was presented at the MWC in Barcelona. Any visitor could try on the headset and have an unusual AR (augmented reality) experience; however, visitors were few, mainly because the previous Microsoft HoloLens was notorious for having a ridiculously-small field of view: it was like looking through the letter slit. But those who dared to put on the flip-up futuristic-looking visor discovered that the field of view is twice as big as before. According to Microsoft, each eye has the equivalent of a 2K display in front of it (the precise spec says "holographic density of 47 pixels per degree"). In layman's terms, a user can read 8-point font.
The Microsoft HoloLens 2 features a flip-up visor, the newly-developed Azure Kinect sensor, an ARM processor, a couple of eye-tracking sensors, an 8-megapixel front-facing camera for video conferencing, two speakers, a USB-C charging port, and a redesigned display system.


It took four years to achieve the goal, but Microsoft managed to revolutionize the display system for this league of gadgets. In a nutshell, it's all lasers and mirrors. Lasers create a picture that is reflected by a set of quickly-oscillating wide angle mirrors (54,000 cycles per second) into a user's eyeballs. Unlike other companies that produce AR holographic glasses, Microsoft uses waveguides integrated into the glass, right before your eyes! And they're far enough from your face so you can also wear spectacles! As a nearsighted person myself, I really think this is very nice of Microsoft. The most amazing thing about the waveguides is that they need no calibration to adjust to one's sight. Two minuscule cameras placed on the nose bridge track your eyeballs and automatically measure the distance between your pupils to adjust the image accordingly. What does it mean from a practical point of view? It means that a 3D image of a new building or a 3D machinery layout doesn't get distorted when you move your eyes or tilt your head. The cameras also work as a biometric ID tool that scans a user's retina for the Windows Hello enterprise-grade security system.
Now comes the most mysterious part of the contraption: the Azure Kinect sensor. Tested in gaming several years ago, the Kinect technology seemed to vanish into oblivion, and yet—and yet—it has now come back in all its glory! With the Microsoft HoloLens 2 on, you can control the AR objects with just your hands! You can turn the object you work with, enlarge it, or twist it. You can tap any part to interact with it!
Sorry for so many exclamation points, but just imagine what a new world you can discover with the HoloLens 2! Although Microsoft hasn't rolled out a developer kit version of the HoloLens 2, it's obvious that in a decade, the IT industry will have a completely new field where physical objects and holographic reality are knit together.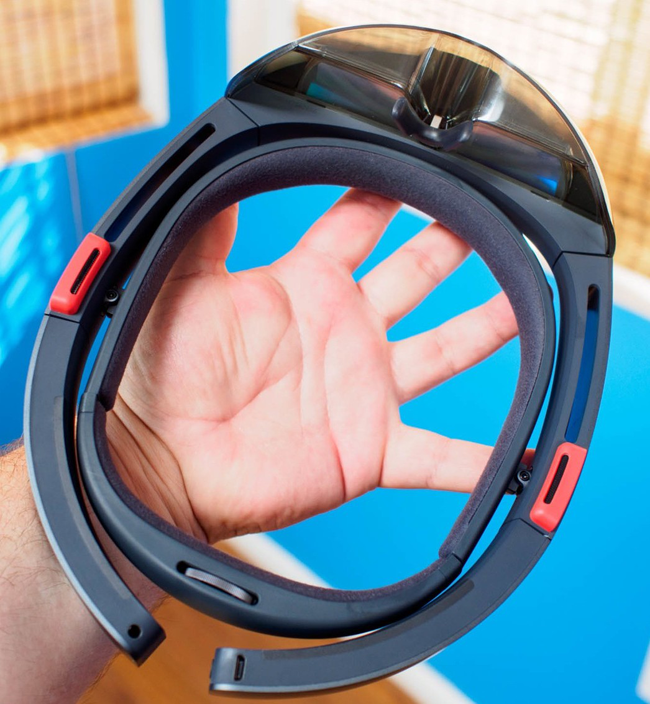 Last but not least is the HoloLens 2 comfortwear. It looks like a head strap with a flip-up visor in front and a hardware box in back. There's an adjusting dial in back as well, so you can tighten or loosen the strap as you like. It's not a heavy, blind helmet that cuts you off from the environment and disorients you. Your ears are open, and the visor can be flipped up any time; even if it's in working position, your side vision isn't blocked, and you can glimpse what's going around you. No wonder the U.S Army is also interested in these Microsoft holographic lenses. However, the Microsoft military contract is controversial, as some Microsoft employees oppose supplying this technology to the military.
As for me, I'm looking forward to HoloLens 3. They will pepper up the gaming experience like nothing else!
See also:
HoloLens 2: Microsoft's new headset
Video uploaded by Unbox Therapy on February 24, 2019

<!-comments-button-->