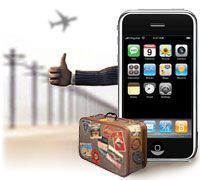 How to Set Your iPhone Up for Vacation
For some of us it may be tempting to leave our iPhone at home when we go on vacation or at least to leave it in the hotel room while exploring unknown lands. But for most people the iPhone is such an amazing little computer that it can be really useful on vacation for taking and sharing photos and video, and for research. However, back home after a vacation, you may be literally shocked to learn that your 5-year-old daughter mistakenly racked up $2,000 worth of data charges on your phone (or even more for that matter).
Indeed, many vacationers switch their iPhone to Airplane Mode before the trip, as advised by Apple store representatives, but they let their children to play with the phone. Yes, this is a huge mistake, as any child knows how to turn off the Airplane Mode and will watch YouTube videos. But travelers can enjoy a shock-free vacation with some digital prudence. First at all, you may think thus about taking the SIM card out (Bluetooth and Wi-Fi can be enabled without a SIM card) or just not let your children use the phone. If your take the SIM card out, make sure you store it in a safe place, as all the information saved on the card will be lost if you misplace it.
If your smartphone allows a foreign SIM card, you can purchase a local SIM card to use local network at a reasonable rate.
Another option is to buy a travel package before you go on vacation, as wireless providers offer a variety of travel packages for U.S. and international destinations, such as a bundle package for calls, texts and data or add-on options for a specific service. True, travel packages don't come cheap, but they can pay off for a surprise-free vacation.
Choosing this option beware of overage rates, as it is sometimes difficult to gauge how much data you'll need when abroad, thus whether you choose flexibility or value depends on the length of your stay and how you plan to use your devices. Keep in mind to check your carrier's website for details, as roaming charges can occur without leaving the country and higher rates apply when you use your iPhone anywhere outside your plan's coverage area. To avoid shocks, take the time to go through the fine print in your contract on your carrier's website or discuss these matters with a customer service representative.
Besides, the toll-free number of your carrier will come in handy so that you can reach customer service from abroad without long distance charges. Anyway, disabling the calling and data services on your iPhone while you're on vacation to save money on international roaming charges is a good idea (you can disable the Data Roaming and Cellular Data features to stop your iPhone from checking your email and accessing the Internet when traveling). When back from vacation, report any surprise charges on your bill to your carrier who Carriers may give first-time offenders some breaks by waiving or reducing the roaming charges. Of course, you can always turn off your iPhone while on vacation to completely unplug and rejuvenate.
­See also:
Apple Encyclopedia: all information about products, electronic devices, operating systems and apps from iGotOffer.com experts.
iGotOffer.com: the best place to sell used iPhone online. Top price guaranteed. Free quote and free shipping. BBB A+ rated business.
<!-comments-button-->