50+ NEW iPadOS 13 features / changes for iPad! [Video]
Video uploaded by 9to5Mac on June 12, 2019
iPadOS Can Kill MacBook – Multitasking Made Simple
The iPadOS (former iOS) is a completely new mobile operating system created and developed by Apple Inc. and announced at Apple's 2019 Worldwide Developers Conference (WWDC) on June 3, 2019.
A lot of leaks hinted that Apple was going to add new iOS features to their tablets, but the company made a brilliant move: iPads now have their own operating system. Remarkably, not only iPad Pro, but also entry-level iPad (2018) and iPad (2019) will receive the update. It's part of Apple's efforts to promote their tablets as new portable computers.
And we can honestly say that iPadOS can really do the trick. First of all, it allows the tablet to recognize thumb drives, external HDDs and memory card readers, wireless keyboards (including Apple Magic Keyboard) and mice (including Apple Magic Mouse). However, owners of iPads with the Lightning socket will have to use a Lightning to USB-C adapter to connect the peripherals. Second, users can see their external storages in the Files app, which now works much like Finder in macOS: You can select, move around, and regroup a string of files. The app will soon support ZIP files as well; in previous versions of iOS, you had to install a third-party app to see and unpack ZIP files. The only roadblock here is the battery wattage. Non-Pro iPads feature batteries that are too weak to feed the peripherals, so you may need a powered card reader, hard drive, or USB hub.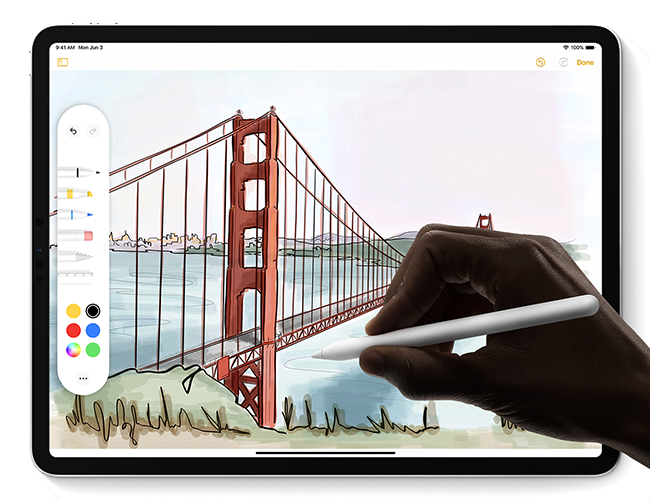 When hooking up a keyboard, you must switch off the screen keyboard in Settings; otherwise it will continue popping up. The same goes for a mouse context menu, with its round icon which sits in the right bottom corner by default. But you can switch this feature off in Settings as well, and the menu will appear on any part of the screen when you right-click on it. The scroll is also programmable. You can use it to open certain apps, or to open a multiple view for better navigation. The mouse imitates finger taps rather then regular mouse moves, and its cursor looks like a big circle with a dot in its center. It hides the objects you put it on, especially when Dark Mode is on.
With iPadOS, the home screen lost the signature Apple grid: it became more dense, due to widgets that occupy the left part of the screen. We're sorry to notice that it makes the iPad look like any other Android tablet.
Nevertheless, we can happily forgive this new grid design because of the amazing Slideover. Yes, app windows can now float, and you can swipe from the bottom and launch a second app in window mode. Split screen now works like on a PC or MacBook, and allows you to launch two instances of the same app! On the downside, you'll have to learn a new gesture to launch them.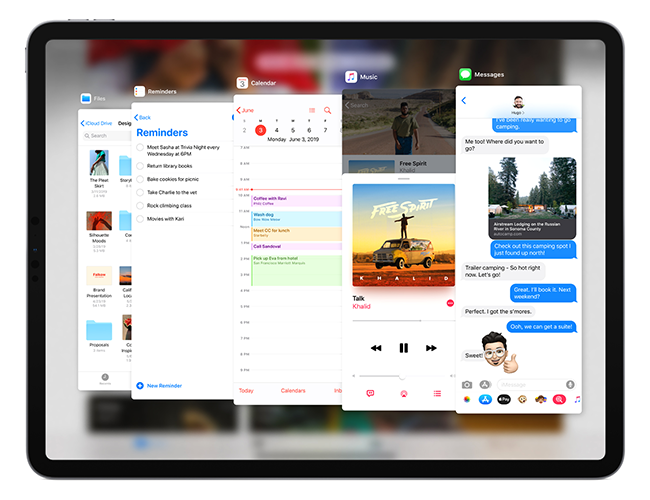 Speaking of which, the gesture language has been enhanced. Now you can paste and copy by a three-finger pinch, undo using a three-finger swipe, and select a block of text by a one-finger drag! It comes naturally to you, like it's always been there.
The iCloud Drive can support folder SMB file sharing. Safari gets a dedicated download manager, 30 keyboard shortcuts, and a desktop view support. The screen keyboard can be minimized for swipe typing with just one hand.
With iPadOS, any iPad can function as an external display for Apple computers. It can split the screen or mirror it. The mirror mode allows you to use the iPad as a graphic tablet. That's why the Apple Pencil latency drops from 20ms to 9ms and its palette widens: Apple expects artists to use iPads more intensely in their projects.
Finally, we must list the features that the iPadOS shares with iOS 13. They include: Sign In with Apple security feature, Handoff to HomePod, audio sharing with AirPods, new and improved Notes, text formatting tools in Mail, a redesigned Reminders app, custom Memoji in Messages, redesigned Maps, and Siri voice control.
These iPad models will support iPadOS:
iPad Pro 12.9-inch
iPad Pro 11-inch
iPad Pro 10.5-inch
iPad Pro 9.7-inch
iPad (6th generation)
iPad (5th generation)
iPad mini 5 (2019)
iPad mini 4
iPad Air 3 (2019)
iPad Air 2
Links
<!-comments-button-->