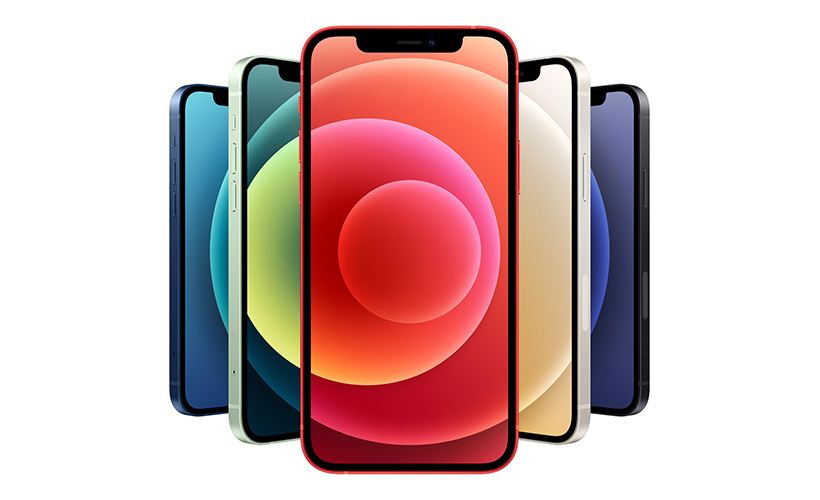 iPhone 12, iPhone 12 mini, iPhone 12 Pro, iPhone 12 Pro Max: Here they come
Well, as Freddie Mercury wrote on a different occasion, it's finally happened. The long and eagerly awaited iPhone 12 is here. Or are, considering the amount of models presented at the launch, which Apple, despite all fears and doubts, managed to carry out this month, just as it promised (even though the actual date of the release – 23rd of October – is still ahead of us). And all the predictions, speculations and leaks have now been tested out. So how many of them proved true and did the result live up to expectations? Granted, the latter largely depends on what each of you actually expected, but let's see, at least what is on offer and draw some conclusion about how much (or not so much) impressive it is.
First off, the leak about the name changing we posted earlier wasn't just an empty talk. The line of iPhone 12 does indeed include the Mini model, along with the Pro and Pro Max versions. And yes, they all sport a new look, but then again, that was only to be expected, taking into account the scale of the event in question. Also, it is not much of a surprise that they are all 5G-capable (in fact, it would be quite a shock if even the lowest model wouldn't sport this feature), so the lightning Internet speed in the near future is pretty much a given with these phones. But then again, the same goes for virtually any latest model from the major providers.
So let's take a closer look at some more specific characteristics, starting with a rather sensitive issue in the case of Apple – namely, the price. And, in fact, it will be less painful for the wallet than quite a few of us might have thought: the starting amount in the US is $799 and it's the same figure in the UK, only, as usual, in sterlings. (Australians, though, will have to part with 1,349 of the local dollars). And yes, it's the cost of the most basic iPhone, but this basic model comes with 64GB of memory, which is not too shabby even for our times (however, it is not expandable by microSD, which is a costly limit). The most expensive and highest-specced versions, boasting 256GB, will cost you $849 in the USA, £949 in the UK and AU$1,599 in Australia. As for the middle ground 128GB model, the price tags are, respectively, $849, £849 and AU$!,429. Now then, let us examine, point by point, what are we offered for this money.
Design-wise, three of these four models will have 6.1 inch screens, with a familiarly-sized notch on its top. (The Mini's display, as its title suggests, will be smaller). There also will be more colors than initially expected – white, red, green, blue and black – which is a small but nice touch: more choice is always a good thing. As far as the shape is concerned, the company appears to have made a small step back, returning to less rounded and more sharp corners we remember the iPhone 5S by, but it actually means that Apple still does listen to their audience and takes into account its feedback.
What's more important, however, is the combination of aluminium and glass the new phones are made of. Yes, you read correctly, the back side of iPhone 12 is entirely glassy. However, the maker has stressed that it doesn't make new models more fragile. Moreover, Apple claims that they are sturdier than their predecessors, partly thanks to the new nano-ceramic crystal-based Ceramic Shield tech by Corning that protects and strengthens the screen. In other words, it's not so much a glass anymore, but rather a hybrid between it and ceramic. And that is one expectation panned out: a longer-lasting display is what any phone owner will be happy with. A word of warning though: this is a remarkable, but not all-powerful protection, so don't get happy to the point of tossing your iPhone at the stone walls.
The next major point is the fact that Apple apparently still hasn't maxed out on space-saving. We can't quite tell how they manage it, but they made their new iPhones more thin, less heavy and overall smaller yet again – and notably, at that. It's not a fraction of a percent we are talking about. The iPhone 12 is reported to be 11% slimmer and 15% more compact than the previous model and to weigh 162 g, which is 16% less than the weight of iPhone 11. And the company didn't sacrifice anything for this feat – neither the dust and moist resistance nor the Super Retina XDR display technology. In fact, the latter has even been improved: there are twice as many pixels on the iPhone 12;s screen as the 11th version offered. The top level of brightness has also increased (up to 1200 nits).
And that nicely brings us over to the topic of specifications, where the jewel in the Apple's crown appears to be their new phone's chipset, the A14 Bionic. At least they call it, without false modesty, the fastest in the field so far, and even taking the ad factor into account, this is a bold enough statement to sit up and take notice. Then again, it's only stands to reason, considering the aforementioned speed of data processing which will be required once the aforementioned 5G takes effect (and, mind you, iPhone 12 is promised to be compatible with any existing 5G technology, from mmWave to sub-6, so it has to be flexible as well as fast). On the other hand, these devices are equipped with SmartData that will decide by itself whether you need the 5G mode at any particular point. Talk about the small print and lightening the load on the stealth… but it's a clever thought, we have to give them that.
Another instance of Apple's bragging rights here is wholly traditional for the company. We are, of course, talking about the cameras here. And yes, there are even more of them this time, because the rear camera has become dual, allowing for wide and ultra-wide shooting angle (of up to 120 degrees), offering f/1.6 and f/2.4 apertures respectively and sporting 12MP lens in both cases (and in case of the front selfie camera as well). The shooting technology has been bettered as well: according to Apple, the Smart HDR 3 will, among other things (such as superior colors and contrast), increase the quality of pictures taken in low light by 27%. And again, nothing has been sacrificed for these achievements: 4K, 5x digital zoom, Portrait mode and Face ID for activation are all still there. All in all, maybe not a great leap over the previous iPhones, but a very solid one, to be sure.
The battery improvements also sound quite impressive. 16 hours of video playing without recharging is not a mean feat, and if this particular claim of Apple will be borne out, it will be a big winning point for them. And there is another one, in the form of MagSafe. This is, as you may have guessed, an inbuilt magnet which will keep your wireless charger pressed against the phone, preventing it from falling off the pad. Plus, there is a fast-charging option: the proud owners of the iPhone 12 will be able to get them from 0% to 50% just in 30 minutes… but there is a slight downside here: for that, they will have to buy a special charger.
And here we come to one fly in the ointment that has become apparent even before any of us has got the chance to test all the above out (there is always one, isn't there?) Speaking of chargers… well, they are not included. And nor are the earbuds. The only accessory Apple will ship their newest and shiniest phone with is the USG-C-to-Lightning cable, so those not satisfied with wireless charging (and not long-sighted enough to keep their existing charging bricks) will have to go to some further expense. Now, we know and appreciate Apple's ecology-minded approach to business, but that might be one step too far and smacks a bit of ripping-off. As if their customers won't throw their separately-bought charging bricks and headsets once the time comes…
But still, overall, Apple's new offering, while probably not a breakthrough, looks and sounds interesting and appealing enough to look forward to its release date even more intently. 23rd of October, we are waiting.
Links
iPhone 12 – The iPhone is New Again [Video]
Video uploaded by Unbox Therapy on October 13, 2020

<!-comments-button-->