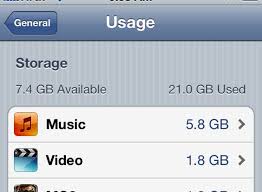 What Is iPhone's Real Storage Space
Apple is an amazing company. Not surprisingly, Apple has sold almost 75 million iPhones in the latest quarter of 2014, according to Tim Cook, Apple's CEO. Apple is also becoming increasingly popular in some of the BRIC countries, namely Brazil and China. However, iPad sales have decreased. Currently, everybody is waiting for the release of the smart watch, expected in April 2015. Apparently, the watch will have the feature of giving users their heart rate and calorie count, and is also the first new product the company has made in the last couple of years.
But what drives Apple's and iPhone's success? Some argue that a very important question is the free storage space available on the mobile device. Of course, when you buy your shiny new iPhone (or other smartphone), the choice includes 16 gigabytes, 32 gigabytes and so on. But does that mean that you actually get that amount of free storage space? You might think that the numbers represent your total free storage space, but system settings take up space. For example, the new iOS 8 update may take up almost a quarter of the free storage space advertised by Apple when you buy your iPhone.
Along these lines, upgrading from iOS 7 to iOS 8 could make you forego an additional 1.3GB of space. Interestingly enough, when Apple claims that an iPhone 5c comes with 16GB of free storage space, the actual figure is closer to 12.60GB, which is still much better than its competitors, so perhaps the storage space on the iPhone actually is yet another factor for Apple's undeniable success with the iPhone. Of course, Apple beats its competition, but never includes the storage space taken up by the operating system in its sales pitch. So much so, that Apple is currently facing a lawsuit over its iPhone 6. Still, no matter how you look at it, a smartphone has to sacrifice some of its storage space to basics, such as the operating system. Perhaps the lawsuit is motivated more by Apple's fortune than by the real problem of free storage space.
­See also:
Apple Encyclopedia: all information about products, electronic devices, operating systems and apps from iGotOffer experts.
iGotOffer.com: the best place to sell my used iPhone online. Top cash guaranteed. Free quote and free shipping. BBB A+ rated business.
<!-comments-button-->