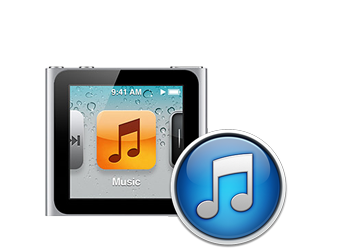 If iPod Not Recognized by iTunes
If your iPod nano, iPad or iPhone are not recognized by iTunes or computer, you should first verify system requirements and make sure that your computer has the USB 2.0 port and he latest version of iTunes. If your computer does not meet system requirements, you will need to upgrade it before using iPod nano. The computer must have one of the following operating systems: Mac OS X version 10.6.8 or later Windows XP Service Pack 2 or later, Windows Vista or Windows 7. You should also make sure that you have the latest software updates installed for your computer operating system (to update your Windows software, select Windows Update from the Tools menu of Internet Explorer and to update your Mac OS software, choose Software Update from the Apple menu).
If your devices still not appear under Devices in iTunes after you connect it to your Windows PC, the device might not be restored in iTunes and an exclamation point, question mark, plug symbol, or "X" will appear next to the device's entry in Device Manager.
If your iPhone, iPad or iPod touch won't connect to iTunes on your PC, try the following:
Restart the computer – turn off your computer and your iOS device, then turn them on again.
Update your computer: check to make sure that you've installed all required updates.
Update iTunes: Check that you have the latest version of iTunes installed on your computer.
Make sure your iOS device trusts your computer: if you connect your iOS device to your computer and see "If you have not connected your iOS device to this computer before, unlock the device and tap Trust," make sure that your device trusts the computer. If you use Windows XP and you see the trust alert on your device repeatedly, make sure that you installed iTunes.
Check the USB cable: Verify that the 30-pin to USB cable or Lightning Connector to USB cable is free of debris and not damaged (test with another cable if it is available). Verify that Apple Mobile Device Support is installed, because iOS devices require Apple Mobile Device Support, which should be automatically installed with iTunes.
­See also:
Apple Encyclopedia: all information about products, electronic devices, operating systems and apps from iGotOffer experts.
iGotOffer.com: the best place to sell my used iPod online. Top cash guaranteed. Free quote and free shipping. BBB A+ rated business.
<!-comments-button-->