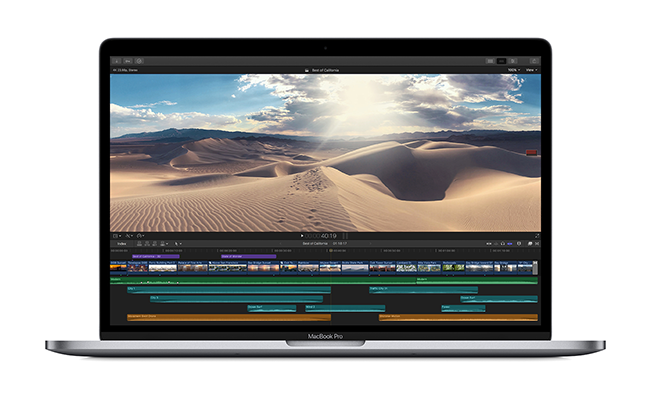 Apple's MacBook Pro 2019 Now Sport 6-Core up to 8-Core Intel Chips
On May, 21st, Apple introduced the revamped 15-inch and the 13-inch MacBook Pro 2019 with the 9th and the 8th gen Intel chips inside. These CPUs belong to the mobile family with an H in their names that stands for the ultimate graphic performance. They are also the last chips that work on the LGA1151 socket. The next, 10th-generation, also known as Comet Lake-S will need extra power, the existing socket can't provide, digitaltrends.com warns. That's why this is the last upgrade the 2016 MacBook Pros can ever get. What are we going to have for a jaw dropping price? (We remind you that the updated 13-inch MacBook Pro with the Touch Bar and 15-inch MacBook Pro are available today through apple.com, the Apple Store app and in select Apple Stores and Apple Authorized Resellers later this week.)
The 15-inch MacBook Pro 2019. $2,399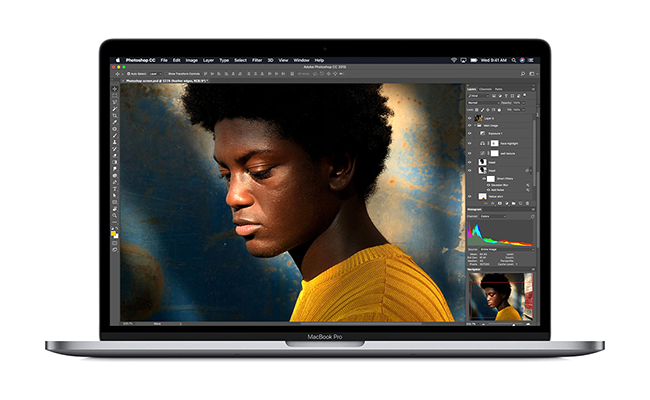 The number of cores is doubled for the new 15-inch MacBook Pro, making it the fastest Apple laptop ever. For 6-core MacBook Pro versions, however, the boost of performance is much lower – about 40%.
The 8th gen Intel chips support hyper threading, with a base frequency of 3.6 GHz at 95W TDP, and a turbo up to 5.0 GHz on two cores. (The i8 processors can achieve 5.0 GHz on one core only.) The all-core turbo is 4.7 GHz. If we trust general specifications, the MacBook Pros batteries remain the same, yet the power consumption will inevitably grow with the new processors fully loaded, so the laptop battery life is going to shrink. On the other hand, the Coffee Lake chips can reveal all the possibilities of the system with super-fast SSDs, up to 32GB of RAM, the Apple T2 Security Chip, the fabulous Retina display and the most comfortable and intuitive macOS Mojave.
The 13-inch MacBook Pro 2019. $1,799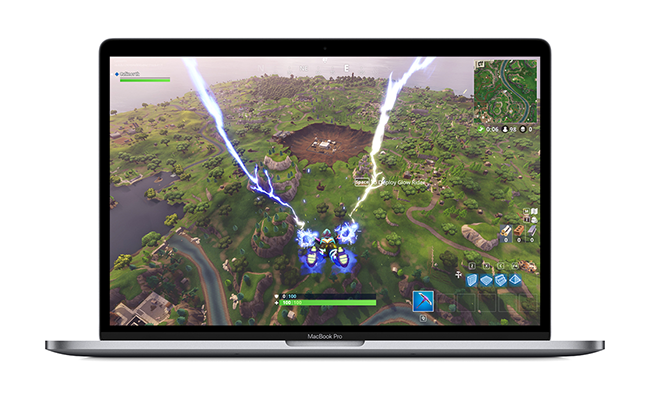 The 13-inch MacBook Pro features a less powerful 8th gen Intel chip. It has only 6 cores with hyperthreading support and a turbo frequency of 5.0 GHz on one core. The all-core turbo is 4.6 GHz.
As Tom Boger, Apple's senior director of Mac Product Marketing promises, an upgraded MacBook Pro can process images and hi-res videos, run several virtual machines for coding, stream 4K video or render 3D models with brilliant ease.
Logic Pro X plays back massive multi-track projects with up to two times more Alchemy plug-ins in.
Maya Arnold renders 3D scenes up to two times faster.
Photoshop works up to 75 percent faster with complex edits and filters.
Xcode compiles codes up to 65 percent faster.
TetrUSS computes complex fluid dynamics simulations up to 50 percent faster.
Final Cut Pro X can process up to 11 simultaneous multicam streams of 4K video.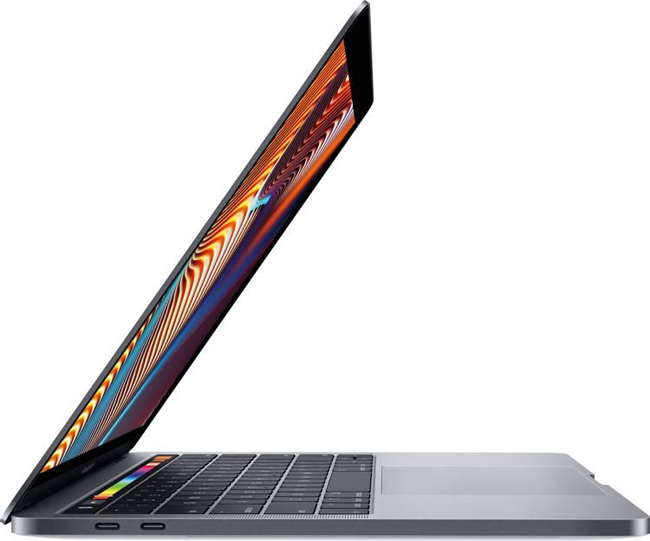 Probably, these results will be easier to achieve on top 15-inch MacBook Pros that feature Intel CPUs with unlocked multiplier. Such chips allow custom overclocking, but users should consider the system overall specifications first. Remarkably enough, Apple offers external Blackmagic GPUs on the web page with the upgraded MacBook Pros. As you may know, external graphics cards add to the system performance without too much overheating. Considering the slim form factor of Apple laptops, we at iGotOffer suspect that upgraded MacBook Pros can face such a problem.
Speaking of problems, a certain number of websites mentioned that Apple also changed the material of the ill-reputed butterfly mechanism to make it more sustainable. It's rather strange, because it is the mechanism itself and not the material it was made of that causes the problem in the first place. Besides, we failed to find the news about the keyboard upgrade on the official Apple website, so, we take this claim with a pinch of salt.
Links
2019 MacBook Pro review – This is what we asked for… [Video]
Video uploaded by 9to5Mac on May 28, 2019

<!-comments-button-->