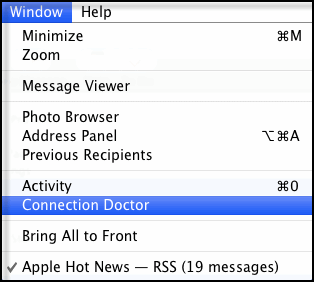 How to Use the Mail Connection Doctor in Mac OS
If our Mail app can't send or receive email on your Mac, the easiest way to find the problem is using Mail Connection Doctor, which checks the status of each of your email accounts and your internet connection. To use Mail Connection Doctor, open the Mail app, then choose Window > Connection Doctor.
You'll see the statue of your internet connection on the top of the Mail Connection Doctor window. If a red dot appears, Mail can't connect to the internet. In this case, the computer can't use any of your email accounts to send or receive email. To learn more about the issue, click the Network Diagnostics button to start a test of your internet connection. The Diagnostics will try to find a solution to connect your Mac to the internet.
You may be connected to the internet, but Mail Connection Doctor shows a red dot next to one or more of your accounts. In this case, you should check the Details column for messages, which will show you the status, such as "Trying to log in … account failed." Your email service may be experiencing a service outage. To verify if this is the problem, contact your email service provider, or use their status webpage to make sure that their mail service is online.
If the password for your account is no longer valid or missing, the message, "Could not connect to this . . . server," may appear. This message means that the settings for your email account are wrong. You should check Mail preferences to make sure that your settings are up to date. You can use the Mail Settings Lookup tool to check the settings for many email providers, or get them from your email provider directly. Note that you may see the same message if a network firewall is blocking the connection to your email service. This can happen if you installed third-party firewall software, or you're on a different network that doesn't allow the necessary email connections. To get to your email service, if you are in an internet café or coffee shop, check with their staff. Using a corporate network, contact the corporate IT department for help.
Mail Connection Doctor can show even more detail about the connection by clicking the Show Detail button. You will see basic communication between the Mail app and your email service. If the drawer is empty, click Check Again to start another check. Messages that contain "ALERT" come directly from your email provider. Select the Log Connection Activity checkbox to cause Mail to generate detailed logs of its communication with your email service. To view the logs, just click Show Logs. To stop logging, deselect Log Connection Activity..
­See also:
Apple Encyclopedia: all information about products, electronic devices, operating systems and apps from iGotOffer.com experts.
iGotOffer.com: the best place to sell my old MacBook online. Top cash guaranteed. Free quote and free shipping. BBB A+ rated business.
<!-comments-button-->