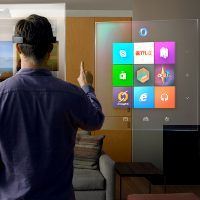 Microsoft Hololens: Welcome to the mixed reality
Holographic Reality: The software giant's push into holographic reality computing, tied into Microsoft Windows 10, spurs the imagination. Indeed, Windows 10 will have all the pieces needed for Microsoft's HoloLens, a great holographic ambition. In Microsoft's view, everything from Minecraft to Skype could be holographic friendly. A lot of areas are clearly business focused, as many of the features apply to the enterprise industry. Businesses can use Microsoft HoloLens in many ways.
In theory, the use of HoloLens shouldn't require any extra skills, just the knowledge to use "gaze, gesture, and voice" capabilities that the new hardware brings to Windows Universal apps.
What can we do with Microsoft's new HoloLens? For starters, since HoloLens is hooked into Windows 10, we can easily take advantage of the holographic feature:
Collaboration in the work place: Virtual reality simulations, effects, possibilities to mark-up drawings, and reference designs could be powerful. Everything could be revamped.
Augmented reality: HoloLens looks like a virtual reality headset, but it can input data and function like a computer. In fact, HoloLens tops the performance of the augmented reality glasses.
Productivity improvements: HoloLens provides new ways to approach collaboration, training, and presence.
Customer experiences: HoloLens is an engagement tool. Enterprises can use Microsoft's technology to inform and engage in various activities by plugging marketing data into the enterprise environment.
Specific use cases: Holographic computing affects various industries and many efforts are going in that direction.
For instance, the travel industry could use HoloLens as an entertainment device, retail could use holographic computing as a virtual dressing room, home improvement chains could help renovation projects, and so on.
Briefly, Microsoft's holographic efforts could be conducive to almost every enterprise interested in adopting the next-generation holographic reality which allows you to move confidently in the virtual world, to work, and to play comfortably.
­See also:
iGotOffer.com: the best place to sell used Microsoft Surface online. Top cash guaranteed. Free quote and free shipping. BBB A+ rated business.
<!-comments-button-->