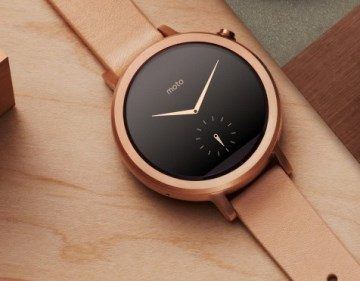 Moto 360 Watch
The Moto 360 watch, an Android Wear-based smartwatch, was released in September, 2014. This smartwatch has some interesting features to it that put it as a contender when thinking about purchasing a device like this. First off, the smartwatch is water resistant (IP67 certification for dust resistance and fresh water resistance rated at 30-minutes at 4.9 feet depth). Interestingly, it has only one physical button. It's based on the traditional circular design of a watch, and supports a 42 mm or 46 mm viewing diameter as well as circular touch display. Both diameter sizes are 11.4mm in thickness. The case is stainless steel, and available in different finishes, while it's wrist bands are available in both metal and leather.
The Moto 360. It also has microphones for voice recognition and noise rejection. It includes a light sensor, which optimizes the screen's brightness. It also allows gesture controls as well as tactile feedback because of its vibration motor. Conveniently, Bluetooth 4.0 is included with the watch. The Moto 360 also has a heart-rate sensor as well as a 9-axis accelerometer, in order to support the owner's health by monitoring their activity levels. The watch charges wirelessly by being placed on an included cradle.
This smartwatch runs Android Wear, Google's Android-based platform, which is designed for wearable devices. It pairs with any phone running Android 4.3, or higher. The software displays notifications from paired phones.
The Moto 360 was considered one of the best smartwatches in 2014. The 2015 version has iOS functionality, an improved design and Moto Maker customization, making it even more desirable.
Technical specifications: The Moto 360 used 512MB of RAM, 4GB of internal storage. It is equipped with a 300 mAh battery (42mm model) or 400 mAh battery (46mm model). It has Bluetooth 4.0 LE, 802.11 b/g WiFi, and various sensors. Unlike the Apple Watch, the Moto 360 has no speaker.
If you decide to pick up a new Android Wear device, then the Moto 360 should definitely be at the top of your list.
Users can choose from beautifully designed watch faces, complete with customized Live Dials that give the owner all information he or she needs at a glance, as well as shortcuts to the apps that consumers use most. Users can also add a Live Dial for Shazam and discover new music. It is even possible to unlock the front door of your house with the app, Kevo.
Moto 360 Watch Full Specifications
Display​: Corning Gorilla Glass 3.
Backlit LCD.
Mens 42mm and Womens: 1.37 inch, 263ppi (360 X 325).
Mens 46mm: 1.56 inch, 233ppi (360 X 330).
Watch case dimensions: Mens: 46mm diameter by 11.4mm high; 42mm diameter by 11.4mm high. Womens: 42mm diameter by 11.4mm high. (Note that sizes and styles subject to availability of the watch).
Processor: Qualcomm Snapdragon 400 with 1.2 GHz quad-core CPU (APQ 8026). Adreno 305 with 450MHz GPU.
Sensors: Accelerometer, Ambient Light Sensor, Gyroscope, Vibration/Haptics engine.
Battery: Mens 42mm and Womens: 300mAh – Up to 1.5 days of mixed use with Ambient off. Up to a full day of mixed use with Ambient on. Mens 46mm: 400mAh – Up to 2 days of mixed use with Ambient off. Up to a full day of mixed use with Ambient on.
Charging of the battery: Wireless charging with charging dock included.
Memory: 4GB internal storage + 512MB RAM.
Connectivity: Bluetooth 4.0 Low Energy. Wi-Fi 802.11 b/g.
Microphone: Dual digital mics.
Links
Have you visited our Website where you can easily sell your old electronic watch you don't need anymore? – Sell old gadget online now.
<!-comments-button-->