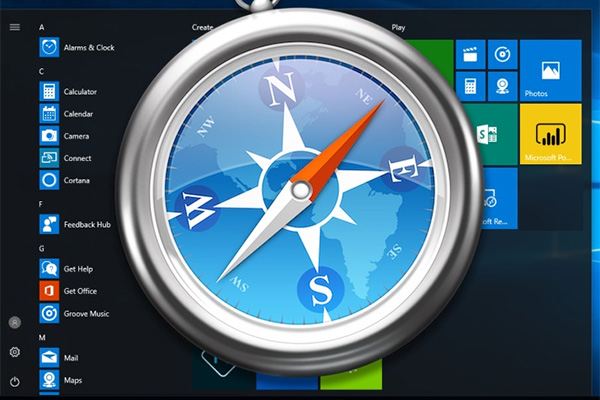 Best Web Browsers 2017 [Video]
Video uploaded by Brett In Tech on February 3, 2017
No More Safari for Windows 10 Users
Safari is the iconic OS X and iOS browser. Its Java-based engine makes Safari the fastest browser ever. Besides, it has many attractive features that other browsers lack.
Safari's approach to cybersecurity is number one winning factor for me here. It's no secret that browsers are tracking your online activity to barrage you with ads afterwards. They also save your history, links you visited and so on.
Safari features a Private Browsing mode to keep your browsing hidden and secure. That's not too big of a deal you may say, since Google Chrome and Edge have that same option. What they don't have is the built-in stealth search engine Duck Duck Go. With other browsers you have to use Google search, and that still unfortunately tracks you. Your activity maybe stays anonymous in the sense that your browser history won't be recorded, otherwise there isn't anything else "anonymous" about surfing the web while using this feature in Chrome.
Sandboxing is also another great feature that Safari has. Not only can Safari warn you against downloading phishing or malware-infested sites, but it can also forbid sites engines to run certain software while downloading. With the help of machine learning, Safari identifies advertisements and spammers and removes the cross‑site tracking data they leave behind.
Safari is also a very customizable browser. The most appealing feature is Reader mode when you can read any article without ads, navigation, and share-it buttons. The soaring video window is also very handy. You can drag-and-drop it anywhere you like on the screen and work with your e-mail or documents while your favorite music video is playing in the upper right corner. There's no way to pull this same trick off in Chrome, Edge or Opera.
You can get all of this and even more if you happen to be a Mac or an iPhone/iPad owner. Apple pulled the plug on the Safari for Windows project in 2012. If you google 'safari for windows 10' you'll come up with tons of links, and nine out of ten will bring you to a phishing or scam site.
The only trusted site nowadays is from Softonic, that developed Safari in the first place. The only version you can download and install is Safari 4.1.7. I still decided to give it a go. I knew that I wouldn't get half of those amazing features I wrote about above, but I wanted to see if I could get a faster beast than Chrome – whom I've recently come to hate.
I own a one-year old Windows 10 laptop and I tried to install the Safari browser for Windows. It took an unexpectedly long time for the software to install… about 10 minutes. I was also asked to confirm my administrator privileges twice during the process. When it finished, Safari failed to run, even though I checked the 'run after installation' box. I did find the Safari Icon on my desktop, and then I clicked on it.
The browser was slow running it on my laptop on the first try, but when I closed and reopened it, Safari started to work much faster. Even faster than my Chrome! It opened up both light and heavy sites, no matter how many hi-resolution pictures of text they had. The only problem was the tools bar. I had to customize it and add the 'new tag' button, but other than that Safari ran smoothly.
I was thinking about exporting my bookmarks from Chrome when I ran into a roadblock. Safari 5.1.7 failed to playback a Flash or HTML5 video. OK, maybe it was too old for the HTML5, but what about Flash? Usually, Safari users are told to authorize third-party plug-ins in the Settings, but this didn't work with the old version. The boxes were checked, but Flash still wouldn't run.
YouTube informed me politely that it didn't support the browser I had but somehow identified it as Mozilla. Hoping that it was just a glitch, I reloaded the page and surprisingly the YouTube video frames were back. I managed to log in and clicked the play button, but the video still wouldn't start. The downloading ring kept circling, and I kept waiting without any result.
A brief tour through other video hostings discovered the ugly truth. If you opt for Safari on Windows, videos just won't work for you. I even tried to download Adobe Flash for Mozilla (the only other option being Adobe Flash for Edge and Chrome) but it didn't run with Safari either. I guess, Adobe engineers just couldn't imagine anyone trying to run old Safari on Windows 10.
The uninstall process took only four minutes, so that was a relief. I was a bit apprehensive about all of this, and all in all the verdict was disappointing. If you want to enjoy Safari's advantages, buy an Apple product. Safari will probably never come to Windows or Android and will remain the Apple key feature.
Links
Looking for the place to sell your electronics? Get free quote today at iGotOffer.com – the best place to sell old devices online
Everything About Apple's Products – The complete guide to all Apple consumer electronic products, including technical specifications, identifiers and other valuable information.
Everything About Microsoft's Products – The complete guide to all Microsoft consumer electronic products, including technical specifications, identifiers and other valuable information.
<!-comments-button-->