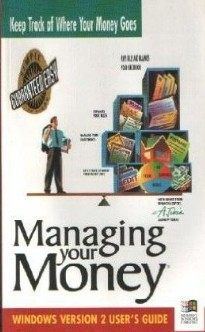 Programs That Do Everything, Except Making Money
History of Internet: Software dedicated to money, banking, record keeping, budgeting and so on, as it was seen back in 1995:
Stumped by a money matter? There are more than two dozen software programs to help you organize your financial affairs by computer. Some simply handle record keeping, banking and check writing; others help you plan your budget, choose a portfolio of stocks, bonds, and mutual funds, and then buy and sell them for you. For tax season there are tax programs with scores of income tax forms and money-saving tips. How do you choose? We've compared top-selling software in four categories: record keeping and banking; financial planning; investing; and tax preparation. The prices we indicate suggested retail prices, but you can generally get the software for 20 to 30 less at discount stores.
Record keeping and banking: For basic financial chores likes paying bills, keeping records, and budgeting, these programs fit the bill. All can print checks and envelopes and track a stock or mutual fund portfolio. Quicken and Money-Counts can get price quotes electronically from online data services for about $15 a month. Beyond this here's how they compare:
Quicken: Intuit. Dos, Window, Mac. The top-selling personal finance software. Excels at budgeting, and graphing what happens to your money. Makes it easy to pay bills, track expenses, graph the results, and budget your income.
Quicken Deluxe: Intuit. Windows. The upgraded deluxe version has a home inventory feature and a tax-link assistant that categorizes taxable items.
Microsoft Money: Microsoft. Windows. Good for beginners who want to create a budget by using their spending patterns as a guide. Its online banking ability also makes it appealing to more sophisticated investors.
MoneyCounts: Parsons Technology. Dos, Windows. One of the few packages that includes a general ledger and a trial balance. Allows you to keep large mailing lists and to address envelopes and labels; useful if you are a small business owner or fund-raiser for an organization.
Financial planning: These programs offer tools for choosing investments. They allow you to pick a goal, such as paying for college tuition, then figure out how much you need to save to meet you. You can put together a portfolio of stocks or funds and track its performance. You can also handle specific tasks, like analyzing life insurance.
Wealthbuilder: Realty Online. Windows, Mac. Everything you need to put together a thorough financial plan. Designed with Money Magazine, the program scopes out your financial philosophy – from very conservative to very aggressive – by asking questions about your holdings. It has financial data on thousands of bonds, stocks, and mutual funds.
Managing Your Money: Meca. Dos, Windows, Mac. Advice from financial planning guru Andrew Tobias. Strong on managing your portfolio and investments.
Kiplinger Simply Money: Computer Associates. Windows. Helpful tips from the folks who publish Kiplinger's Personal Finance magazine on how to manage your money. Good graphics. Easy to learn with clear, lively commentary.
Personal Investing:
These programs are for experienced investors; they offer little on-screen stocks, bonds, or mutual funds and then manage your portfolio. All except Pulse let you trade securities by modem through discount brokerage houses.
Reuters Money Network: Reality Online ($24.95, free with WealthBuilder). Windows. Good choice for mutual fund watchers. Lets you sort through a database of more than 17,000 stocks, bonds, and certificates of deposit. The program suggests CDs, mutual funds, and money market funds that fit your investment goals.
Pulse: Equis International, $195.00. DOS. Allows you to break down your holdings by any category you designate, such as asset type. Easy to navigate.
Captool: Techserve $149.00. DOS. For the serious investor who is primarily interested in individual stocks. Does sophisticated calculations, such as your stock (but not bond) portfolio's internal rate of return.
Equalizer: Charles Schwab. $59 DOS.
On-Line Xpress: Fidelity Investment, $49,95. Dos. Windows.
For those who have accounts with Schwab or Fidelity, these programs let you place orders before the market opens, though they don't offer much advice on choosing stocks. Both offer 10 percent off the forms' standard discount brokerage commissions for customers who trade with the software.
Tax Preparation: Nearly 3 million personal tax programs were sold in 1993. The average price is $30. Kiplinger TaxCut is sold only by phone. Returning consumer information cards is especially useful for buyers of tax software, which is updated yearly. Manufacturers can then send information about new editions. The price of all tax software, of course, is tax deductible.
Turbotax: Intuit, $42.00. Dos, Mac. Windows. The top seller. Visual displays are easy on the eye. God at finding deductions.
Andrew Tobias' Taxcut: Meca. Dos, Mac, Windows. Simple to follow instructions from finance writer Andrew Tobias. Makes it easy to move from one tax form to another and back.
Kiplinger taxcut: Meca. Dos, Mac, Windows. More guidance than Tobias' TaxCut. Tips on just about everything, even tricky questions. Also included: Kiplinger Tax Estimator program for tax planning and a tax guide on Sure Ways to Cut Your Taxes.
Personal Tax Edge: Parsons Technology, $19.00. Dos, Mac, Windows. Good for filers with fairly simple returns. A bargain, but offers little advice.
­See also:
Apple Encyclopedia: all information about company, products, electronic devices, operating systems and apps.
iGotOffer.com: the best place to sell my used iPhone online for the top price. Free quote, free shipping. BBB A+ rated business.
<!-comments-button-->