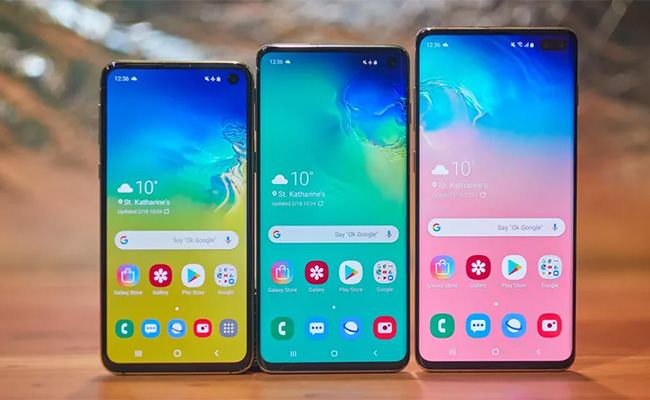 Samsung Galaxy S10 Impressions! [Video]
Video uploaded by Marques Brownlee on February 20, 2019
Samsung Galaxy S10 Discovers a New Dimension
Samsung celebrates the first Galaxy decade with the Samsung Galaxy S10 smartphones that have no counterpart.
The leaks didn't prepare us for what we saw on February 20. I must confess I was watching the event in awe. First of all, Samsung revolutionized the AMOLED screen. Then they added new biometrics and professional cameras, and topped it with an amazing charging feature.
The new family of Galaxy products consists of three phones: Galaxy S10e, Galaxy S10, and Galaxy S10+. All three models share notchless Dynamic AMOLED Infinity-O Display with a pinhole selfie camera, an octa-core Snapdragon 855 or Exynos 9820 chip, four colors (Prism White, Prism Black, Prism Green, Prism Blue), an innovative PowerShare feature, and a glass body. But they vary in screen size, resolution, internal storage, number and quality of cameras, and other perks.
The youngest is Samsung Galaxy S10e. It features the smallest display — just 5.8" — and a capacitive fingerprint scanner placed on one side. The screen resolution is only 2280 x 1080px, though it supports HDR10+. The cameras are modest. A dual 10MP selfie camera is paired with a dual 12MP back camera with optical stabilization and an ultra wide back 16MP camera for panoramas. The storage options vary from 128GB to 256GB, while RAM options include 6GB or 8GB. The battery capacity is 3100mAh, so you should be cautious about charging other devices with your phone when you're away from a power outlet.
You can choose a Canary Yellow phone to liven things up, but the next model looks much more enticing.
Samsung Galaxy S10 sports a curved 6.1" display with a resolution of 3040 x 1440px! It comes with 128GB or 512GB of internal storage and 8GB of RAM. The battery is slightly larger (3400 mAh) considering the display size. However, the highlight of this model is the ultrasonic in-screen fingerprint sensor! It creates a 3D map of your finger rather than just scanning the fingerprint pattern. The map is stored in a vault-like segment of the memory to avoid identity theft.
Samsung Galaxy S10+ is a summa cum laude smartphone! It has the largest curved display (6.7"), with a resolution of 3040 x 1140px, a ceramic body option (in white and black), an ultrasonic in-screen fingerprint sensor, 8GB or 12GB of RAM and 128 GB, 512 GB, or —hold your breath! —1TB of internal storage (for the ceramic model only)!
<!-comments-button-->