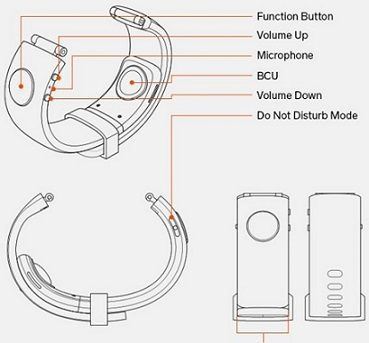 Sgnl: Make Phone Calls With Your Fingertip, Literally
Sgnl: The Smart Strap
Yes, you can make calls just by placing your fingertip on your ear, thanks to Sgnl, the wearable smart strap connected with your watch. Simply place your fingertip to your ear to listen and speak through the embedded microphone. You can use the device whether you wear a classic watch or an Apple Watch, Samsung Gear, Pebble Time, or any other smartwatch. Your finger not only transmits the sounds, but also blocks out background noise. You will hear a very clear voice through the Sgnl, just like with a normal cell phone.
With this gadget, users can leave their phone in their pockets and lift their hand to answer a phone call without carrying any headset or earphone.
How does Sgnl work? The device uses the Sgnl app which receives voice signal from the phone through Bluetooth. The Sgnl then generates vibration through its Body Conduction Unit (BCU). The BCU transmits the vibration from the watchband to the fingertip.
When the user places his or her fingertip to the ear, the vibration creates amplified sound within the closed space of the ear.
There is no risk of harm to the human body by the use of the gadget. As a reminder, this gadget is designed to fit all sorts of classic and smart watches.
The gadget can be used on both the left and right hand. Just ensure that Sgnl main body and Sgnl band are attached in the same position in relation to the watch face.
Here is what Sgnl has to say about its device:
Fingertip Communication: Sgnl's key technology lies in its patented Body Conduction Unit (BCU), which is capable of transmitting vibrations through the body, which then can be converted to sound. The gadget communicates with the user's phone through Bluetooth, and when a voice signal is received, it will generate vibrations through its BCU. These vibrations will be sent through the user's hand to their fingertip. When users place their fingertip to their ear, the vibration echoes to create amplified sound within the closed space of their ear and they can speak through the microphone embedded in the Sgnl strap. You can:
Leave your phone in your pocket, without having to carry extra devices.
With Sgnl, answering calls is direct and immediate. There is no need to rummage through bags when the phone rings or carry around extra headsets or earphones. Users can simply raise their finger to their ear to answer calls.
Even in the noisiest of surroundings, users can hear their calls clearly. With Sgnl, their finger doesn't just transmit the voice to their ear, it also blocks out background noise.
You don't have to worry about others listening in: With the Sgnl, users can take calls discretely. As sound is contained within the user's ear, only the wearer of the device can hear the call. Whether in a meeting room or in a packed elevator, users never need to worry about being overheard. Sgnl is particularly useful for smartwatch wearers as it can prevent others from listening into conversations over their speaker phone.
Watch Compatibility: The Sgnl is a wearable smart strap and watch companion. With its specially designed lug adapter, the gadget is designed to fit all 18-24mm standard watch lugs. This allows for nearly comprehensive watch compatibility, whether classic or smart, including Samsung Gear, Apple Watch, or Pebble Time.
For Classic Watch – it can transform the user's classic watch into a hybrid smart watch, providing it with Fingertip Communication, Fitness tracker, and Smart Alert features.
For Smart Watch – Sgnl solves the inconveniences of the smart watch. Users can have complete call privacy through fingertip communication, instead of having to speak through the speaker phone.
For Non-watch Wearers – the device can be worn as a stylish, stand-alone smart band with its lug-connector accessory, while retaining all core functionality.
­See also:
Apple Encyclopedia: all information about products, electronic devices, operating systems and apps.
iGotOffer.com: the best place to sell your old iPhone online. Top cash guaranteed. Free quote. Free shipping. BBB A+ rated business.
<!-comments-button-->