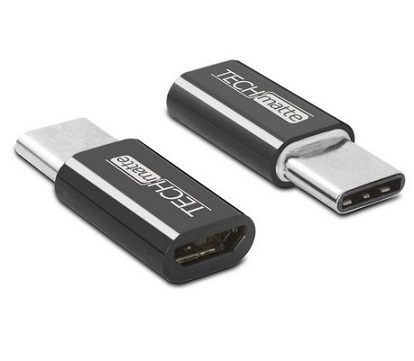 Tech Gifts
The winter holidays are once again upon us, and even when we celebrate them in many different ways, we all have something in common: we struggle with the usual challenge of finding just the right gifts for those who are special:
We think when it comes to finding useful, affordable and cool gifts, you can't go wrong with technology! We offer a selection of gifts in the $15 to $30 price range and suitable for everyone, not just the tech nerds out there:
Mpow Streambot Mini bluetooth receiver: For the iPhone 7 and 7 Plus lovers who have yet to buy a Bluetooth headset, Mpow's Streambot Mini is a $20 Bluetooth receiver, that will let you use your existing wired earbuds or headphones with their phones. Just pair the Streambot Mini with the phone, and plug the headphones into receiver. Once that's done, buttons on the Streambot Mini can control audio playback. Note that this receiver is best for non-audio files, as audio becomes slightly less warm and a little fuzzier when using the Streambot Mini.
Aukey 30W dual port car charger with Qualcomm QuickCharge 2.0: Aukey car charger (currently $14 or less on Amazon) charges without the distracting backlighting, or confusing color coding. Ideal for folks who own a phone that have QuickCharge 2.0 enabled, like the Samsung Galaxy S7, S7 Edge, and Note 4. For non-compatible devices, the green-colored 2.4-amp port will provide a steady amount of juice.
Anker's 24W PowerDrive 2 car charger: A cheaper alternative to the previous one, currently less than $10 on Amazon. It comes with two 2.4A ports and a blue LED light. It's a nice gift for someone who doesn't have a QuickCharge-enabled phone already, or who wants to see the charger at night.
Anker USB-C to Micro USB adapters: These are inexpensive gadgets for less than 8$ on Amazon. As time goes on, USB-C ports will become more common on Android phones. For now, it's a pain to remember to have a USB-C cable available at all times. Help out fans of the Pixel and Nexus phones by giving them this two-pack of USB-C to micro-USB adapters. They can convert micro-USB cables and chargers to work with their phones. These adapters have the seal of approval from Benson Leung, (who tests USB-C accessories to verify compliance with established specifications.)
Anker Astro E1 5200mAh portable charger: Give the gift of electricity with this portable charger, as smartphones with removable batteries are a rarity these days. The charger is reliable, provides at least one and a half charges for most common phones, and tucks away easily in a pocket. Combination of small size, light weight, inexpensive price (less than $20), and two-amp output port.
Aukey's 12,000mAh Power Bank: For $20. If you want a charger that you can replenish faster, Aukey's 5,000mAh lipstick charger features both a 2A output port and input port. The Astro E1's input port is only one amp. It takes about 4 or so hours to top up the charger.
Cree A19 soft-white dimmable 60W LED bulb: These bulbs work with any type of switch – standard on/off, dimmer, or smart – anyone can use these highly efficient bulbs in place of a standard 60W incandescent, no matter their setup. It's a great way to help end household fights over wasted electricity, or help bring down the electric bill. These Cree bulbs work perfectly with dimmers and they're really bright. A lifespan rating of 24,090 hours, 10-year warranty.
Cable YoYo Earbud Organizer: Wrapping and unwrapping cables is a big pain. Minimize that annoyance for a friend or family member with the YoYo Earbud Organizer, which will cost about $10. Wrapping the earbuds around it goes quick, and uncoiling them is smooth. A more compact and even cheaper option, is the Bobino Cord Wraps.
Chipolo Plus bluetooth tracker: For the $25 price, the Chipolo Plus bluetooth tracker provides connections within a 200-foot range. It works perfectly. You just pair the Chipolo Plus with the app, and attach it to whatever it is you want to keep track of (backpack, keys, etc.) If you lose track of the item, you can either log into the Chipolo website or open the app to locate the tracker. The user can double-press on the tracker to find her or his phone, as it'll ring even if the device is set to silent. But Chipolo Plus bluetooth tracker isn't rechargeable, so after a year, the owner will need to buy a new one. Chipolo offers a discount program for existing customers buying replacements. If having to buy a new one each year doesn't appeal, Chipolo offers a Classic model for the same price with a replaceable coin-operated battery, but it lasts for only about six months.
Kenu Airframe smartphone car mount: Affordable price at $20. Car mounts are indispensable, and with a car mount like the Kenu Airframe, is a clamp-style, vent-mounted model, which offers a secure grip on the phone and the car. Now, car mounts can be a matter of personal taste. That's as much due to constraints like the style of vents in a car as a person's preferences. For tablet-sized phones, you'll need to get the more expensive Airframe+ (around $30). An alternate suggestion is InfiniApps' Slyde model (less than $20 on Amazon), a magnet-style CD-slot smartphone mount.
This is just a short list of some ideas, however, the internet supplies bountiful suggestions for inexpensive technology which can help make lives easier and more enjoyable. Good luck!
See also:
Sell your old electronic gadget to iGotOffer and save for a new one! We offer the highest prices online for your used electronics : Sell old electronics now! Free instant quote, free shipping, fast and secure payment.
More cute and very useful suggestions at: www.pcworld.com/article/3140226/hardware/awesome-tech-gifts-that-cost-50-or-less.html
<!-comments-button-->