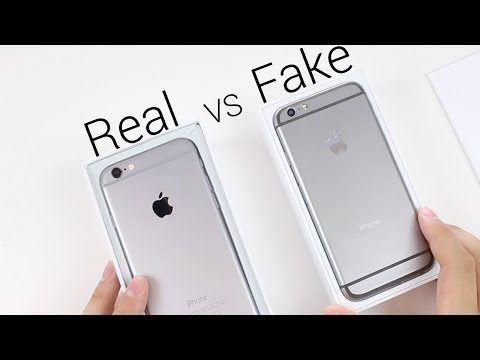 How to Spot a Fake iPhone
In many countries counterfeiters are duping customers into buying fake and knock-off Apple handsets, so you should know what to look for when buying official iPhones. Not only because of performance and quality, but also because fake Apple phones and chargers are linked with injuries or even death, mostly in Asia where counterfeit Apple products are rife.
Sometimes fake handsets are sold in authentic iPhone boxes, pictured.
First at all, just look at the device – authentic handsets come with the Designed by Apple in California stamp, besides the iPhone you are looking at should be measured against specifications to check correct sizes.
But criminals use sophisticated techniques to dupe users, so the best solution would be to compare the iPhone somebody is selling you with a friend's iPhone. The processor speed, touchscreen and feel should be identical. Keep in mind that all iPhone and iPads are sold with official Apple chargers.
Make sure the phone has the Apple logo on the back of the phone. The logo must nearly flush. The logo should also be less reflective and darker than a mirror. It the logo has a mirror finish, it is probably fake.
Then, the serial number on the box should be checked on Apple's official support site Official handsets will come with a serial number printed on the rear of the device. So this serial number can be entered into Apple's Service and Support Checker to confirm a device's authenticity.
At the top of a box with the phone, also look at the top. The authentic iPhones do not have a phone pic on top. An embossed, raised phone will appear outlined on top of the real box. That line should be distinct and of good quality.
Another thing to look for in the box is the specs on the bottom of the box. The real box has a list of specifications.
But an official box is not an indication of an official phone, as boxes can be recycled!
The best way to confirm would be an on-line live connection between phone and an Apple authentication server – anything visual printed on the device can be copied
The best advice would be however to buy from known source, not on a street, as buying from stranger, you risk buying a cheap Chinese knockoff.
­See also:
Apple Encyclopedia: all information about products, electronic devices, operating systems and apps from iGotOffer experts.
iGotOffer.com: the best place to sell used iPhone online. Free quote and free shipping. BBB A+ rated business.
<!-comments-button-->