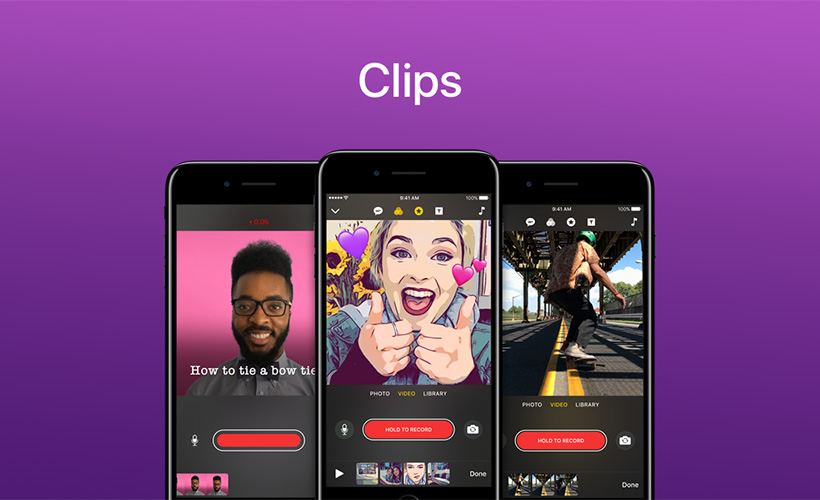 The (apps) chart-topping Apple's Clips
Now that the long-awaited newest Apple gadgets (including iPhone 12 ) are finally with us, it's the best time ever to take a closer look at the improvements and upgrades of the famous brand's capabilities brought about by its latest models. Of course, there are plenty, to put it mildly, which means that covering them all – even superficially (which is not exactly a good introduction method) – would rather require a fully dedicated magazine edition than one article.
Therefore, we decided to have a closer and deeper look at just one of them… but at one of the best, at that. So allow us to introduce to you one of the most substantial and crowd-pleasing modernizations sported by the newest and shiniest Apple devices so far – namely, the 3rd version of Apple's Clips application, designed for, as you have most likely already guessed, video clips creation. After all, picture and video making is one of Apple's strongest points. Plus (also largely thanks to Apple) it has long stopped being limited to the video buffs' realm and now appeals to the widest range of buyers.
And the aforesaid Clips 3.0 is about to make this range even wider. Because this version of the familiar app doesn't just look prettier and more original (which it does, due to the new-look record window above the viewer). It also turns the whole process of recording and, so to speak, post-production much more simple and straightforward, turning the creation of vivid, impressive, multiclip footage into virtually "unpack and play" type of experience, no high level editing skills or long tenure in the field required. From now on, both iPhone and iPad owners will have an extended array of tools at the tip of their fingers, for Effects, Projects and Media browsers have all been upgraded with new possibilities, including additional personalized stickers, labels, cursors, shapes and accompanying sounds, taking video personalization to a whole new level.
Besides, on iPhone in particular, the said browsers now have gone fullscreen, and one especially exciting option has been included: with Clips 3.0, iPhone 12 and iPhone 12 Pro alike will become capable of HDR recording via their rear cameras. On top of it, the app will let you feed the captured video into your project and insert existing HDR images there, too. And HDR capturing means a whole new level of color vibrancy and contrast precision.
There are also some iPad-specific improvements to be noted: the record control has become easier to reach and the landscape recording / editing mode has been made available (with 4:3 ratio, best-suited for iPad's screen size, applied by default to each new project), adding to the shooting flexibility. And, speaking of iPad-based video-making flexibility: now you can operate the 3rd version of Clips on your new Apple tablet not just with the trackpad, but also with Bluetooth mice, Magic / Smart keyboards and Apple Pencil alike (but the latter will only work via Scribble). So now you can write the aforesaid labels as well as type them: all of your scribblings (pardon the pun) will be automatically transformed into the typed symbols.
Another great – and even more important – addition offered by the Clips' upgrade is the multiple aspect ratio recording. So, all the Youtubbers, Instagramers and Snapchatters out there rejoice: now that you can switch between horizontal and vertical modes your stories are about to become way more lively and diverse looking. And this improvement, thankfully, is not limited to any type of Apple gadget you might own – it applies to both iPhones and iPads. One difference, however we should point out: the Clips 3.0's default shooting ratio for iPhones is 16:9. But then again, this particular vertical video format has also been chosen with the above social networks in mind: as far as iPhones are concerned, it considerably fastens the shooting process. And we all know how important it is to be quick with your posting when it comes to updating your stories or channels. But, even though time is really of essence here, it is just as vitally important to check in advance how the finished clip will look to the (hopefully) wide audience in the end, so in the third version, the app's share sheet has been enhanced with a preview option. A wise inclusion if you ask us.
And, while we're on the topic of social platforms, another improvement to Clips that will certainly make any video poster happy is heightened video shareability. Size is no object now and neither is the mode: even the aforecited HDR video will be shared instantly in the Dolby Vision mode.
Finally, it is also nice to see how well all the aforementioned shooting mode changes have been attuned. While it might (and probably should) be considered a given that, once any device / software is upgraded, all the existing features should be brought into sync with the new characteristics. But we have seen too many way too illustrative examples of the difference between "should be" and "really is" not to appreciate the fact that every single filter, title, poster, Scene, etc. of the new Clips has been studiously aligned to all current screen sizes.
So, to sum it all up, just installing this new version of Clips on your new iPhone or iPad will give you enough ammo to become a clipmaker pretty much instantly and bring you this close to seriously exploring the field of filmmaking. There are worse ways of opening yourself to new possibilities.
Links
Apple's Clips app: a step-by-step guide [Video]
Video uploaded by 9to5Mac on April 7, 2017

<!-comments-button-->