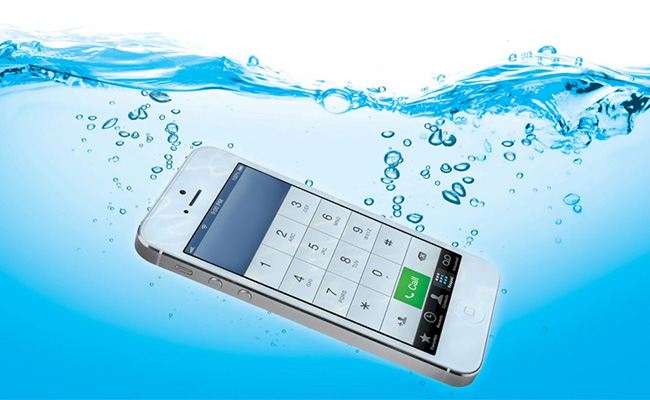 iPhone 7: How to Check for Water Damage Indicator (LCI) [Video]
Video uploaded by ITJungles on November 2, 2016
Water Tightness of Consumer Electronic Devices
There are basically three indicators of water tightness: International Protection Marking or Ingress Protection (IP Code), Water Resistant Mark, and Liquid Contact Indicator (LCI). Let's explore their significance:
IP Code
This is an international standard that measures the level of protection an electronic device has against the entry of solid objects or water. Typically, the code consists of two letters and two digits. We are primarily interested in the numeric designation.
The first figure represents a device's level of protection against extraneous objects, including dust. Most modern devices are protected from dust, so the first figure will always be 6. If there is an "X" instead of 6, this means the level of protection is not defined.
| | |
| --- | --- |
| 0 | Unprotected. |
| 1 | Housing prevents entry of objects with a diameter over 5 cm. There is no protection against intentional contact. |
| 2 | Housing prevents entry of objects with a diameter over 1 cm, such as fingers or similar-sized objects.. |
| 3 | Housing prevents entry of objects with a diameter over 0.2 cm, such as screwdrivers and cables. |
| 4 | Housing prevents entry of objects with a diameter over 0.1 cm, such as thin wires or nails. |
| 5 | Housing allows a small amount of dust to enter. This is acceptable, as it does not affect the device's operation. The device is completely protected from contact. |
| 6 | Housing is 100% dust proof and completely protected from contact. |
The second figure is the designation of waterproof. Below is a list of values:
| | |
| --- | --- |
| 0 | Unprotected. |
| 1 | Water, dripping from above, should not disable the operating device. |
| 2 | Water, dripping from above, should not disable the device when it is tilted at an angle of no more than 15 degrees. |
| 3 | Rainproof. Drops can fall vertically or at an angle of no more than 60 degrees to the vertical. |
| 4 | Withstands splashes of water falling at any angle. |
| 5 | Withstands jets of water falling at any angle. |
| 6 | Withstands the onslaught of sea waves or other bodies of water. Even if water somehow penetrates the device, it should not affect its performance. |
| 7 | Withstands immersion in no more than one meter (1 m) of water, for a short period of time; for a longer time, the device will fail. |
| 8 | Withstands immersion in over 1 m of water for 30 minutes or more. The device works properly in submerged mode.. |
| 9 | Withstands exposure to high temperature water jets. The device maintains its efficiency, even when washed with a high-pressure cleaner. |
Beyond the level of 6, waterproof level is not cumulative. A device with level 7 protection does not necessarily have to correspond to level 5 or 6 protection . A device that does correspond to both levels is denoted by listing them through a slash; for example, IP65/IP68.
Water Resistant mark
ATM is a mark that measures atmospheric pressure. On the reverse side of watches and fitness trackers, you can find an ATM rating, which designates its level of atmospheric (water) resistance The meaning is roughly the same::

| | |
| --- | --- |
| 3 ATM (30m/WR30) | Resistant to rain or splatters. Not suitable for swimming or showering. |
| 5 ATM (50m/WR50) | Even greater resistance to rain or splatters. Not suitable for swimming or showering. |
| 10 ATM (100m/WR100) | Ideal for water sports. |
| 20 ATM (200m/WR200) | Suitable for scuba diving. |
ATM ratings are often misunderstood by users, with a misconception that gadgets are "unsinkable." For example, a watch may say 5 atm, or waterproof to 50m. But this does not mean that the device is waterproof when immersed in water up to 50m. Water resistance is tested in standing water, meaning that in still water on 5 m (below its surface), pressure will not break the seal of the gadget. Swimming in a pool can put put pressure on the watch to 3 atm (30 m), but moving your hand during a swim increases the pressure to 20m, and jumping or diving increases it even more. Standing water in the pool is different from water in a stormy river or sea.
If your device gets into the sea wave, the pressure of the moving water will hit it with much more force, and it is possible that water will penetrate the device. So a waterproof level of 10 atm is reliable for swimming on the water surface, but not suitable for deep-water diving.
What about guarantees?
With a guarantee, not all is well.
The fact is that almost all devices with water in the body are not covered under warranty–yes, even GoPro! There is no global test method for devices, and the conditions of use in the real world for each gadget are different. No one can predict how a hydro insulator will behave in the process of use. Vulnerability can result from falling or wear. Therefore, manufacturers do not undertake repair of "wet" gadgets.
How can you know if something is guaranteed? Think about how the device was intended to be used. For example, you cannot regard the waterproofness of a smartphone as another function, as in "my phone has WiFi, 128GB of memory, plus it
can be dipped in water." This is just an additional measure of protection in emergency situations. The same applies to speakers. Also, remember that in addition to waterproofing, devices have an acceptable temperature range. Don't be lazy-study the instructions before you swim in a hot spring or icehole!
On the other hand, some devices are designed for use in difficult conditions and are less easily damaged in water, like the same GoPro or advanced sports watch. But if the waterproofing fails, be prepared to pay out of your pocket.
Rules to Remember
In general, water resistance checks are carried out in standing fresh water. It is not advisable to use devices in salt water, unless specified by the manufacturer.
Devices are typically tested at a temperature of 15° to 35°C. If you go beyond the recommended temperatures, the gadget may not survive.
Although it is not advisable to shower with an IP-certified gadget, the device will not fail if you forgot to remove it beforehand. However, with prolonged exposure to moisture or water, it will get damaged, in which case and the guarantee will not save you. Look for information on the manufacturer's website before deciding to use a smartphone, smartwatch or fitness bracelet in the shower, the sea or in the pool.
Before using the device in water, be sure that the charging port is covered, or headphones are tightly closed. Unless otherwise specified, it is better to avoid using buttons on the device while it's in the water, as water could penetrate the housing and damage the electronics.
Do not charge the device until it is completely dry.
Where water tightness is concerned, an ounce of prevention can save the day.
An honest seller will immediately say that he is selling a "wet" gadget. But honest people, as you know, come in small numbers. However, with proper knowledge, to verify the assertions is very simple. All you need to do is find the humidity sensor on the device (LCI).
Liquid Contact Indicators (abbreviated LCI) is a moisture indicator that activated after the inner parts of Apple devices have come into contact with the liquid. Usually indicator is white or gray color, so users often do not even notice it. But if there is water inside the smartphone or player, it immediately turns red.
Apple came up with an LCI for its service centers, so since 2006, the receptionist does not spend too much time inspecting a broken gadget, and immediately either politely sends the client home or offers him a paid repair. But anyone can use the indicator, just need to know where to look.
Where is the moisture sensor of the iPhone or iPod?
Liquid Contact Indicator (LCI)
The moisture sensor on a device is called a liquid contact indicator, or LCI.
In an iPod (Shuffle 3Gen, Classic, Nano or Touch), the LCI is located in the headphone jack. If it has a red dot inside, it means the device was flooded with water. Unfortunately, the iPod Nano or iPod Touch does not have a visible LCI sensor, which means you'll have to believe the seller or explore the player in other ways, like seeing if the main functions work correctly.
How do you recognize a drowned iPhone or player?
If you want to buy a used Apple device, first check if it was drowned in water. This is very important, since you risk getting a very problematic device, and the guarantee, if it exists, will be useless. Virtually no sellers will admit they're selling a "wet" gadget. How can you check this without disassembling the iPhone or player?
In 2006, Apple developed an LCI for its service centers, where customer service staff could quickly inspect a broken gadget and either politely send a customer home or offered a paid repair. But now anyone can verify this on their own: All you need to do is find the LCI on the device. The iPhone has undergone several design transformations, and the location of the LCI sensor has periodically changed:
iPhone X, iPhone 8, iPhone 8 Plus, iPhone 7, iPhone 7 Plus, iPhone 6s, iPhone 6s Plus, iPhone SE, iPhone 6, iPhone 6 Plus, iPhone 5s, iPhone 5–the sensor is located in the SIM card slot;
iPhone 3G/3GS, iPhone 4/4– the sensor is located in the headphone jack and in the middle of the charging connector;
iPhone 2G–the sensor is located in the headphone jack.
A descriptive table helps you:
Apple notes that there is a possibility of false triggering of the sensor. If you are sure that you are not drowning your smartphone or player, and the LCI lights in red, you should contact an Apple specialist or an authorized service center.
Links

<!-comments-button-->