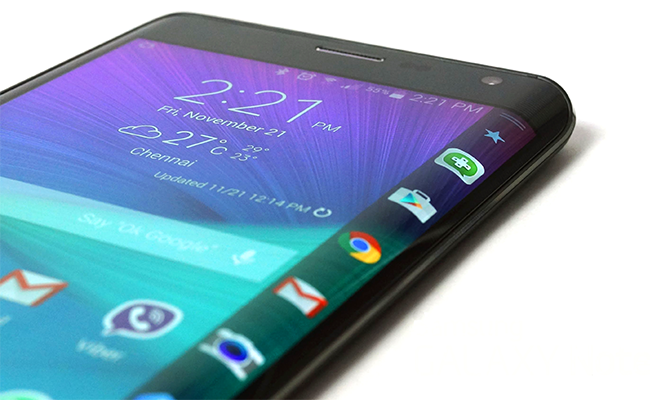 Technology: Types of Smartphones' Displays on the Market
LCD, TFT, IPS, AMOLED, P-OLED, QLED are technologies used to manufacture smartphones' matrixes, and their list is constantly expanding. Even geeks get confused in these abbreviations, to say nothing of ordinary users. Today we will explain the main points of dissention between some technologies and describe their strong sides and weak sides in everyday words.
There are only two main technologies which are now widely used to produce our smartphones' displays: LCD and OLED. All other types and names of technologies are simply derived from them. First of all, we need to know about two basic technologies.
LCD
The LCD (Liquid Crystal Display) technology is applied everywhere: in TV-sets, monitors, smartphones, etc. Liquid crystals that underlie the technology have two important qualities: fluidity and anisotropy.
Anisotropy is the ability of a crystal to change its qualities from the point of its position in space.
This feature is applied to take control of the light conductivity. With the help of transistors, current flows to the LCD-matrix and changes the cristal's orientation. Then the light overcomes several filters. Finally, we see the pixel of the desired color. It is notable that all LCD-screens require a backlight source. Such sources are divided into external (for example, sunbeams) and built-in (for instance, LEDs) ones.
TN, IPS, PLS and their numerous variations concern to smartphones' LCD-matrixes. It is necessary to explain the TFT abbreviation. It is used both in isolation and in various combinations like TFT LCD or TFT IPS.
TFT (thin-film transistor) is equipped with the matrix of an active type. The main purpose of it is to control liquid crystals. All modern gadgets with LCD and AMOLED-displays have an active matrix. The passive one is practically not used.
When we talk about IPS, TN or VA / MVA / PVA, we mean that they all refer to TFT LCD-displays.
TN+film
TN + film (Twisted Nematic + film) was the first technology successfully used to make smartphones' matrixes. It was created in order to make entry-level panels. This technology is also thought to be extremely cheap and simple. Its name is connected with the typical arrangement of crystals, when they are all formed in a spiral. Such traditional matrixes are called TN.
Benefits:
short response time — only 16 ms (earlier it was the best result among all kinds of existing matrixes);
low cost of production and, consequenlty, low price.
Disadvantages and inconveniences:
small angles of view;
low level of contrast;
low color reproduction.
IPS
IPS (in-plane switching) is the screen in which crystals do not twist into a spiral when they receive an electric pulse. Instead of it, they rotate perpendicular to their initial positions towards each other. This feature increases the angle to the maximum possible indicator — 178 degrees. Thus, new IPS-displays have almost crowded out old TN. In spite of this, these displays also have some big disadvantages mentioned below.
Benefits:
maximum angles of view — up to 178 degrees;
natural color reproduction, including an almost perfect black color;
high level of contrast.
Disadvantages:
very high prices comparing to TN;
response time in former IPS-displays was much longer than in TN.
PLS
PLS can be described as an improved version of IPS. Samsung created it especially for the mass market. For a number of reasons it is still unsuitable for professional electronic devices.
Benefits:
high density of pixels;
wide angles of view — up to 178 degrees;
low response time;
low power consumption;
high level of contrast;
low costs of production — 15% lower comparing to IPS-matrixes.
Manufacturers eliminated almost all IPS's disadvantages. You can see and follow the evolutionary path of this technology in the table below.
Name
Abbrev.
Time
Advantages
Special notes
Super fine TFT
SFT
1996
Wideness
Good colors
Panels can provide realistic colors. It negatively affected on brightness.
Advanced SFT
A-SFT
1998
The swiftest results
The technology evolved to A-SFT.
Super-advanced SFT
SA-SFT
2002
Excellent clarity
SA-SFT made clarity 1,4 times better compared to A-SFT.
Ultra-advanced SFT
UA-SFT
2004
Excellent clarity
Color reproduction
High contrast
Has clarity 1,2 times better compared to SA-SFT. Has up to 70% of perfect color coverage.
IPS's development by Hitachi
Name
Abbrev.
Time
Advantages
Transp./ Clarity
Special notes
Super TFT
IPS
1996
Optimal angles of view
100/100
(basic level)
Is able to give realistic colors. This improvement occurred because the speed became a bit lower. The price went higher.
Super-IPS
S-IPS
1998
Colors are not distorted
100/137
It is very rapid.
Advanced super-IPS
AS-IPS
2002
Good transparency
130/250
As good at brightness as some S-PVA.
IPS-provectus
IPS-Pro
2004
Good contrast
137/313
This technology has a richer color scheme than the previous ones. It also has the same contrast as PVA with no angular section.
IPS alpha
IPS-Pro
2008
Excellent contrast
The next level of IPS-Pro.
IPS alpha next gen
IPS-Pro
2010
Excellent contrast
Hitachi transferred the technology to Panasonic
IPS's development by LG
| | | | |
| --- | --- | --- | --- |
| Name | Abbrev. | Time | Special notes |
| Super-IPS | S-IPS | 2001 | LG company improved colors, brightness and other important aspects. |
| Advanced super-IPS | AS-IPS | 2005 | Color spectrum is developed. |
| Horizontal IPS | H-IPS | 2007 | Better contrast with a visually homogenous surface is achieved. The principle of Advanced True Wide Polarizer on the base of NEC polarization foil appears. It gives wider angles of view. It is used in professional graphics. |
| Enhanced IPS | e-IPS | 2009 | Has wider aperture to increase transparency when pixels are open. It makes it possible to use cheaper lamps during the production of backlight, with lower power consumption. The diagonal angle is improved. Response time is reduced to 5 ms. |
| Professional IPS | P-IPS | 2010 | LG provided us with more than one billion colors (30-bit color) thanks to P-IPS. Advanced high performance IPS. |
| Advanced high performance IPS | AH-IPS | 2011 | Color reproduction is improved, PPL is increased, power consumption is reduced. |
OLED
OLED (Organic light-emitting diode) are used instead of liquid crystals in OLED-matrixes. They do not require backlighting and begin to glow as soon as electric pulses are applied. It is one of their advantages.
OLED-matrixes are divided into PMOLED (Passive) and AMOLED (Active). The first type of matrixes is almost never used in modern smartphones because of its unconvenience such as low speed.
SUPER AMOLED (the marketing "chip" of some companies) is an unusual variety of AMOLED with no air layer between a screen and a matrix. This "airless" principle is called OGS (One Glass Solution) in IPS-matrixes. We must note that it is only a constructive feature. That is why it should not be distinguished as a separate kind of SUPER AMOLED matrixes.
P-OLED-matrix is another subtype of AMOLED. Such matrixes have plastic screen substrates (or the glass ones in case of AMOLED). Thanks to it, manufacturers of smartphones have the opportunity to create modern curved screens.
Benefits:
small dimensions and weight compared to LCD-displays;
low power consumption;
do not require backlighting;
provide a high level of contrast;
give an instant response;
have a possibility to modify the form-factor of screens (flexible displays);
have angles of view close to the maximum (180 degrees);
can be safely used in a wide range of operating temperatures (from -40°C to +70°C).
Disadvantages:
have short lifetime comparing to LCD-displays;
are sold at a high price;
are known for sensitivity to moisture.
The new technology is constantly developing by manufacturers, so minuses of OLED-displays are gradually disappearing.
The "unique" Retina and Super Retina displays in iPhones can not even compare with the technology of matrixes' manufacturing. It is just a marketing step of the brand. In fact, only simple IPS and OLED-matrixes are used in iPhones and iPads.
Conclusion
Nowadays the difference (in color representation, contrast, angles of views, energy efficiency, speed of work, etc.) between LCD and OLED-screens is swiftly declining. There is only one new notable tendency: LCD-screens are becoming obsolete and inferior to OLED-displays. In turn, OLED-displays are evolving into compact Micro-LED and useful QLED-displays. These technologies are expensive in production. That is why they are still in their infancy. It is quite possible that in the nearest future all our electronic devices will be equipped with only these displays.
Links
Types of Mobile Display? Advantages & Disadvantages of IPS LCD, OLED , Super AMOLED | Big Difference [Video]
Video uploaded by Technology Gyan on February 21, 2018

<!-comments-button-->