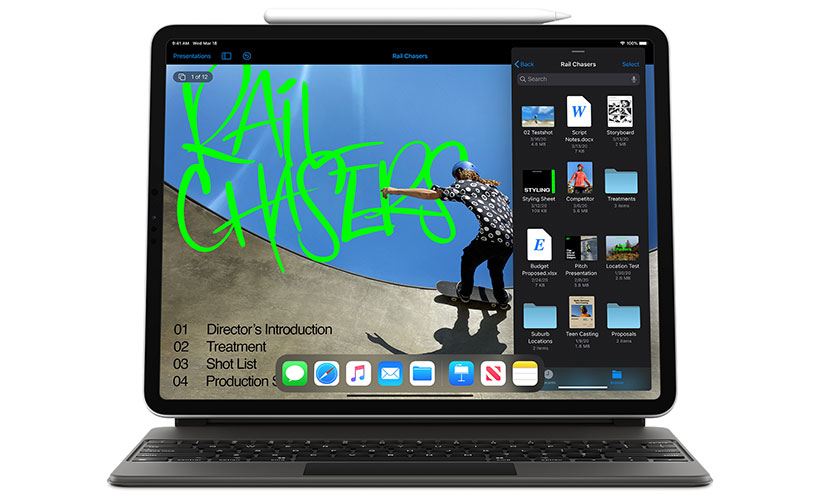 Why Your Next iPad Pro 2020 is not a Computer
I must confess that I'm an iPad fan and I love the tablets in general. I believe they are the most comfortable gadgets for social media surfing, communicating and watching movies. Writing articles is a bit tricky without a keyboard but prompts help, and taking pictures with an iPad is a nightmare! I mean, it's like taking pictures with a tea tray, especially if you have the Apple iPad Pro 2020.
In my opinion it's the best tablet ever, but it's NOT a computer. Generally, tablets are pitched against laptops. Hardware-wise, the iPad Pro 2020 wins hands down. The Apple A12Z Bionic is an octacore ARM chip with 8-Core GPU to match. The max frequency is 2.49 GHz and L2 cache is 8 MB. It lands the chip next to AMD Ryzen 7 processors for desktop systems. Although, Apple engineers didn't make any breakthrough and just re-binned the A12X Bionic that was released in October, 2018 and discontinued this spring with the arrival of the 4th generation of iPads Pro. The internal storage varies from 128GB to 1TB (also 256GB and 512GB options are included). Weird enough, but the Apple official website keeps the RAM volume in secret. The first reviewers claim it's 4GB for all models excluding the one with 1TB storage aboard. This one features 6GB.
The display is the most attractive feature of the tablet. The widest color gamut, ultra low reflectivity, 120Hz refresh rate and 600 nits brightness are everything you need for eye and work comfort. You can hardly find anything like that in laptops or hybrids. The display is honed for work in AR and Apple proudly added the LiDAR scanner, the one used in their driverless vehicles, for example. I don't know about "iCars" and if they will ever hit the roads, but the LiDAR is already here, in iPads. The scanner estimates the distance to the physical objects by the time it takes a beam of light to reach them and reflect back. The LiDAR is paired with the 12MP wide camera and the 10MP ultra wide one. For instance, you can take a panorama picture of a location and quickly draw an accurate plan of it. Obviously, Apple pitches the new iPad Pro 2020 as a mobile working tool for architects, designers, builders.
Of course, 11-inch and 12.9-inch tablets are hard to keep in hands all the time, that's why Apple rolled out the Magic Keyboard with a trackpad, a USB‑C port, backlit keys with scissors mechanism and an adjustable magnet stand.
But, there's always a "but". This state-of-the-art tablet is NOT a computer. I work both, and I listed all the drawbacks of the iPad.
Price
The entry-level Wi-Fi only 11-inch iPad model starts from $799 and comes without a keyboard. For almost eight hundred bucks you can buy an equally powerful laptop with a keyboard, a handful of ports and a larger touchscreen. Ok, let's add $299 for the Magic Keyboard (the keyboard for the 12.9-inch one costs $349). Laptops starting from one thousand dollars are capable of more complicated tasks than a tablet.
Connectivity
The USB Type-C port on the Magic Keyboard is meant for passthrough charging, so, you still have only one port for flash drives or dongles and it's on the tablet.
Files Management
iPadOS can't work properly with zipped files from the box. You have to install a third party files manager but here you can run into the "Operation not allowed" error when unzipping. Transferring files is also a headache: I discovered from my experience that the most reliable way is to use cloud services. It's OK for a mobile device but not for a computer. What if you go offline and your files are unavailable?
Lack of tools
I use some third party text editors and Google docs for my paper works and they still lose to Microsoft Word. Anyway, for really comfortable writing I'd need the Magic Keyboard or at least the Apple Pencil for extra money.
Code editors can't run anything more complicated than front-end web development. No one of them allows files editing over the network on a server. You have to download the file on your tablet, edit it, save and send back.
I'm not a civil engineer and I didn't try AutoCAD on the iPad, so, I'll be grateful for any feedback on the matter. Write to us and comment.
The bottom line is that the iPad Pro 2020 is brilliant as a content-consuming device, but when it comes to the serious day-to-day work the tablet can compete only with a mid-range office laptop.
Links
The New iPad Pro 2020 Reaction [Video]
Video uploaded by Unbox Therapy on March 19, 2020

<!-comments-button-->