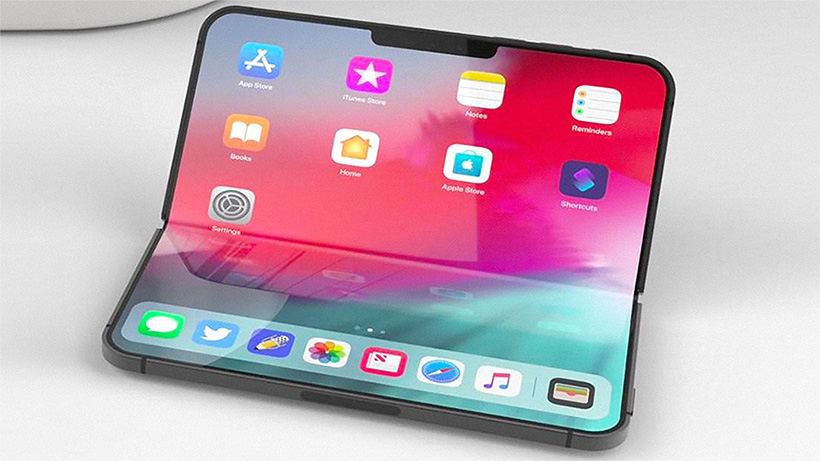 Drawing Attention: Will the iPhone Foldable Have the Pencil Function?
Although the plans for it have not yet been officially confirmed, the gossip regarding the alleged introduction of the first ever foldable iPhone already runs wild. And no wonder: we may know next to nothing about the thing itself (and whether Apple really harbors such plans), but we know quite enough about this specific manufacturer's competitive nature to find even the tentative talk on this subject we've heard so far rather convincing. This is not a company that would allow itself to stay behind in any respect or concede even an inch of the turf to any other market players. Even if someone else gets somewhere first (be that screen size, a type of connectivity, compatibility level or whatever else), we can rest assured Apple will catch up soon enough. They have their own version of every existing application for every possible purpose (and then some).
Thus, it was only to be expected that once the concept of collapsible phones took hold, the great minds in Cupertino would have started working on their own version. And that is reason enough to take the snoop from the Chinese analytic company named EqualOcean at least with some seriousness. Granted, there is only their word for now to support these bits of presumed data. Especially since, firstly, we'll soon have the chance to check how much substance there is to all that – because the leakers predict this launch to happen before the end of the current year – and secondly, this word sounds rather interesting. And is getting even more so with each new piece of info on this mysterious Apple's debut they are giving us.
Plus all of what we're hearing on this subject so far actually makes a lot of sense. For starters, the analysts from China site the display size of minimum 7.3 inches and don't exclude the possibility of it reaching 7.6 inches. Not only is it an ambitious enough goal in itself, but, according to EqualOcean, it's the inner display of the Flip that is meant to be this big, which fits Apple's high standards alright. Then, there is a matter of design of this possibly-upcoming phone (which, by account of the same source, has been already named Flip). EqualOcean claims that Apple's R&D team had rejected Motorola's clamshell shape, sported by their Razr model, in favor of Samsung's "book-like" approach, characteristic for the Galaxy Z Fold 2 (this model opens up instead of folding in). And that, too, appears absolutely logical, considering the success of the Fold brand and the clout that comes with it. As we already said, Apple is known for setting the bar as high as possible, and with all due respect to Motorola, it stands to reason that they would take their cue from the best examples.
But the suggestion which makes these allegations particularly believable for us is the one about this rumored foldable iPhone being equipped with a stylus (namely – and naturally – the Apple Pencil). Because, if true, this will be a first: for now, styluses are reserved strictly to tablets and laptops; no gadget maker has yet offered us a phone allowing to draw on the screen. And being the first at something is exactly what Apple loves best and what ultimately made them what they are now. Snatching the pioneering concept out of the jaws of emulation, becoming a trailblazer even in the process of following the ideas of someone else… Well, that sounds so much like them that we would pause before dismissing the Flip gossip as pure hearsay. And even if it all will turn out to be merely a fib in the end, it will still remain an adroit one for sure.
Links
Where's Apple's Foldable iPhone? [Video]
Video uploaded by CNET on August 12, 2022

<!-comments-button-->